Nonprofit City Harvest Reaps the Benefits of Hyperconvergence
The pioneering food-rescue nonprofit organization partnered with Cisco to deploy virtual desktop infrastructure and expand its operations by 30 percent.
For nonprofits that have found success in helping their communities, a common challenge they face is being able to grow and expand their operations while still fulfilling their mission.
City Harvest, a nonprofit that pioneered the concept of food rescue, wanted to grow its operations by 30 percent. To do so effectively, the organization partnered with Cisco Systems and deployed a hyperconverged infrastructure solution. The deployment allowed City Harvest to successfully scale up its deployment of virtual desktop infrastructure (VDI), which then allowed the organization to grow its operations while keeping staff focused on serving the needs of the community.
Growing a Nonprofit Organization's IT Infrastructure
In 1982, City Harvest's first executive director, Helen verDuin Palit, had been working at a soup kitchen and saw how difficult it was to feed all the people who came in for lunch, according to the nonprofit's website.
While eating a potato skins appetizer at a nearby restaurant, she asked the chef what he did with the insides of the potatoes after preparing the meal. When he told her that this unused portion was thrown away, verDuin Palit noted that the soup kitchen could really use the food that the restaurant was able to offer.
The next day, the chef donated 30 gallons of cooked potatoes, which the kitchen used to thicken the soup it was serving. That led to the creation of City Harvest, which collects surplus food from grocers, farms, restaurants and manufacturers, and then distributes it to food pantries and soup kitchens throughout New York City.
Today, according to City Harvest, nearly 1.4 million New Yorkers struggle to put meals on their tables. In 2016, City Harvest collected and distributed 55 million pounds of excess food and delivered it for free to 500 soup kitchens, food pantries and other community food programs across the five boroughs. City Harvest has 22 trucks making an average of 360 to 400 food pickups and deliveries per day. All that work is managed by 160 employees with the support of more than 15,000 volunteers.
The organization wanted to expand its operations by 30 percent, according to a Cisco case study. Three years ago, City Harvest adopted VDI to help employees and volunteers do their work on the go, such as viewing and entering updates around inventory, storage-space availability, delivery routes and schedules, TechTarget notes.
Previously, employees worked on physical desktop computers and their applications ran on traditional servers, Cisco notes. However, as the organization grew, this setup became cumbersome and expensive, since regularly replacing desktop computers ate into the nonprofit's budget.
Employees who visited food donors and distribution centers needed virtual private network software to retrieve files and data, according to Cisco. At times, volunteers who wanted to check email or do web research had to wait for a designated volunteer computer, Cisco notes.
"Secure desktops and applications are critical as we expand anti-hunger programs," says James Safonov, head of IT and information security for City Harvest. "Rather than spend money to refresh our desktop computers, we decided to build a virtual desktop infrastructure."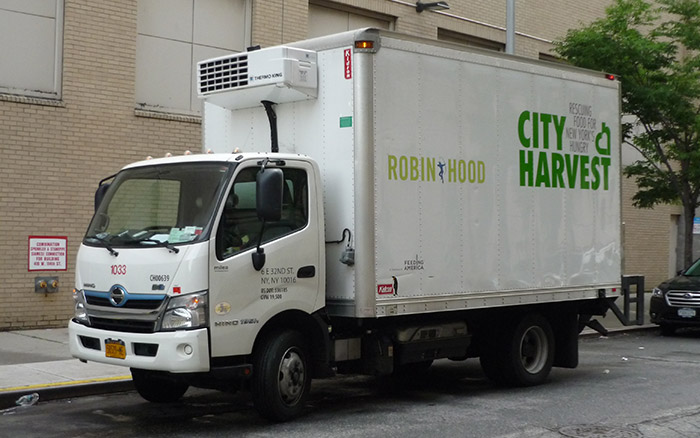 City Harvest distributed 55 million pounds of excess food in 2016. Photo credit: Jason Lawrence/Flickr 
However, the organization hit a roadblock when it attempted to host virtual desktops on existing servers. Performance slowed when the eleventh virtual desktop was loaded.
By June 2016, City Harvest had decided to deploy a hyperconverged infrastructure (HCI) solution, which cut down on the cost and complexity of VDI. The company uses VMware Horizon View for VDI. Hyperconverged platforms combine computing, storage, networking and virtualization capabilities, all preintegrated and controlled by a single management layer. Such solutions tend to cut down on data center hardware costs and footprints. Indeed, moving 100 virtual machines from traditional servers to a Cisco Unified Computing System server eliminated an entire rack.
"It is easier to manage, and we can scale easier," Safonov told TechTarget. "We can add a lot more desktops if we want to."
City Harvest benefits from Cisco HyperFlex
After researching several converged and hyperconverged infrastructure solutions, City Harvest went with the Cisco HyperFlex system.
"Cisco HyperFlex is the perfect fit for virtual desktops because it's so flexible," Safonov says. "We were able to connect our existing storage arrays and add a graphics card to support Adobe applications. We can add new nodes for more users and attach Cisco UCS blades for more processing power."
City Harvest also relies on Cisco for quick responses to IT support questions.
"Other hyperconverged platforms were too expensive and didn't work with our existing infrastructure," says Safonov. "We would have had to rip out our core switches and learn a new networking operating system. Cisco HyperFlex extended the life of our existing storage and gives us room to grow."
According to Cisco, Cisco HyperFlex and the Cisco Nexus switches were up and running in just one day. The nonprofit's IT team built hundreds of virtual desktops in minutes.
Employees and volunteers can now log in to their personal virtual desktops from anywhere, on thin clients or personal mobile devices.
The new thin clients cost 75 percent less than new desktop computers, freeing up budget for strategic IT projects, Cisco notes. Additionally, City Harvest no longer needs to keep spare computers in inventory.
"If a virtual desktop develops problems, we can build a new one in less than a minute," Safonov says, and employees can continue to be productive.
Also, by allowing City Harvest to eliminate physical servers, the Cisco solution spared the nonprofit from having to invest more than $100,000 to purchase, install and get permits for a new cooling system, Safonov says.
"Cisco HyperFlex can scale as City Harvest grows to feed more people," Safonov says. "More employees? We'll connect another HyperFlex node. Heavier application demands? We'll slide in another compute-only server."
U.S. Department of Agriculture/Flickr