Why Small Businesses Are Going All In on Tablet Adoption
See how three companies — Video King, Hall Winery and XL Industrial Services —took a gamble on tablets and won.
Many companies gamble on technology. But for Video King, one of the largest makers of bingo hall equipment and electronic gaming systems, deploying tablet PCs was a sure bet from the start.
For more than a decade, the Omaha, Neb.-based company has been replacing paper bingo cards with electronic ones. Today, the company provides nearly 60,000 customized touch-screen tablets to casinos, churches and other organizations in more than 50 jurisdictions.
Video King used to build its own tablets, says President and CEO Tim Stuart. Two years ago, it began buying LG and Lenovo Android devices, ruggedizing them and outfitting them with custom gaming and security software.
Portability is the primary reason for using tablets, Stuart says. Players want to be able to take their devices wherever they go. "People who play bingo can be very superstitious," he says. "They want to be able to sit in the exact same seat each time, with the same stuffed animals facing them. It's a culture unto itself."
SMB Tablet Adoption Rises
While early use of tablets to change retail service drove adoption by business, it's the innovative ways that companies have begun using them to engage customers and carry out business across all markets that's intriguing, says Anurag Agrawal, CEO of market researcher Techaisle.
The penetration in small and medium-sized businesses has seen steady growth over the past two years, according to Techaisle's data. In 2015, 58 percent of businesses employing 100 people or fewer were using tablets.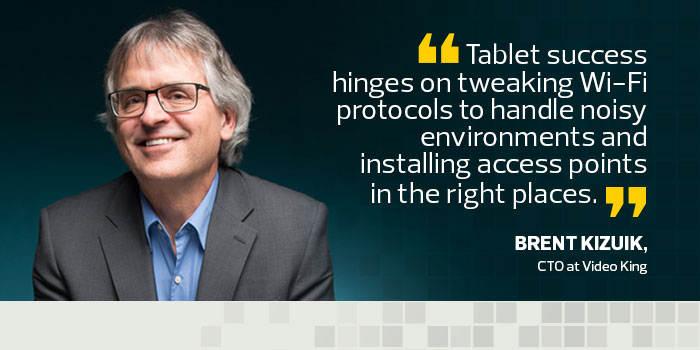 By the end of last year, that figure had climbed to 67 percent. Agrawal said he expects tablets to be in use in 73 percent of SMBs by the end of this year, which makes sense: Techaisle research found mobility solutions rank as the third highest 2017 IT priority for SMBs after cloud and collaboration.
"Tablets started out as rogue devices because they were a cool thing to have," he says. "Now, they've dripped down to employees at the front office, cashier and receptionist levels."
This expanded use makes them increasingly part of the enterprise environment, which (as Video King has discovered) can create IT challenges.
For instance, operating hundreds of tablets at the same time requires keeping them powered up, says Chief Technology Officer Brent Kizuik. Video King developed its own Charge-e racks, which can hold 10 tablets at once. Employees slide a tablet onto each Charge-e shelf; contact points on the device line up with corresponding points in the rack and begin charging. 
This saves bingo hall employees hours of hassle. "Nobody has time to hook cables to 500 tablets at the end of the night," Kizuik says. And because some halls run several bingo sessions each day, employees can store tablets inside the rack for a quick boost between sessions.
Another challenge is wireless. Besides hundreds of tablets, Video King supplies each customer with a Wi-Fi network, using Cisco Systems Aironet access points. Video King sets up the networks in each hall, Kizuik says, and spends considerable time placing APs in the right locations, as well as tweaking Wi-Fi protocols to handle the noisy environments.
"We kind of invented this industry," Stuart says. "Nobody else before us had an electronic system for bingo, which is still a pretty massive thing. Millions of people play every year. It's so corny, it's not corny anymore."
Using Tablets to Inform and Interact with Customers
Like Video King, Napa Valley's Hall Wines prides itself on being in the high-tech vanguard within its industry. Among other things, Hall uses robotic optical sorter technology to remove imperfect grapes from each batch, and GPS-driven apps to gauge which vines are ripe for picking. Bringing tablets out of its back office and into the tasting rooms fits with the winery's high-tech focus, says Ivan Winzer, business systems administrator at Hall.
Hall Wines has deployed roughly 40 Apple iPad devices across three ­locations: the main winery in St. Helena, Calif.; a Walt wines tasting room; and its Rutherford winery.
At the 33-acre facility in St. Helena, visitors can sample wines while picnicking on the lawn or relaxing in Adirondack chairs next to a gurgling fountain. Armed with iPads, Hall's wine educators share the vineyard's selection of varietals, take orders and collect payment on the spot. Customers pick up their wine on their way out the door.
"With a lot of wineries, you have to go to the register to make a purchase," Winzer says. "We wanted to come to the customers, so they don't have to leave the spot where they're sitting and enjoying themselves."
To ensure signal, Hall deployed three wireless networks: one for its business PCs and notebooks, a second guest network, and a third dedicated to its point-of-sale software where the tablets log in.
A server in St. Helena is connected via fiber to Hall's other locations, so all three share the same networks.
The winery has 19 Ruckus APs to spread Wi-Fi signals throughout the Hall property. If wine educators wander out of range, they can record purchases offline, then sync to the POS system later, Winzer says.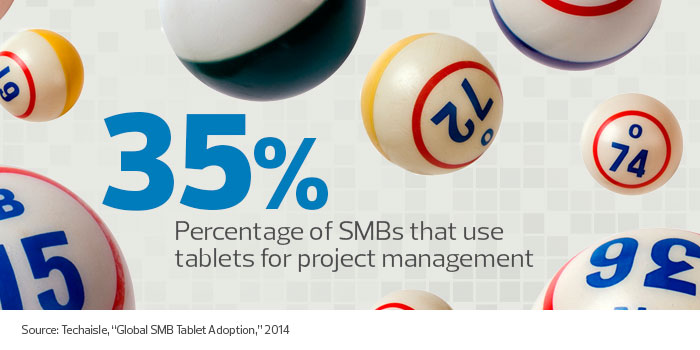 "We started out trying to do ­everything on one network," he says. "That didn't work, so we split it into three. Now, we never have problems with interference, except when we get heavy rains."
Hall Wines next plans to bring tablets into the production process, letting lab technicians view specifications for each fermentation process and create work orders on iPads. "The Halls are really big on innovation," Winzer says. "They're always looking for ways to make the business more tech-savvy."
Staying Connected While on the Road
XL Industrial Services is a small company that does big jobs. As a mechanical, electrical and coatings contractor for liquid fuel storage facilities, XL sends crews across the U.S. and the Bahamas.
Though it has fewer than 80 full-time employees, XL crews typically are working in 15 to 20 states on any given day, says Ryan Pollack, health, safety and environmental manager for the West La Porte, Ind., company.
To keep in touch, it outfitted its crews with Apple iPads featuring 4G cellular connections and protected from harsh work environments by OtterBox covers. XL uses tablets "for just about everything," says Pollack, from timekeeping and daily reports to job safety assessments and equipment inspections, using HCSS construction industry software.
Becoming More Proactive Thanks to Tablets
Before the iPads, XL crews would file paper inspection reports for every piece of equipment on a site. A single job might produce 50 pieces of paper per week, which would be examined once a month. Now, when there's an equipment problem, Pollack gets an email and can begin corrective action immediately.
Last year alone, XL conducted more than 6,000 equipment and job site inspections and documented more than 5,000 daily safety meetings using the iPads. "The iPad has been a savior," Pollack says. "Technology has taken XL from reactive to proactive, from lagging to leading."
XL also uses iPads to store safety data and track employee skills and certifications, so a foreman can see at a glance whether a crew member is qualified to operate that aerial lift. Using tablets has had other benefits too.
"Honestly, the iPad makes safety cool," Pollack says. "It used to be a hassle to do an equipment inspection. Now, I have guys volunteering to do it. If you can get someone from any trade to think safety is cool, that shows you how much the technology has evolved." 
Thomas Fricke