Bright Idea: Small Businesses Can Tap into the Smart Lighting Trend
As the smart-city revolution leads to widespread use of connected streetlights, businesses could find clever uses for them too.
Everyone is familiar with the sickly, yellowish color of traditional sodium vapor streetlights. But smart, internet-connected LED streetlights could soon have businesses seeing green — the color of bigger and better profits.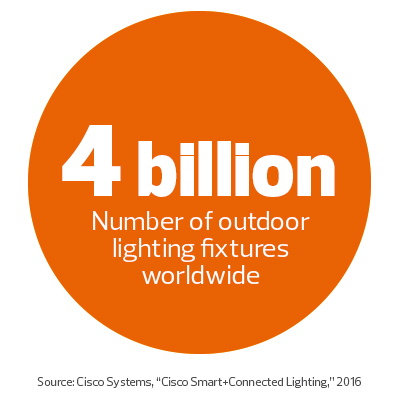 As cities begin upgrading as many as 4 billion outdated streetlights across the planet, there's tremendous business potential through the expansion of the Internet of Things. Here's why.
Because LED lamps are solid-state devices, they not only have the electronics needed for advanced lighting but can also support all sorts of other capabilities. Depending on the area and the purpose, engineers can install sensors for video, audio, motion, temperature, location and even chemical detection.
Each light is outfitted with a GPS locator for easy maintenance and also to provide context for data streaming in from the sensors. That data is wirelessly broadcast to a gateway, which transfers the data to a central server.
Many Uses for Smart Streetlamps 
City administrators obviously have many uses for such tools, but businesses stand to gain too. They could monitor the flow of both pedestrians and vehicles through retail districts, says Keith Day, vice president of marketing at Telensa, a maker of smart streetlamps.
Sensors could monitor and record how many people are visiting a certain business outlet, including variables such as how often they visit and how long they stay. Business owners could filter that data by time of day or season to determine what would otherwise be hard-to-track consumer behaviors.
Businesses one day might even be able to trigger buying. The next wave of LED lamps will automatically alter the color and intensity of light based on environmental conditions, which could improve customer experience and perhaps drive purchase.
Businesses also could take the technology indoors. By using it for heat mapping, they would know on the fly where people were spending most of their time and which products were drawing the most interest — and which were not.
In large warehouses and distribution centers, smart lighting could help track product movement and inventory. Adjustable light levels might even boost productivity, particularly for employees who work the third shift.
The smart streetlight revolution is already happening in cities around the world. The many use possibilities mean that new lights aren't just illuminating sidewalks, they also are shedding light on profitable business strategies too.
samfotograf/Shutterstock