NRF's BIG Show 2017: Intel, Samsung, Xerox Highlight Retail Tech's Future
Leading technology companies used NRF's BIG Show to demonstrate solutions that they contend will make retailers more dynamic and relevant to customers.
What is the future of retail? It's both technology-driven and customer-focused, it's designed to makes sales associates smarter, and it's engineered to make shopping easier for customers, according to some of the leading tech companies playing in the market.
According to an IBM study of 15,000 "Generation Z" shoppers, the generation after millennials that has $44 billion in estimated buying power, those customers (or future customers) want to shop in physical stores to touch and see products. "Despite living largely digital lives, 67 percent of Generation Z prefer to shop in a brick-and-mortar store all the time, with another 31 percent preferring to shop in-store sometimes," IBM says.
At NRF Retail's BIG Show 2017 in New York City earlier this week, tech companies showed off a variety of solutions that they say will underpin the retail stores of the future. These include Internet of Things sensors, smart displays, data analytics and mobile payments — all of which will work together seamlessly to deliver a more intuitive and efficient shopping experience. At least that's the pitch.
Here is a roundup of some of the major announcements made at the show:
Intel Invests in a New Retail Platform
Intel CEO Brian Krzanich delivered a keynote address at the conference, announcing that the company plans to invest more than $100 million over the next five years in the retail industry. That investment will go toward its new Responsive Retail Platform, which the company says will spur "the creation of highly flexible, scalable and innovative solutions, bringing together retail hardware, software, APIs and sensors in a standardized way."
The Intel platform is designed to enable real-time, automated actions for store employees, products and customers, allow stores to reduce costs and roll out new services faster, bring together disparate technologies, and simplify the deployment of connected sensors.
So far, Intel has inked a variety of partners for the platform, including Avery Dennison, By Reveal, Honeywell, Fujitsu, JDA, RetailNext, SAP and SATO. The platform will integrate radio frequency identification, video, radio and other sensors to enable "a 360-degree viewpoint of retail from the store floor through the supply chain, and deliver real-time, actionable insights."
Intel will contribute several technologies itself to the platform, including a sensor designed to ingest data from multiple sources, an integrated RFID reader and an antenna designed to work in highly dense retail environments. Future versions will incorporate additional sensor technologies on the same device, to include video, Wi-Fi and Bluetooth Low Energy (BLE), all running on an Intel Atom processor. The platform will also have an Intel-based gateway from Hewlett Packard Enterprise to configure and interact with the sensors. This will enable the sensors to connect to the cloud and perform data processing functions at the edge of the network. There will also be a cloud-based analytics platform.
Ryan Parker, head of responsive retail at Intel, says that the platform is aimed at retailers of all sizes because "everyone in the future in retail will want to take and ingest data and turn that into insights for their customers, and that's how they are going to remain relevant."
If customers have opted-in to a store's app, Parker says, the platform will be able to detect them as they come into a store, while associates will be able to see their browsing habits and past purchases. Alternatively, users can get an anonymous profile and an associate may be able to tell if a customer has been into the store multiple times — and where in the store they were browsing.
Intel is also partnering with Theatro, which manufactures a Wi-Fi–based wearable and Internet of Things platform that enhances in-store communication for associates. Sensors in the store can communicate with the associate; if a customer, for example, has come in to pick up something they bought online, it will direct the nearest available associate to get the package and it bring it to the customer, Parker says.
Different stores will be able to work with software vendors to customize data analytics dashboards to applications as they see fit, Parker says. The goal of the platform, however, will be to use sensors to analyze data and direct associates to take actions — like sending staffers over to a customer who may lingering at a high-value product.
"Long term, anything in the store better be invisible," Parker says. "I don't want technology in my face. I want a very well-informed associate. I want a product that is exactly the product I need."
Samsung Lays Out the Retail Store of the Future
Samsung is pushing a similar connected store vision, and the company unveiled at its BIG Show booth a concept store that is a synthesis of all the ways it can help retailers today, according to John Gibson, senior manager for retail business development at Samsung Electronics America.
"Omnichannel experiences that are truly seamless are really what we feel can be the path of reconnecting with the consumer, in ways that brick-and-mortar retailers can do in a very smart and high-tech way," he says.
In Samsung's model, a customer has opted in to a retailer's mobile app and agreed to be tracked, and they purchased a product to be picked up in a store on their Samsung Galaxy smartphone. When the customer arrives, the app triggers a beacon on a large digital signage display, showing personalized content based on prior purchases, and suggesting items that can be browsed via a touch-screen display.
Meanwhile, a store associate is notified of the customer's arrival via a wearable smart watch, prompting the staffer to approach the shopper. Or, the customer can press a "help" button on the app if they can't find a product, which will notify the associate on a tablet; the associate can then use wireless triangulation to find the customer and help.
As the customer travels the store, he or she might see a product display equipped with proximity-sensing light bulbs. A beacon will detect the visiting customer and will light up the product of interest to them, triggered by the customer's past shopping data from the store's mobile app. If the product has an RFID tag, the customer can take it to a nearby display to get more information.
At checkout, an associate can scan the customer's merchandise into a rugged Samsung smartphone, completing the transaction without a point of sale terminal by using near-field communications-based mobile payment via Samsung Pay.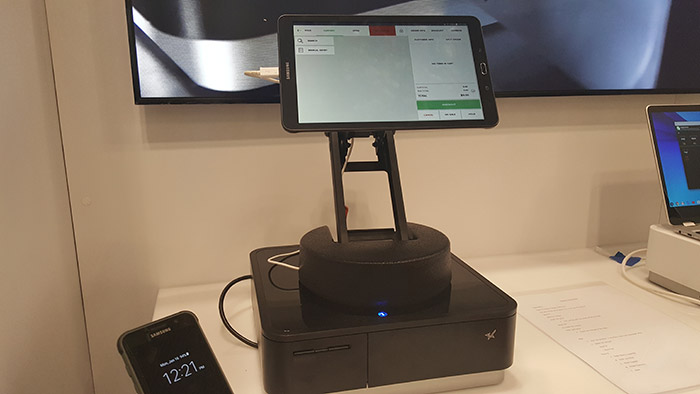 Samsung teamed with Total Merchant Services in the Groovv POS Flex point-of-sale system. Photo credit: Phil Goldstein  
Store associates can also review daily sales statistics via smartphone, while managers can see marketing data on a large display (including people-counter stats and a heat map of store activity). Gibson says that data can be used to optimize shelf space, "very precious real estate to a retailer," by moving forward more profitable merchandise, or grouping items that tend to be bought together.
Specific customer data will only be given to retailers if customers opt in, Gibson notes. He says it can be protected via solutions like Samsung's Knox platform, which can encrypt, segment and containerize data, so that associates can only use it in relevant apps, only input limited data or be prohibited from sending to outside contacts.
Additionally, Samsung partnered with Total Merchant Services, which processes payments for small businesses, on the Groovv POS Flex point-of-sale system. The system features a Samsung Galaxy Tab E 9.6-inch tablet and an EMV-compliant and NFC-enabled payment processing device, which are preprogrammed with a full suite of software for inventory management, reporting and integrated marketing.
Retailers can customize the software for their specific stores and inventory. Some versions of the system can come with a connected cash register and a barcode scanner, but Gibson says the full system can be set up and deployed within 15 to 20 minutes of unpacking the product, which is aimed at small to medium-sized retailers.
Xerox Showcases the Importance of Printing
NRF wasn't all about flashy stores of the future, as Xerox showcased digital printing technology that lets retailers print directly on 3D objects like water bottles in a matter of minutes, enabling personalization for customers.
Xerox also highlighted its communications and marketing solutions — including collateral management, multichannel communication and transactional print and mail services — to help retailers improve customer interactions, increase brand recognition and analyze data, all with the aim of enhancing customer satisfaction and retention.
Xerox says that a large North American grocery chain, which it declined to name, found great benefit in such solutions: The chain reduced its creative costs by more than 30 percent while speeding up the time it delivered a new marketing campaign to market by 30 percent.
Earlier this month Xerox completed the separation of Conduent Incorporated, a move which creating two separate publicly traded companies.
Xerox plans to focus on growing its digital print technology and services. The separation, Xerox argues, will enable strong free cash flow generation and higher margins, as well as targeted investments in new growth areas, such as document outsourcing and solutions for small to medium-sized businesses.
In contrast, Conduent will focus on business process services, with a specific emphasis on transaction-intensive processing, analytics and automation.
Read articles and check out videos from BizTech's coverage of NRF Retail's BIG Show 2017 here.
Phil Goldstein