The Tech and Tactics You Need to Make Your Merger Go Smoothly
SMBs often grow through mergers and acquisitions, and the IT team should play a leading role in the integration process.
Every time the Philadelphia law firm Fox Rothschild acquires a new firm, a special delivery shows up at the acquired company within a few days: a Cisco TelePresence MX300 conferencing and collaboration solution.
"We're a law firm that uses AV a lot," says Kevin Smith, director of infrastructure and operations for Fox Rothschild. "What we like to do is send one of the MX300 units over, along with a technician, and then put a virtual private network connection from the MX300 through to our network so that we can schedule video conference calls with the firm immediately."
This is just the first step in the long, sometimes arduous process of integrating systems during a merger or acquisition. Over time, Fox Rothschild replaces the mobile MX300 units, which have 55-inch screens, with other Cisco Systems conferencing solutions such as the MX700 or those in the Cisco SX series, which have larger screens and fully integrated speakers and microphones. That's in addition, of course, to migrating data, merging email systems and standardizing applications.
But that collaboration-in-a-box VC package is always the first step in the process, Smith says.
IT Plays a Leading Role in Mergers
The prospect of bringing disparate ­systems together during a merger or acquisition can be anxiety-inducing for IT managers, especially those at small and medium-sized businesses who might not ever have been involved in the comingling of two organizations' technology assets. But this process also has the potential to introduce new ways of thinking for all of the parties involved — about both specific tech solutions and the role of the IT department itself.
Sometimes before a merger, the IT group might be viewed as a cost ­center or perhaps as nonstrategic, says Will Poindexter, who has extensive experience helping companies integrate IT during mergers and acquisitions (M&A) as a partner with global management firm Bain & Co. in Washington, D.C.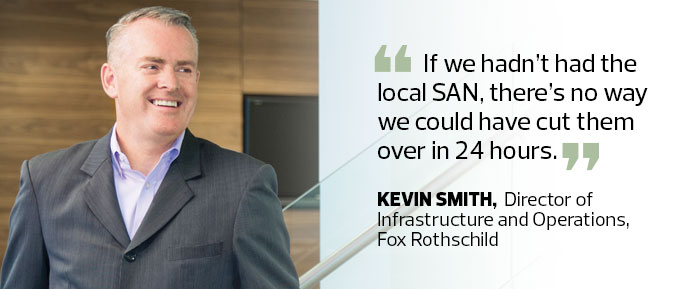 "The M&A process really provides an opportunity to change the dialogue — and for IT to have a seat at the table," Poindexter says. "For a lot of the IT leaders we work with, it's a huge opportunity to change the perception of the role that IT plays in the organization."
Ideally, the IT team will be involved in the process long before any contracts are signed. When technology leaders participate in the process early on, they can help other business leaders understand costs, challenges or opportunities presented by the potential move.
"The most important thing is that IT sits at the desk when you're having the conversation about bringing companies in," says Julian Hicks, chief technology officer and CFO for the six-person IT staffing firm Staff Smart. The San Diego firm works with companies undergoing mergers, and Hicks brings M&A experience from his previous role as IT director for the medical technology company CareFusion.
"If you don't identify the IT costs of bringing a company into the fold, you have acquired the company, but you haven't done anything to assimilate it into your infrastructure," Hicks says.
Poindexter agrees: "The sooner you can start meshing the IT teams, the better off you are. You're working toward an integrated solution on day one as a combined organization."
Don't Rush IT Integrations
It's not necessary for companies to get all of their systems aligned from the very beginning, Poindexter says. While some decisions must be made more or less immediately — such as how employees from the different companies will communicate and collaborate, how IT will be involved with physical security and how certain financial reporting tools will be merged — others can wait.
"Often, the emphasis is on getting things integrated as quickly as possible," he says. "Instead, the longer-term question should be, 'What is our vision?'"
Getting IT integration right is more important than doing it quickly, says Matthew Schiltz, CEO of Conga, a Broomfield, Colo.–based company that specializes in document generation for Salesforce users.
When Conga absorbed three other companies in April of this year, it took its time migrating everyone to Office 365 and was still consolidating accounting systems several months after the reorganization.
"If the first thing employees experience after being acquired is that a bunch of their systems don't work, that's not good," Schiltz says. "You only have one chance to make a first impression on employees, and you want it to be a first-class experience."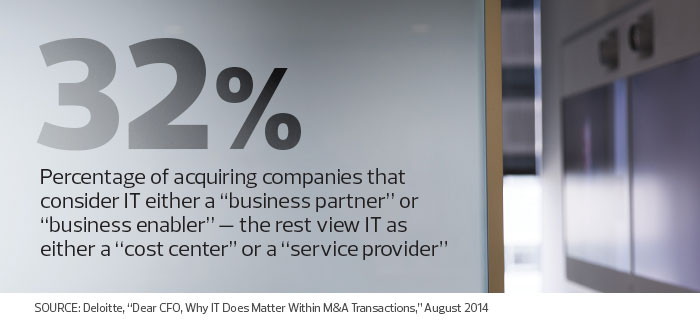 That's the same strategy that Smith takes at Fox Rothschild. The aim is to minimize downtime and give employees at acquired firms access to their data as quickly as possible, he says. To that end, the IT team will install a temporary storage area network at a new office, begin backing up data and then replicate that data back to the firm's central data center.
That approach recently helped Smith's team move an acquired firm over to the core network with less than a day of downtime over a holiday. "If we hadn't had the local SAN, there's no way we could have cut them over in 24 hours," he says.
Merging Different Cultures
Employees often have questions about how a merger will affect company culture, and IT systems — and how they're integrated — can help answer those questions. In the case of Fox Rothschild, for instance, the immediate use of tele­presence technology sends the message that collaboration is important.
When the Atlanta app development firm Big Nerd Ranch merged with the web services company Highgroove Studios in 2012, the firms had distinctly different cultures, CEO Aaron Hillegass says. While Big Nerd Ranch paid hourly wages, Highgroove employees were salaried. The training and consulting programs at Big Nerd Ranch were run in a "seat-of-the-pants" style, Hillegass says, while Highgroove was more disciplined in its operations and tracked progress on projects with a custom application called Stable.
When the companies merged, they retained that system, but executives knew they needed to tweak it to fit their new business model. "Both sides had to get used to a new way of thinking, and the tool had to reflect that new way of thinking," Hillegass says.
Managers changed the system to hold employees more accountable for tracking their hours, which in turn helped the company to be more accurate in its invoicing.
"Changes in software and changes in culture often go hand in hand," Hillegass says. "The user interface of the software trains users what the expectations are. The limitations of the system make the process almost blameless. It's a faceless villain in times of change."
Colin M. Lenton