Why Expanding Small Businesses Should Focus on IT Infrastructure Upgrades
As small businesses grow, moves are inevitable. An innovative approach can simplify them.
---
More Best Practices for Small Businesses Undergoing Expansions: 
Why Technology Must Keep Pace with Small Business Growth
What Small Businesses Need to Know When Moving to a Modern Data Center
IT on the Move: What to Consider for Your Expanding Network
Growing Business? Think Energy Efficiency for IT
IT on the Move: A Pre-Move Checklist
IT on the Move: Services for Growing Small Businesses
Small business operators work hard to achieve success. But as sales rise and customer bases grow, small firms often find they need a new place to do business — either a new office or significant expansion of a current location. A new space or expanded operation needs an IT infrastructure to support it, including networks, data centers and the power to run them.
For example, fast-growing law firm Tucker Ellis boasts more than 200 lawyers in seven offices across the U.S. Scott Rolf, the firm's CIO, has overseen more than a dozen office migrations and expansions.
"We've added three offices in the past three months," Rolf says. "We opened a Houston office in March and a Chicago office in May, and we're opening a St. Louis office in June."
This growth creates significant IT challenges, Rolf says. But it also presents small businesses with a valuable opportunity. A move or an expansion can be a time to reassess old habits, shed aging IT infrastructure and align business around cutting-edge solutions that pave the way for future growth.
Moving to a More Sophisticated Network 
As small businesses grow, they need networks that are sophisticated and more robust to support increasing numbers of users and applications.
John Guzejko, a networking solution architect with CDW, warns that small outfits that have been getting by with simple spoke-and-hub network topologies and consumer-grade routers and switches need to upgrade as they move to the next level. Too often, he says, small firms lack the dedicated insight to make that happen.
"Not only do they not understand the complexities, a lot of the time they don't even understand the most basic aspects of the technologies," says Guzejko. "Companies that make this transition end up far more accomplished from an IT perspective."
Wireless networks pose a special challenge, he says. Organizations may need to serve hundreds of users scattered over thousands of square feet, roaming among dozens of access points. Symptoms of a struggling network — dropped connections, sluggish response and stubbornly slow page loads — often emerge even before an expansion. As they seek to address these issues, Guzejko suggests that small businesses conduct one of two types of wireless survey:
A predictive survey is conducted to estimate the number and location of access points and cable drops based on a review of the floor plan and the expected location and number of users.
During a site survey, IT staff members inspect the physical space, using a portable Wi-Fi signal scanning tool to optimize access point placement and configuration by detecting interference factors that impair reception.
Getting the Right Equipment in Place 
Networks should be structured for redundancy, security and performance, replacing simple hub-to-endpoint cable runs with a multitier layout. Small businesses should consider several essential infrastructure elements as they plan a network at a new space.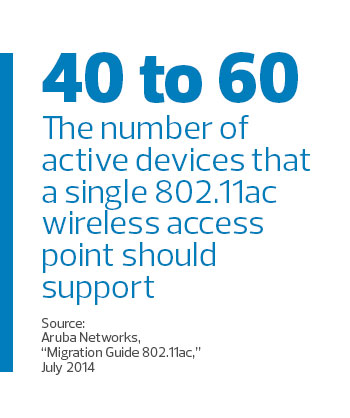 Updated cabling: Guzejko recommends replacing copper Ethernet cable with copper CAT 6 or CAT 6a cable that can support data rates of up to 10 gigabits per second. Further, installing redundant cable can protect against failure and provide the ability to increase capacity if needed.
Enhanced electrical: William List, a network solution architect at CDW, advises IT leaders to think about power at every step of an expansion effort. A survey of the existing electrical service and wiring can determine what work needs to be done to fulfill business requirements. Power over Ethernet (PoE) network hardware and clients reduce the need for electrical cabling and offer more flexibility in a network layout.
Energy efficiency: New 802.11ac Wave 2 network hardware is fully backward-compatible with older Wi-Fi equipment and can reduce the power drain on 802.11ac compatible devices.
Virtual LANs: List also recommends adopting virtual local area network (VLAN) segmentation to isolate network traffic and enable quality of service support for Voice over IP, video and other latency-vulnerable communications.
Managed switches: Intelligent Layer 3 switching hardware provides visibility into network traffic and lets IT staff shape, filter and prioritize data flows.
Small businesses can reap significant benefits from tools that enable remote, portal-based management of a network, such as the Cisco Prime management solution or HPE's Intelligent Management Center. Small firms also should consider cloud-based management solutions such as Cisco Meraki, Aruba Central and HPE Cloud Network Manager, which can aid in remote management of multiple branches for companies that have a limited IT staff.
Shifting to the Cloud
Cloud computing has changed the way organizations of every size and every industry approach IT operations — perhaps none more so than small businesses. Anil Desai, an independent consultant in Austin, Texas, says many small businesses choose not to operate data centers at all, instead tapping affordable services from providers such as Microsoft Azure, Amazon Web Services and Google for everything from productivity and accounting software to network security solutions.
Desai describes a client that recently landed $50 million in funding. The company is scaling its operations almost entirely on cloud services, something Desai says he wouldn't have considered just three years ago. "The question changes from 'Can we put it in the cloud?' to 'Give me a real good reason why we can't,' " he says.
The benefits of cloud computing include predictable, subscription-based payment models, services (and pricing) that scale up or down with demand and a vastly reduced infrastructure footprint.
But the cloud is not for everyone. Cost considerations, compliance requirements and the need for granular control over data and systems are among the concerns that lead many small businesses to maintain their own data centers. For firms that operate in-house data centers, a growth transition is a chance to become more efficient by:
Replacing aging rack-based servers with new models that use advanced CPUs and architectures to consolidate large workloads onto fewer systems
Shifting to solid-state disk (SSD) storage arrays, which are significantly faster, more reliable and more energy-efficient than traditional spinning-disk storage
Deploying upgraded gigabit-capable fiber cable in the data center to increase performance and reduce latency
Power and Cooling Considerations 
Tucker Ellis CIO Scott Rolf says power should be a top priority in any move or expansion. He recommends that small businesses assess the character, quality and location of electrical service throughout a new space. These steps include:
Verifying the inbound electrical service and the quality of wiring in the spaces intended for use
Reviewing circuits to determine if they are sound (some may be shared across rooms and floors, and even with other tenants)
Making sure to run adequate power to switch closets and other aggregation points
Deploying universal power supplies (UPSs) and more sophisticated power switching hardware as needed to support uptime targets
CDW's List suggests the adoption of PoE-based switches and network gear. PoE eliminates the need for dedicated electrical outlets and power bricks for networked devices such as Wi-Fi access points, VoIP handsets and security cameras.
But a PoE rollout increases both electrical and thermal loads in a wiring closet. This creates a corresponding growth in the need for cooling. Power and cooling resources must be carefully deployed to account for current needs and future growth. By pairing rack-mounted servers and storage with efficient power distribution units (PDUs), data center managers can optimize floor layouts for air flow, cooling and access.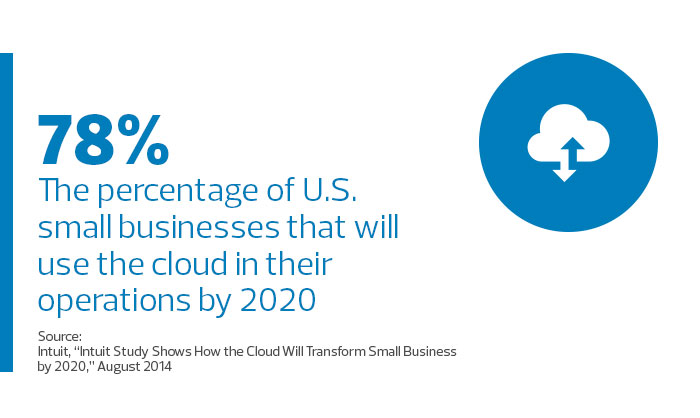 A growing data center also may benefit from the adoption of a data center infrastructure management solution to monitor, measure and manage activities in the facility. DCIM solutions address both IT-related equipment (servers, storage and switches) and facility infrastructure elements (PDUs and computer room air conditioners). The goal: to unify IT and facilities management activities into a single environment.
Physical Security: Staying Safe
Successful firms can quickly grow beyond a handful of trusted employees and understanding customers. This rapid growth often requires businesses to protect themselves against physical threats. Rolf recommends a number of steps, including:
Moving server and network infrastructure to a secure, monitored location in the building, accessible by a robust access control system such as a smart card reader
Installing strong, card-based access control systems at all portals, including the entrance to the building and each floor, as well as to sensitive rooms and areas in the building
Deploying surveillance cameras at card reader locations, including building and floor entrances as well as locations that house critical IT infrastructure
Ensuring that every floor has an exit that provides employees and visitors with a way out that does not require a key card
Key card solutions should be integrated with a firm's directory-based network management and security solutions to manage user access. Physical security measures should be tested, logged and reviewed on a regular basis.
Services for a Smooth Move
Many observers advise growing businesses to seek help from third-party service providers as they start to navigate the transition into new or expanded office space. Among the services to consider:
Network services: From initial site surveys through network design and deployment, experienced consultants leverage expert insight to optimize network operation. They can also streamline management of the network, achieving high reliability and the ability to scale as business grows.
Security services: Security consulting firms can conduct vulnerability assessments that sniff out problem areas, as well as penetration testing that can target potential vulnerabilities and identify weaknesses in a firm's infrastructure.
Data center services: Expert consultants can establish a new data center architecture and design, from the facility floor plan and power and cooling systems to the server, storage and tiered data backup infrastructure. They can also help design hybrid cloud deployments to maximize scalability, flexibility and cost effectiveness.
monkeybusinessimages/ThinkStock