How the Cleveland Browns Made Their Wi-Fi Network Ready for Game Day
Ensuring the ultimate fan experience inside FirstEnergy Stadium takes a lot of planning and testing.
Even though the Cleveland Browns were already halfway through their season last November, the team's IT Director Brandon Covert walked through a sold-out FirstEnergy Stadium before a game and felt some opening-day jitters.
After several months of installing Wi-Fi access points throughout the stadium, Covert was about to discover whether the venue's new wireless network could handle the crush of game-day fans — smartphones and tablets in hand.
He and his team of IT staff and consultants hiked around the main concourse, and up and down each level of the stadium, smartphones at the ready, testing the Wi-Fi for slow connections or dead spots.
"We did pregame tests and felt confident, but there was a bit of nervousness opening it up to that many people for the first time," Covert recalls. "Halftime is when wireless gets busy. Everyone gets on their phones, so I walked around and browsed the internet and checked social media to make sure content loaded fast. In the end, everyone had a great experience."
Above all else, Browns executives wanted to provide fans with flawless and speedy access. The NFL has made high-speed wireless networks at its 31 stadiums a priority ­— to boost attendance by making the stadium experience as appealing as watching games from home.
Getting a Speedy Connection 
Fans at the stadium want fast Wi-Fi so they can use social media, watch video replays, keep tabs on other games and monitor their fantasy football teams on their mobile devices. But in Cleveland, from kickoff to the final whistle, fans consistently had overwhelmed the cellular networks, making it difficult to call, text, use apps or surf the web.
"You go to a game, you want to be interactive. But when there were almost 70,000 people in one space for a short period of time, there was absolutely no connectivity," says Browns season ticket holder Phil Cohen. "We live in a world where people expect access, so being out of touch for four hours was a challenge."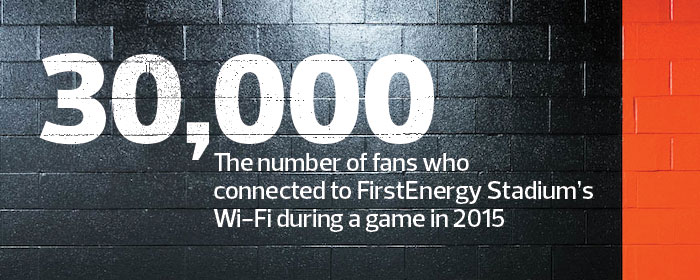 SOURCE: Cleveland Browns
Investing Ahead of Time 
Browns executives understood the frustration, so they invested in Wi-Fi earlier than scheduled. The team had planned to build a wireless network in 2016 as part of a broad $125 million renovation of the 17-year-old stadium. But in summer 2015, Browns ownership asked Covert to start the Wi-Fi project immediately and have the network live before the end of the 2015 season.
"We are fully committed to providing our fans the best possible experience in every area, and mobile connectivity has become a significant channel through which everyone enjoys sports and gets their information," Browns owners Dee and Jimmy Haslam wrote in a joint statement. "It was important that we offer high-quality Wi-Fi access throughout FirstEnergy Stadium as we completed our modernization project."
Turning to a Pro 
A Wi-Fi installation of such magnitude typically takes about five months, from design to implementation. But the Browns compressed the project into three, Network Manager Jeff Patton says.
Previously, the team relied on scattered wireless access points that covered offices, several event spaces and the press box. Ticketmaster also placed its own APs at gate entrances, allowing ticket takers with handheld devices to scan in tickets, but Wi-Fi for fans was not an option.
Covert considered several technology partners and quickly gathered bids, but he chose CDW to oversee the design and implementation because of its lengthy track record of installing Wi-Fi in major sports venues, including Arrowhead Stadium in Kansas City, Mo., and University of Phoenix Stadium in Glendale, Ariz.
"We felt comfortable with what they had done," Covert says. "It came down to experience and expertise."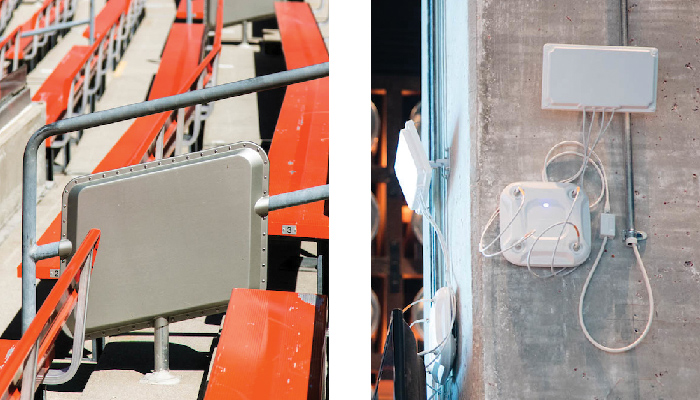 The Browns installed 960 wireless access points throughout FirstEnergy Stadium. 
As the team transitioned from training camp and preseason into the regular season, IT staff and consultants replaced a hodgepodge of wireless APs and installed 960 Cisco Systems Aironet 3700 series 802.11ac APs, which now cover the entire stadium. To perfect coverage, a CDW team first performed a site survey, spending a week identifying optimal AP locations.
"We walked every inch of the stadium," says Travis Bugh, CDW's technical lead for enterprise networking and the lead engineer for the Browns project.
The survey helped Bugh finalize the design with the IT team's input. To support Wi-Fi, they decided to build a new LAN, separate from the team's existing corporate network. Covert says that approach tackled two challenges: ensuring fans have plenty of bandwidth and protecting internal applications and data.
"We like the physical separation for security reasons," he says. "If you're on the stadium Wi-Fi, you can't connect to the corporate network."
For the network core, the Browns purchased two Cisco 6880-X 10 Gigabit Ethernet switches to ensure redundancy. The two switches are both active, which increases throughput, says Bill Jenkins, CDW's principal consulting engineer. "We bond them together, so we're getting 20-gigabit speeds at the core."
Next, the team installed Cisco Catalyst 3850 switches in 42 wiring closets throughout the stadium, and ran fiber-optic cabling to each switch and CAT 6 copper wiring for each of the stadium's new APs, Jenkins says. Next came a Cisco ASR 1001-X router to connect to an internet service provider and a Cisco ASA 5586-X firewall for security.
It wasn't easy. The Browns faced some logistical and weather-related challenges during installation. And the install crew had to work around football games, corporate events and the occasional concert.
"We'd have a hundred workers all over the place, and if there was an event the next day, we had to clean up," Covert says.
To get Wi-Fi operational as quickly as possible, the workers installed APs in indoor areas first, such as suites and the club level. Then, they tackled the concourse and the lower bowl.
During that time, frequent storms made it too dangerous for installers to work in the stadium's upper deck. On days when the weather cleared, installers used special ladders to climb onto a roof overhang that houses the stadium lights. There, they fastened APs and wireless antennas. They also placed four switches on top of the roof overhang in climate-controlled cabinets.
Ready for Kickoff
"It was a challenge, but we got it all done by our deadline," Covert says.
Early in the 2015 season, when the Browns finished installing the suite and club level sections' Wi-Fi, they made it available to fans immediately. They did the same with some sections of the lower bowl once they were complete, but they didn't openly advertise availability to fans.
"A few thousand fans noticed it on their own, and it was a soft test for us to make sure it was operating as expected," Covert says.
During installation, Bugh and his CDW team tested and adjusted the location and number of APs in each section, but nothing beats a live test of a network in a full stadium.
To that end, the Browns officially launched their network on Nov. 1 during a game against the Arizona Cardinals. For that game — and the rest of the season — Bugh's CDW team and Covert's IT team monitored the network using software tools that showed whether the APs and wireless controllers were online, assessed signal strength and measured how much traffic was moving through the network. They also roamed around the stadium to watch people's experiences and to test the Wi-Fi themselves.
"It's the only way to do it accurately," says Bugh, who also ventured into the middle of sections to test out Wi-Fi speeds with six of the most popular smartphones.
Workers were stationed throughout the stadium to promote the Wi-Fi network, help fans log in and garner feedback. They used a Cisco network management tool to adjust the range on APs or change channels to reduce interference based on all of the feedback and testing. "It's an incredibly robust wireless solution that gives you an immense amount of granular control," Bugh says. CDW's engineers will attend the first four games of the 2016 season to monitor the network and perform a final tune-up on the system. In the meantime, fans say they are ecstatic over the new Wi-Fi network.
"It's a major enhancement to my game-day experience," says Cohen, the season ticket holder who attends games with his 19-year-old son Jacob.
Checking Smartphones Between Plays
Analytics show that fans use Wi-Fi primarily to engage on social media, and the Cohens are no exception. Phil uses Wi-Fi to check his Twitter feed, mostly to get real-time commentary and analysis from Browns beat reporters.
"If there's a controversial play, I check Twitter to see what they think of it and whether they think the call will be overturned," he says.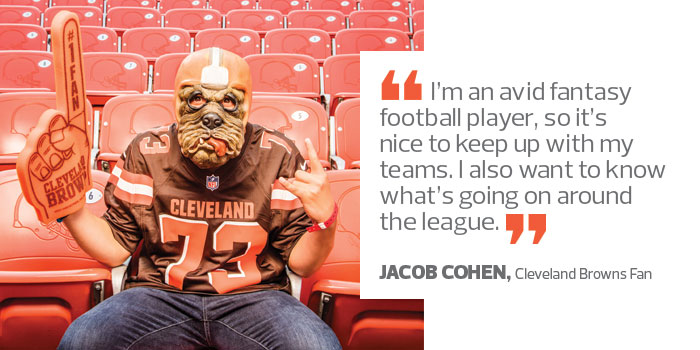 Jacob posts pictures on Snapchat and also follows game analysis on Twitter. He also frequently checks his sports apps for the latest scores.
"I'm an avid fantasy football player, so it's nice to keep up with my teams," he says. "I also want to know what's going on around the league."
A Better Cellular Experience 
The Wi-Fi has also taken the load off the cellular networks, improving phone service at the stadium, Patton says. "As more people connect to Wi-Fi, more people can make calls and send text messages, and there are fewer dropped calls," the Browns network manager says.
The network has even boosted business operations. Team sponsors and the fan club, for example, use Wi-Fi for promotions and to sign up new customers in the concourse or just south of the stadium on Dawg Pound Drive, Patton says.
Overall, while the Browns IT team, CDW engineers and the installers had to work at a frenzied pace, providing fans the speedy Wi-Fi access they crave was well worth it, Covert says.
"We've been very happy," he says. "Being able to provide this to the fans last season and allowing them to stay connected was the end goal, and we accomplished that."
Ryan Donnell