Wi-Fi, Big Data and Mobile Apps Help Stadiums Generate Extra Revenue [#Infographic]
Intelligent displays and mobile point-of-sale terminals also help stadiums make the most of technology.
Operating a stadium can be a daunting job that often involves different teams, sports and events and tens of thousands of people flowing in and out of the venue on a daily or weekly basis.
The IT chiefs who manage the technology in stadiums are looking to get the most out of their investments and increasingly are leveraging the networks, hardware and devices inside stadiums to generate new revenue streams.
One key technology that is prevalent in all modern stadiums is the display, which can be used to deliver advertising and other messaging. For example, the Staples Center in Los Angeles uses Cisco's StadiumVision technology, which lets venues centrally manage and deliver customized video and promotions to any combination of monitors inside a venue.
Stadiums are also filled with fans who use smartphones, so a robust Wi-Fi network is necessary to handle all of the data traffic that those fans generate. With a reliable network, fans might be willing to pay more for services offered by the venue.
Fans can also use their smartphones to access teams' or venues' customized apps and use them to buy tickets or take part in promotions. Teams can then tap into the data generated from app use and online sales to improve and customize their offers and prices.
After fans have settled into their seats and used a team's mobile app, they might want to buy a drink or some food. Mobile point-of-sale terminals let stadiums improve the tracking of sales and offer promotions and allow vendors to accept credit cards without customers having to leave their seats.
Take a look at the infographic below for the key technologies stadium IT professionals have been using to drive revenue, and the results they have achieved.
For more on how  technology can improve the in-stadium fan experience, check out "Stadiums Boost Wi-Fi, Apps to Improve the Fan Experience — and Revenue."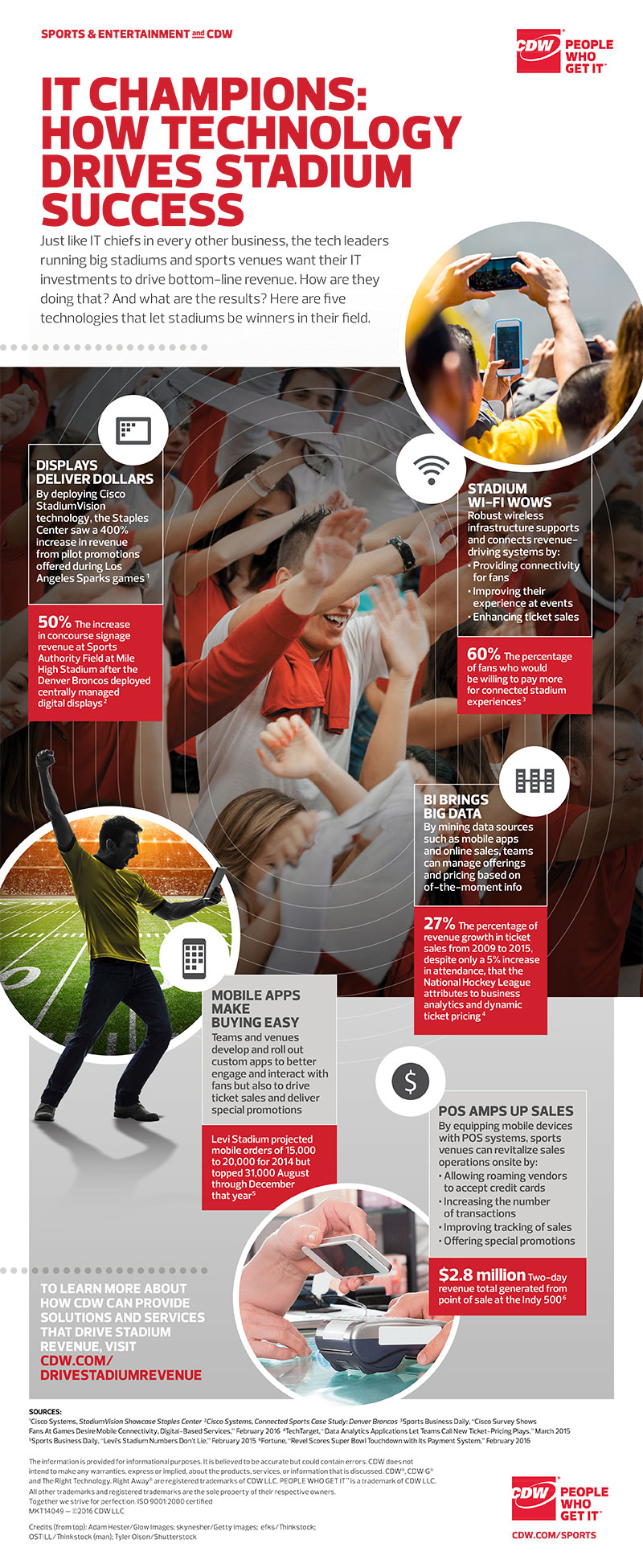 Darryl Sebro