March Madness 2015: Duke University Leads College Basketball's Data Revolution
The first NCAA men's basketball team to adopt the innovative SportVU technology is reaping the rewards of its analytics investment.
As the 2015 NCAA Men's Division I Basketball Tournament (or March Madness, as it's more affectionately known) gets underway, Duke University has several weapons in its arsenal as it pursues a fifth national championship: Mike Krzyzewski's coaching prowess, a talented team led by dominant freshman center Jahlil Okafor and cutting-edge technology that turns massive amounts of disparate basketball data into competitive intelligence.
Duke, the No. 1 seed in the tournament's South Region, is at the forefront of advanced analytics in men's college basketball. Two years ago, the Blue Devils became the first team in college hoops to install STATS LLC's SportVU player-tracking system at their basketball arena and practice facility, joining every NBA team that has embraced the technology.
Here's how it works: Six SportVU video cameras, based on Israeli missile-tracking technology, track player and ball movements, capturing data such as the players' speed, the shot trajectory, and the players' dribbles and passes. The cameras record data 25 times per second, resulting in 1 million data points per game.
This sea of information produces insights that help Duke's coaching staff better assess player performance, refine their strategy and corroborate their decisions, says Kevin Cullen, the team's basketball director of information technology. Duke is just one of four college basketball teams that uses the technology, providing the perennial Athletic Coast Conference powerhouse with a competitive advantage.
"Every piece of information is good information. The more we have, the better decisions will be," says Cullen, whose duties include breaking down game film and developing scouting reports for the coaching staff. "We thought this is one area [where] we could find something new and either open our eyes to different ideas or help confirm what we already know and back up our decisions."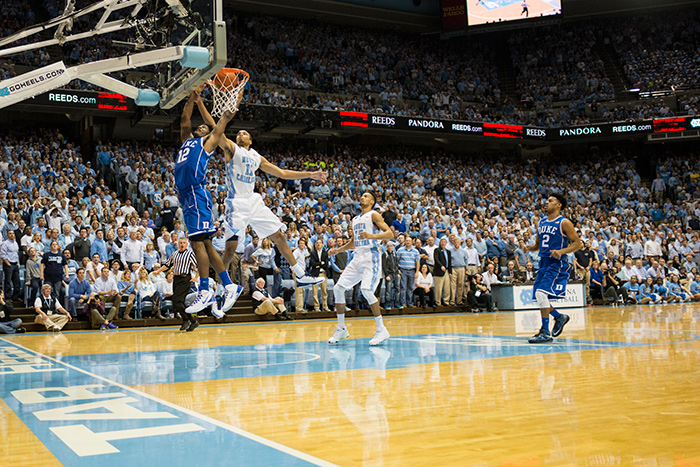 Credit: Jacob Kupferman/AP Images
Data Drives Duke's Decisions
SportVU technology generates reports that go beyond the traditional box score, including new statistics such as secondary assists and converted rebound chances. It also provides information on players' tendencies and defensive metrics, such as who is allowing the most points, where on the court the team is allowing the most points, and who is the best and worst at eliminating opponents' drives to the basket, says STATS assistant vice president Ryan Warkins.
Because only three other college teams use the technology (Louisville, Colorado State and Marquette), the SportVU system doesn't provide enough data for Duke to scout its opponents. Instead, the Blue Devils use the technology to analyze or "self-scout" themselves. Recording practices provides the team with a larger set of data for analysis, Cullen says.
"It has helped our team," he says. "We have made decisions based on some of this information, and it has helped corroborate other decisions."
For example, Duke's coaches always preach to players to take good shots. They've long believed that a catch-and-shoot three-point attempt has a higher degree of success than a three-pointer launched off the dribble — and SportVU's stats prove it.
This year, the team has worked on taking more high-percentage three-point shots, and it's made a difference, Cullen says. For example, through the end of the regular season, the team had attempted 383 catch-and-shoot three-pointers and made 41 percent of them. In contrast, the team had made only 33 percent of its three-point shots off the dribble.
"It backs up what we previously believed, and now we can actually say it," he says. "When you are dealing with 18- to 22-year-olds, anything you can do to substantiate your case is going to help."
Understanding the Language of Sports Analytics
Biomechanical movements, including distance, speed and the number of accelerations and decelerations a player makes, also are part of the data that SportVU tracks. That means athletic trainers can get a summary of each player's physical activity and the data can ensure that players are not overtaxing themselves, which could help reduce injuries, Cullen says.
"We always want to make sure we are doing the best we can with the players, monitor their workload and not stress their bodies too much," he says.
Now that he has two full seasons of SportVU data under his belt, Cullen says he's feeling more comfortable with the information and how to use it. Internally, the team is experimenting with the data in hopes of gaining new insights and developing new ways to measure performance.
"The main thing is that we're just getting to the point where we have a baseline of what some of these numbers mean," he says. "For example, we score 1.3 points every time Okafor gets a post touch. Is that good or bad? Instinctively, we know our offense should be more efficient when he is able to get the ball in an advantageous position. What we don't know is how some of the great former Duke players in the past like Elton Brand or Carlos Boozer performed in comparison."
After two years of historical data, however, the team is starting to get some comparative data. "We are getting to the point of knowing what is a good number and what we should expect to see," he says.
As for March Madness, Duke's coaches will analyze their opponents' game footage to strategize and create game plans. The effect of the SportVU technology during the tournament will come largely from the adjustments and conclusions the team has made in the past two years. Advanced data analytics is just one of many aspects of Duke's winning formula.
"After 35 years at Duke, Coach K will make the right decision more often than not," he says. "At the end of the day, my job is to try to provide him and our assistant coaches as much information as I can and allow them to come up with the best game plan to beat an opponent."
Want to learn more about how analytics is transforming college basketball? Read our story about Colorado State University's approach to leveraging performance data in its coaching program.
Jim Dedmon/AP Images
More On