Companies Take on Mobility with Tablet and MDM Combo
A manufacturing inspection company secures customer data by placing PC-level protection in the hands of employees in the field.
Customer privacy is the lifeblood of Intertek, a provider of product testing, inspection and certification services to manufacturers. So when the company decided to roll out 140 Apple iPad devices to its field inspectors, mobile security was at the forefront of the decision-making.
To keep client specifications and reports confidential, Intertek deployed AirWatch mobile device management. AirWatch MDM lets Intertek's IT team password-protect the tablets with automatic screen locks and remotely disable devices if they are lost or stolen or if an employee quits.
"Everything we handle is proprietary information — all the inspection reports and all the forms they use to inspect the facilities," says Danica Goss, a follow-up service administrative assistant at Intertek. "Security is incredibly important to us. I definitely feel confident that we have a secure system" with AirWatch.
Ease of use was another essential element, says Intertek Inspection Manager Michael Puls, who adds that the company's "IT people chose AirWatch to make sure that the security on the iPads in the field is the same as on our laptops sitting in the office."
"The majority of our field personnel are over 50 years of age, who may or may not have even seen an iPad," Puls says. "We didn't want the guys in the field to have to download applications. We wanted the applications to come preloaded, with web-based shortcuts."
Pre-installed applications include PDF Expert, Photo to PDF and PDFMerge to automate what had been a pen-and-paper process of filling out and submitting inspection, time and expense reports.
IT staff also use AirWatch to push out new applications to the iPads and restrict users from downloading unapproved apps or visiting forbidden websites.
The Core of the Matter
Mobile security products like AirWatch typically handle such functions as wiping a lost or stolen device, filtering web traffic, scanning for viruses and malware, pushing out software updates and enforcing network policies about passwords and app downloads. Available as either an on-premises or a cloud-based service, these solutions can cost from $6 to $10 per device.
This set of security features is compelling, says Laurie McCabe, a partner at the SMB Group, a Northborough, Mass., consultancy that recently surveyed small business decision-makers about their mobile plans.
"Concerns about data, network and transaction security are pretty much top of the list for management," McCabe says. "SMBs are trying to keep pace and use these different mobile devices and solutions to help the business. But at the same time, it's hard to keep everything managed and secure."
With more companies adopting bring-your-own-device policies, today's mobile security tools offer fine-grained controls that allow users to separate personal and professional data on devices so that IT managers need only wipe company information when an employee leaves. McCabe says these partitioning approaches are a pragmatic solution for small businesses.
"The business is never going to be able to get end users to conform to everything they want them to do on their smartphones or tablets," McCabe notes. "At least if these devices are partitioned, you can keep what somebody is doing on the personal side from screwing up business data."
Businesses are also increasingly looking for one consolidated, centralized system to secure both their mobile and desktop platforms and applications.
"Companies want to have the same security on mobile devices that they would have on laptops, but it is a more sprawling environment that has to be managed," says McCabe. "The mobile apps are as important to secure as the devices."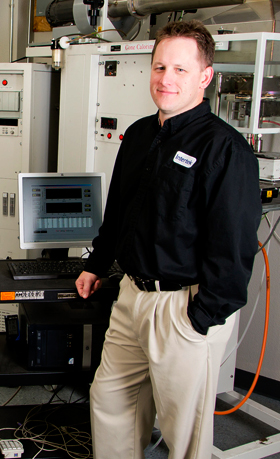 Photo: Darren Hauck
"We didn't want the guys in the field to have to download applications. We wanted the applications to come preloaded, with web-based shortcuts," says Intertek Inspection Manager Michael Puls.
One Step at a Time
ReVision Energy, a Portland, Maine-based installer of solar-powered systems, is just starting to get a handle on mobile security for its 60-plus employees.
More than
1 million
malware threats targeted Android devices during the first nine months of 2013, up from 175,000 a year earlier.
SOURCE: Trend Micro
"Now that we have data moving out to mobile devices, we need to figure out what's appropriate and what we want these devices to have access to," says IT Manager Fred Greenhalgh. "There's a tension between wanting to give our employees mobile devices, to empower them in the field, while also not living in total anarchy."
ReVision Energy provided Google Nexus tablets to a dozen field representatives, who are using the devices to create and deliver proposals for installing solar panels at residential and commercial sites. The tablets are password protected and can be remotely locked down if lost or stolen.
Greenhalgh is also seeking a combined local/cloud file storage system that makes copies of customer site photos or contracts available to mobile users securely. Today, employees with smartphones can access Google Mail, but they can't traverse the corporate firewall to access data.
"We want to get cloud and local storage in sync," Greenhalgh says. "We're also looking at whether we want all that data to be available on 60 different devices. We're in the process of evaluating security solutions that address this problem."
Mobile Devices Drive Ultimate Satisfaction
Greenhalgh says the company's field employees are embracing mobile technology, which is driving ReVision Energy's continued effort to address security.
"A lot of our workers are technicians on roofs or in basements doing plumbing and electrical work. They're usually not that gung-ho about new technology," he says. "But the most tech-resistant employees do like mobile devices."
For Intertek, although there was a learning curve, the return on investment has been in the productivity gained from its $100,000 iPad and AirWatch investment.
"The biggest benefit is that once an inspection is completed, the report is sent immediately via email to the people who process it," Puls says. Savings result from reduced turnaround time in preparing reports and reduced paper and mailing costs.
"It used to be that an inspector would put a week's worth of inspections into the mail, and we'd receive the paperwork days or even a week later," he says. "Now that the process is automated, we are learning about client issues and non­issues quicker."
Darren Hauck
More On