100 Things and Technologies that Have Transformed Retail Since the Beginning of Time [#Infographic]
Where would our nifty electronic tablets be if it weren't for the Neolithic age's cuneiform tablet?
Time travel isn't real yet, but if it were, I'd love to go back to the Neolithic era and get my hands on the early prototype for the iPad: the cuneiform tablet.
Intel teamed up with the WPP Global Retail Practice to examine "The History of Retail in 100 Objects," and the timeline goes all the way back to the cuneiform tablet. These slabs of clay were early forms of "printing" information, and the fact that we're now so eager to carry around electronic tablets shows how old ideas get reabsorbed into new ones.
Other highlights in the 100-object list include the price tag, which helped set customer expectations up front, and the vending machine, one of the early examples of retail automation. While the vending machine made its mark in the late 1800s selling postcards, it's now most commonly associated with selling ready-to-eat food items, but we've continued to iterate and evolve the vending machine to sell higher-end products as well.
In fact, vending machines have even made the leap to live animals, as this Chinese vending machine that sells live crabs demonstrates.
The future of retail looks bright, as Intel and WPP imagine holostores and sentient shopping. Does that mean if I'm in a bad mood I can wish for a 50 percent discount? Please say yes.
Check out the full infographic from Intel and WPP below.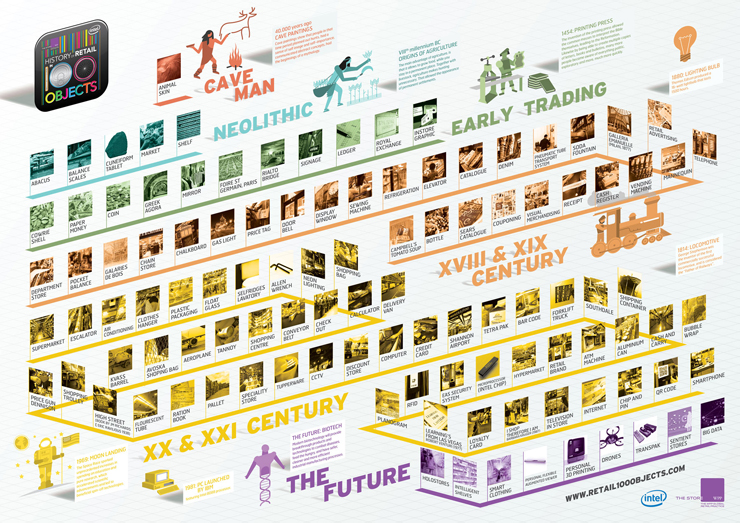 Click to image to enlarge
textfield