The Price of Admission to the Internet of Everything? 99 Cents
Cisco's VP of Emerging Technologies talks about how the Internet of Everything will shape our future at Cisco Live.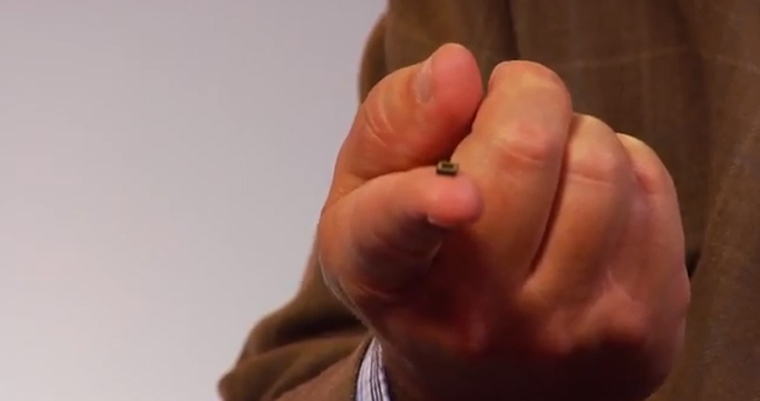 When people talk about the Internet of Everything, the idea of connecting your toaster, your coffee machine or your sounds like it could rack up a hefty bill. After all, the wearable technology that's available now, such as the Nike FuelBand or the Jawbone UP, don't come at bargain bin prices.
But you might be surprised to learn that the cost of entry for the Internet of Everything future isn't as steep as you might think. In fact, in the spirit of Macklemore's hit song "Thrift Shop," an Internet sensor chip will only run you a whopping 99 cents.
BizTech magazine's editorial director Vanessa Roberts sat down with Jim Grubb, vice president of emerging technologies for Cisco, at Cisco Live and he talked about how these cheap sensors will play a significant role in building deeper and broader connections for us all. He held the small chip on the tip of his finger during the interview as he explained further.
"This chip gives me IP connectivity, has integrated Wi-Fi and is 99 cents. So this could go in any light switch, in a brake in a car, literally you can put this anywhere where you can sense something and then be able to take data and turn it into something useful from an application perspective," Grubb says.
While the idea of having all of these connected devices sounds great, getting all of these machines speaking together with existing equipment could be daunting. Grubb, however, says Cisco equipment will work just fine with the Internet of Everything.
"Everything that you've already bought that has a Cisco logo on it will work with these new technologies like Cisco One and onePK," he says. "These are software add-ons. By the way they work at hardware speeds."
Watch the interview with Jim Grubb below
For more updates and videos from Cisco Live, check out our full coverage on the Cisco Live 2013 conference hub.
textfield
More On