The Pioneers Club: How Technology Helps Businesses Innovate
Learn the geek backstories of three innovating businesses.
One summer morning, Joseph Nicéphore Niépce set up a camera obscura — a box with a hole filtering in light from outside the window of his home in France. He put a bitumen-covered pewter plate inside and, hours later, removed it to find the image of the scene outside his window on the plate. That 1826 picture, "View from the Window at Le Gras," was the world's first photograph.
Long before Niépce's time and long after it, people have come up with new ideas and discoveries — from false teeth to anes­thesia, roller skates to roller coasters, defibrillators to barcodes. Our world has never been short on innovation.
And like Niépce, whose invention was aided and inspired by the technologies of lithography and the camera obscura, today's innovators are combining their curiosity with the latest technology to find new ways to solve problems and expand possibilities.
EON Reality, for instance, creates immersive virtual reality environments for training, education and presentations in the oil and gas market, aerospace, K–12 and higher education.
Rather than learn about hexagons and tetrahedrons on a page, students see 3D shapes spinning before them. Oil company ­employees can stand on what appears to be a rig and learn the latest safety practices.
"It's like the Holodeck on Star Trek," says Mats W. ­Johansson, CEO and cofounder of the Irvine, ­Calif., company. "You can ­create an environment that is that immersive."
Building products that are best described in Star Trek terms requires more than just the technology available at the local office supply store, however. Such companies innovate by both staying on top of the newest tools on the market and relying on common IT tools — from desktop systems and peripherals to storage systems and databases.
Interactive Motion Technologies of Watertown, Mass., grew out of a ­Massachusetts Institute of ­Technology project that created robots to help stroke victims recover movement. As the company's president and CEO, ­Rodolfo Rohr understands all too well the need to stay abreast of new technologies that might meet patients' needs.
"As long as you're persistent, you will find the right solution," Rohr says. "You need to listen to your customers, and you need to listen to your team."
Advances in technology also helped DirectMail.com expand — and transform — its offerings. The 42-year-old direct-marketing business has been handling mail campaigns for its clients for decades, but it now offers a patented tool to give clients what they need most: instant access to custom data. The tool, GeoSelector, lets clients draw shapes on online maps to select specific areas and then run queries to gather data about the residents and businesses in that area.
"We put more power in the hands of marketers," says Joe Leger, vice president of data analytics at DirectMail.com. "They're not relying on other groups to get data to them."
Although EON Reality, Interactive Motion Technologies and DirectMail.com have different missions, they all rely on technological advancements to help them find new ways to meet old challenges. Here's a look at how each of these innovative companies uses and builds on technology.
EON Reality: Learning in Virtual Worlds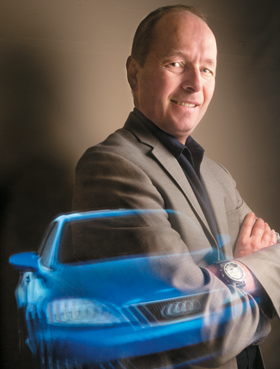 Photo: Thomas Alleman
"It's like the Holodeck on Star Trek. You can ­create an environment that is that immersive," says Mats W. ­Johansson, EON Reality CEO.
When marketing its new 787 Dreamliner, Boeing let people walk through the cabin, touch the cockpit controls and feel the lines of its exterior — never mind that the jet didn't yet exist.
Boeing used interactive 3D simulation technology from EON Reality to market the 747-8 and 777 before they were built. Using the EON Icube, a full-room, interactive environment projected onto life-size screens, potential buyers, media and others were able to experience the 747-8 as if they were walking through the finished product.
The EON Icube — built on a Windows 64-bit professional platform and consisting of a computer network cluster, projectors, LCD or digital light processing DLP screens, motion-capture technology (so images move along with participants' hand and eye movements) and EON's software platform for creating interactive 3D experiences — is used by oil and gas companies to train employees without the risk and cost of using real plants. Others use the technology to simulate catastrophic events for disaster planning.
"You have such a realistic environment that you can do it virtually and be much better prepared when you get out in the field," Johansson explains.
Two challenges, however, make the tool out of reach for many: It's expensive, and it requires a lot of space. "We wanted to create a solution that had at least close to that immersive experience, but that can be done in a much smaller footprint, at a lower cost and also set up in a shorter period of time," Johansson says.
EON's team developed its plan in late 2011 and began working with representatives from Panasonic, which had a brand-new ultra-short-throw projector that could be positioned close to a wall yet still project a large image. The company also revamped its networking solution so that it could cut down the time it would take a user to set up the EON Icube. "That was a crucial piece," Johansson says.
Last November, after a year of development, the company launched EON Icube Mobile, which has a smaller footprint, lower price tag and faster setup. The portability of the mobile version means the technology is accessible to more organizations than ever before, Johansson says.
He credits EON's close partnertship with CDW over the past eight years for helping the product development team evaluate new technologies — desktops, monitors, tabletop displays, projectors and more — that could enhance EON's products.
"It's all about the people in an organization like ours — people and partners — that really understand the technology and research that's going on out there," ­Johansson says.
Interactive Motion Technologies: Moving Ahead
Photo: Jason Grow
"We're definitely doing something that's very interesting with technology. We're really changing people's lives." — Rodolfo Rohr, President and CEO
It's been 24 years since MIT scientists began looking into using robots to help stroke victims recover motor skills.
Because neuroscience research points to evidence that the brain is not hard-wired — it's flexible and can recover from ­injury — MIT professors Neville ­Hogan and Hermano I. Krebs at the ­Newman Lab for biomechanics and human ­rehabilitation are using advanced robotic technology to enhance the brain's ability to recover from neurologic injury.
Through the MIT-Manus project, they led a team to develop robotic devices that help clinicians deliver intensive interactive therapy in an efficient manner. The robots help with the same movements that patients perform with physical therapists' guidance, but patients can do far more repetitions with the robots. Plus, the robots can objectively measure each patient's progress.
In 1998, Interactive Motion Technologies (IMT) formed to manufacture the clinical version of the MIT-Manus–InMotion robots for clinical research around the world. Fifteen years later, numerous randomized controlled clinical trials have resulted in objective clinical evidence that, CEO Rohr says, shows the technology used in a clinical setting can improve patient outcomes.
"It's really what gets us through the tough times," he says. "We're making a difference in people's lives."
Patients report that the robots have helped them regain hope in living. "It's not a silver bullet. We're still at the start of the journey," Rohr says. "But when people start to regain some movement and gain more control in their lives, you can see the real benefits."
The InMotion robots are clinical tools to deliver high-intensity, interactive therapy using video games. Clinicians are now able to keep patients continously enagaged with customizable progressive therapy protocols. Patients report that therapy with the robots is fun, and in some cases, they see benefits after the first session. The American Heart ­Association recently recommended that robot-assisted therapy be used for upper-­extremity motor rehabilitation in stroke patients.
Each system consists of a robot, as well as a computer and software developed by IMT, an Acer monitor, and a Seal Shield keyboard and mouse.
Through the clinical trials, IMT has substantially revised the hardware and software it uses, Rohr says. The results of the trials "have allowed us to learn what type of robotic assistance should be used to maximize patient recovery," he says. "We have learned that a patient must actively attempt to move, and the robot should only assist as needed."
The team has also evolved its robot into a precise clinical evaluation tool capable of providing results that can be closely correlated with traditional assessment scales.
The InMotion robots have changed in other ways as well. "We've improved our products quite a bit over the years," Rohr says.
Their universal design makes them easy to use and prepare for patients. Even patients in wheelchairs can use the robots, which is fundamental for clinical efficiency and utilization, he says. The robots are also compact and moveable, so they can function in many different hospital settings.
The next step is to develop more affordable devices that patients could purchase or rent on their own, instead of using them solely through clinics.
"We're definitely doing something that's very interesting with technology," Rohr says. "We're really changing people's lives."
DirectMail.com: Laying Out a Map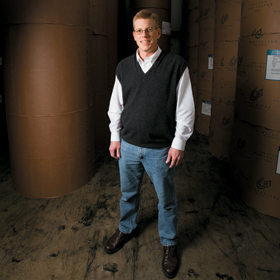 Photo: Toby Jorrin
"We're always looking for small changes that have a big impact." — Joe Leger, Vice President of Data and Analytics
DirectMail.com has been around a lot longer than its domain name — longer than domain names in general. But purchasing the enviable URL was just one in a series of smart moves by the Prince Frederick, Md., company.
Ten years ago, DirectMail.com began to shift from a primarily production-based company — doing direct-marketing campaigns for clients — to a data business. Vice President Leger says that traditionally, businesses have had to rely on outside organizations such as credit reporting agencies to learn about customers, and that's a problem.
Customers would request demographic information on a designated area — say, a specific ZIP code or carrier route — and a week later, they'd receive a big report with more information than they needed.
DirectMail.com's staff thought there should be a way to provide customized data to clients in a more timely fashion, and because such a tool didn't exist, they created it.
GeoSelector is an online geographic information system that lets users draw shapes around an area on a map and pull data on the population within that targeted area.
Clients can choose from 600 data points, everything from age to occupation and buying interests, to gain immediate insight about their customers. "It used to take a week to get those kinds of counts," Leger says. "Now it's instantaneous. Every time we demo it, we get a 'Wow.' "
To handle data on about 250 million individuals and 115 million households, DirectMail.com uses HP ProLiant servers for staging and production. The company runs incremental backups each night and full backups of its 20 terabytes of active data weekly.
Because DirectMail.com has three buildings (two next door to each other and a third a block away), it keeps the backups in a different building than its data center, and it stores tape backups offsite, Leger says.
Given that it has only three IT employees, DirectMail.com relies heavily on its vendors for support and recommendations when it comes to new technologies. "We don't have time to shop around for the best price on every hard drive that needs to be replaced," Leger says.
DirectMail.com, in partnership with a local university's geographic information system center, plans to release a new version of GeoSelector later this year that will give users a choice of maps. The tool is now compatible only with Google Maps.
"I think a lot of companies today think they have to make big changes at once to have a big effect. That's not necessary. What is necessary is to make incremental changes," Leger says. "We're always looking for small changes that have a big impact."
Thomas Alleman
More On