How One Startup Made a Miami Dolphins Fan's Dream Come True
CrowdTwist takes customer loyalty to the next level.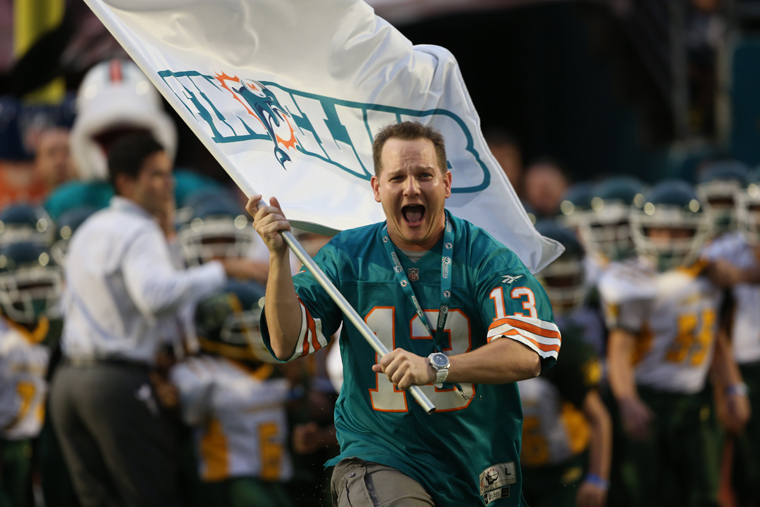 In the increasingly crowded landscape of customer loyalty startups, many default to offering discounts and coupons. CrowdTwist, a white-label SaaS platform for brands, is staking its claim on a different take on customer loyalty by partnering with brands to make their fans' wildest dreams a reality.
Steven Kitrel, a longtime Miami Dolphins fan whose nickname is "The Viking," got to live his dream of running the team's flag on the field during an August game last year.
On Twitter, he described the moment as "unreal."
Flying to Miami for game tomorrow. Leading team out of tunnel with fin club flag. Unreal. #onelifetolive

— Steven Kitrel (@LLKitrel) August 24, 2012
After he ran the flag, an experience he won through the CrowdTwist-powered Fin Club, he said his experience was a "dream come true," says Adam Trisk, head of marketing for CrowdTwist.
Kitrel also used the experience as an opportunity to wear his Dolphins loyalty loud and proud on social media.
@jimcramer real fans carry the flag during preseason twitter.com/LLKitrel/statu…

— Steven Kitrel (@LLKitrel) August 31, 2012
Another Dolphins fan won the opportunity to be a "Finsider" for the Miami Dolphins, which meant he got to interview players and coaching staff for the team's media channel. Trisk says that the fan told him he used to be a Dolphins fan only on Sundays, but after his experience, he was now "a fan every day."
It's precisely this kind of passion and experience-based relationship building that CrowdTwist believes differentiates it from all of the other customer loyalty businesses.
"What people really want is access to experiences and opportunities and memorabilia. Experiences that money can't buy," Trisk says. "Anywhere where there's a passionate relationship between an individual and an entity, there's a potential to build a deeper relationship with them."
The Tribalism of Sports Makes for Strong Loyalties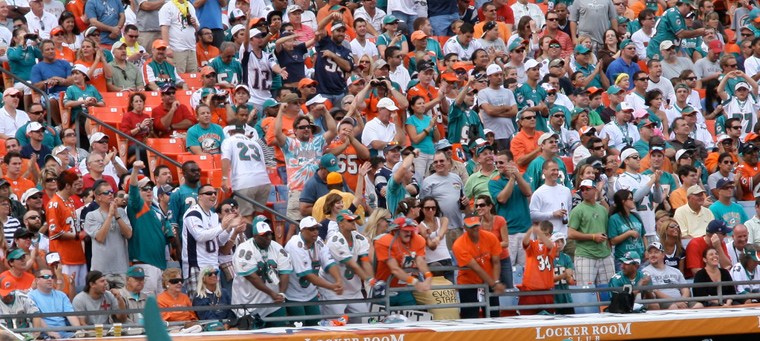 Credit: sarelkromer/Flickr
When it comes to brands that people are passionate about, sports teams probably top the list. Take, for example, the Syracuse University fan who demanded in the custody agreement of his divorce settlement that he be allowed to take his kids to the NCAA men's basketball title game if the team made it.
"It's not a holiday exactly, but it is holy to me," the fan said in an article on Yahoo! Sports. "Other people define themselves by their religion or race. Frankly, Syracuse sports, especially basketball, football and lacrosse, are a big part of my heritage."
This passion for sports feeds the hunger for CrowdTwist's once-in-a-lifetime experiences, Trisk says. That's why when the company scored a deal with the Miami Dolphins last year to power the Fin Club, the team's fan rewards program, he knew the company had struck gold.
So far, the company has integrated with more than 700 point-of-sale registers in the Dolphins' Sun Life Stadium, which links all fan purchases to their CrowdTwist identity.
"We're rewarding people for every purchase they make, be it a game jersey or a hot dog and beer," Trisk says.
But CrowdTwist goes beyond tracking spending by integrating with social media as well, which means the platform can identify and target influencers specific to that brand.
"The value prop [of CrowdTwist] is the ability to centralize all the data on an individual," he says.
By leveraging all of this data, CrowdTwist hopes to become the marketing analytics engine behind the way people engage with brands.
Ultimately, the question that startups in the loyalty space are trying to answer is how do you reward people for the value of their data? CrowdTwist's approach is to give users an unforgettable moment for life, which some might say is priceless.
textfield