Mobile Diversity: There's a Place for Tablets, Notebooks and Ultrabooks
Users' needs should drive an organization's evaluation of mobile devices and computing platforms.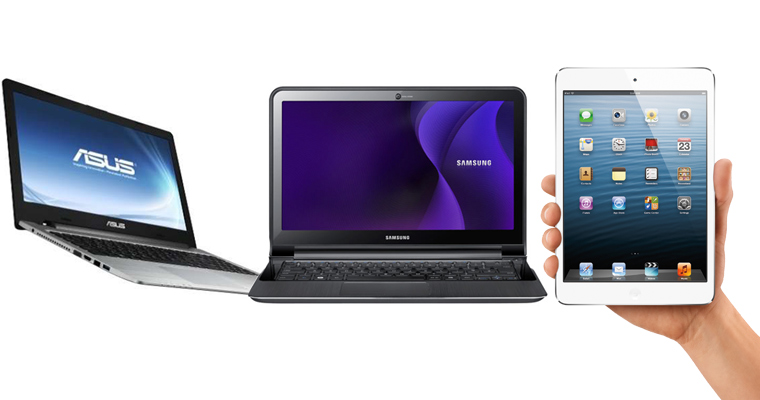 Photos: ASUS, Samsung and Apple
Enterprises have more choices than ever when it comes to computing platforms. The stalwart desktop PC remains a tried-and-true performer for a wide range of workers in commercial businesses, public-sector agencies and educational institutions.
But the range of notebook, ultrabook and tablet computers now available in the professional world creates many new choices — and decision-making challenges — for IT managers. Topping this list is how to be sure that the portable device chosen for an individual staff member is the right one for the job at hand.
Industry analysts say the answer is tied to two fundamental truths: First, no single form factor is right for every application. Second, it takes a clear understanding of business needs — not technical specifications and the allure of stylish new designs — to determine the right matchup of worker and computer (whether the organization's IT team has 10 or 10,000 users to support).
Choose Your Mobile Device Wisely
It may seem as though technology is advancing so rapidly that by the time IT has the latest trend analyzed and ready for migration, the world has moved on to the next best thing. Keep in mind that technology advances for a good reason: Each new device generation adds new features and capabilities.
Choosing the right mobile device can provide your colleagues with an invaluable gadget that works as hard as they do. Investing unwisely can mean wasting valuable budget dollars along with something just as important: time. Fortunately, there are ways to be certain that you are selecting what staffers need and want.
For example, there are clear stratifications in how people use computers. The two biggest are the distinct differences between content creators and content consumers.
"The factor that must be considered is whether someone needs a keyboard or whether they need the full-blown business applications available for desktops and notebooks rather than the equivalent versions available for tablets," says Patrick Gray, founder and president of Prevoyance Group, a technology consulting firm.
When it comes to making a platform decision, the IT buyers within an organization will need to gather several clues if they want to make an informed decision. The idea is to make a strategic assessment about solutions that can address mobile computing IT challenges.
Take a Close Look at User Behavior
A disciplined look at business needs when evaluating the computing requirements of end users is likely to uncover some surprises in most any organization. Case in point: Despite all the attention that notebooks and tablets get today, the best computing choice for some users may not be a portable device.
Convenience and portability aside, even the most rigorously engineered notebook or tablet will take a backseat to a desktop PC for some compute-intensive applications.
"The desktop will continue to be the overriding choice for applications that require large amounts of memory, high-performance computing or the ability to drive multiple large screens," says Charles Brett, vice president and principal analyst for Constellation Research.
For example, call-center agents in commercial businesses or case workers in social services agencies, who spend hours at their desks, will probably prefer the large, high-definition screens and full-sized keyboards of desktops to the portability of notebooks.
"There are large numbers of employees that are creating presentations or working with complex graphics programs, for example," says Mark Krynock, software portfolio manager for ThinkPad product marketing at Lenovo. "They need full keyboards and other desktop capabilities to stay highly productive."
Budget crunchers at these enterprises also are likely to prefer the generally lower price tags of workhorse desktop units. Similarly, healthcare organizations and schools might opt for either traditional desktops or sleek all-in-one computers for users who share workstations or library research desks. Computing performance and screen size are critical factors for organizations whose users focus on scientific, engineering and other complex tasks.
Mobile Takes Off
Even though desktop systems won't entirely disappear anytime soon, for an increasing number of enterprises in all market segments, portable computers are becoming go-to devices for many employees.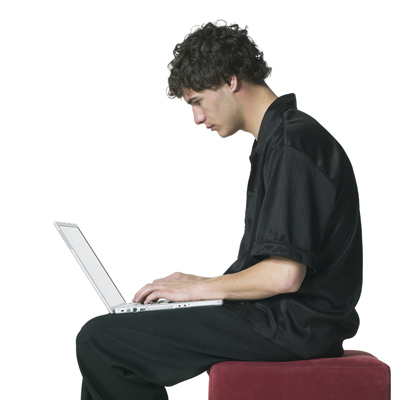 According to market researcher IC Insights, notebook sales will rise about 11 percent in 2012, while the research firm IHS iSuppli projects traditional desktop PCs will gain only an anemic 0.2 percent this year. Notebooks have dominated business environments since 2008, when sales of these portables surpassed desktop systems for the first time.
But change is a constant in the technology world, and notebooks aren't likely to remain on top forever. IC Insights forecasts that sales of tablet computers could grow 75 percent this year, and overtake notebooks as soon as 2015.
The rise of ubiquitous portable computing isn't just a matter of computer buyers gravitating to the latest and greatest technologies. Instead, the growing trend toward mobility reveals that work habits and needs of professionals don't fit into neat one-size-fits-all categories.
Portable devices — whether notebooks or tablets — are invading professional environments because organizations of all stripes are recognizing the value of "anywhere, anytime" access to information for many of their employees.
"A growing number of users now expect mobile devices, for when they travel for business, to bring work home during the evening or to use as they move within their corporate campuses," Krynock says.
Notebook computers are getting an infusion of innovation with the introduction of new Windows-based ultrabook models from Acer, HP, Lenovo, Samsung and other manufacturers. Apple's MacBook Air provides similar design and performance for the Mac operating system.
These fast, thin and lightweight systems represent a new benchmark for balancing price and performance. "They are bringing 'thin' and 'light' to the masses," Gray says.
The performance focus for ultrabooks is on battery life that can last four to eight hours instead of two to three hours, which used to be the practical limit for notebooks weighing less than 4 pounds, he explains.
"The other innovation that ultrabooks are bringing to the table is low price," Gray adds. "There have always been thin and light notebooks out there, but they were pushing the $2,000 barrier. With an ultrabook, you can get something for between $600 and $1,000."
Even so, ultrabooks face stiff competition from the tablets now available from Apple, Asus, Lenovo, Samsung and others. These devices come with enough compute power and productivity-boosting apps to find a role in private- and public-sector workplaces. They are becoming the computers of choice for content consumers who primarily read documents and e-mail messages and don't require the elaborate computing power possible on notebook or desktops.
"This includes people in executive roles or project managers who find themselves moving around a lot to do their jobs," Gray says. "These workers act almost as air-traffic controllers, so having the ability to make information available to them at all times overrides the need to create a long document, for example."
Other users of tablets might include:
Field inspectors who capture details about the conditions of buildings and aircraft while on location rather than waiting to update records on desktop PCs back at the office
Traveling healthcare workers who download the latest care orders when they visit patients in their homes, and then upload vital signs to central health records without having to return to the office
Transportation companies that equip vehicles with tablets to send optimized route information to drivers while they're on the road
Taxi companies that install the devices in cabs as a service for customers who want to research local attractions
Airlines that provide passengers with tablets for duty-free purchases
Another option for some organizations is to provide workers with tablets as supplemental devices to their notebooks or desktops. "People can use a big desktop PC at the office and a tablet for document viewing or occasional travel," Gray says. "The problem is that practice could bump up the IT expenditure by 50 or 60 percent for each of these users."
Tablets Mature
As tablet use grows in commercial, public-sector and education environments, hardware vendors continue to evolve the devices so that they more easily comply with enterprise management and security requirements.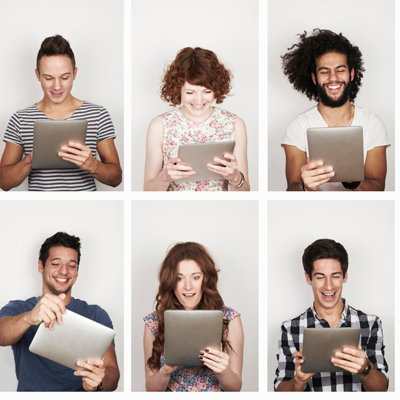 For example, working along with security, networking and other types of vendors, Samsung provides Samsung Approved for Enterprise (SAFE). The SAFE extensions give IT administrators enhanced capabilities for data encryption, virtual private networks (VPN), mobile device management and other workplace necessities. The company also supports Federal Information Processing Standards, a key compliance requirement for government agencies and businesses in highly regulated sectors, such as financial services and healthcare.
Tablets are also available in a wide range of form factors. Samsung offers models in 7.7-, 8.9- and 10.1-inch screen sizes, including one that can accommodate a stylus for creating content.
Although there's a lot for organizations to like about notebooks and tablets, IT managers still struggle with some ongoing challenges. Security tops the list for many organizations. Best practices for securing mobile environments include encrypting data while it is on the device and as it travels across networks. Secure VPN tunnels further protect in-transit data.
For even tighter controls, data cleansing applications allow IT managers to wipe information from lost or stolen portables. Together, these safeguards lower the risks that the mobile hardware will yield corporate secrets or that hackers will intercept messages that traverse communication links.
Lines Blur
As if it's not challenging enough to successfully match business needs with available form factors, the decision-making process is likely to become even more complicated in the months ahead. Microsoft has announced plans to ship its Surface tablet.
It appears that Microsoft, which has supported Windows-based tablets for the past decade, studied the latest offerings in the category to find gaps waiting to be filled. The new tablet will take advantage of the latest user interface, security and touch-screen capabilities in Microsoft's upcoming Windows 8 release. It will likely include a keyboard for easy content creation and have the ability to run a complete version of Microsoft Office.
"This could completely change the productivity equation for tablets," Brett says. Some reports say that Microsoft is contemplating a docking station that would allow users to plug in the tablet and use it as a desktop machine.
If the Surface successfully delivers on all of these capabilities, the device could represent a category bender that incorporates the best features of desktops, notebooks and tablets, Gray says. "The combination will be pretty compelling if Microsoft can pull it off."
No matter how Surface fares, Brett believes IT managers should expect a blending of form-factor characteristics. This could blur the line between notebook and tablet devices over the next three or four years.
"I think we'll see many of these mixed-mode devices, such as tablets with keyboards that can be detached," he says. "We may find ourselves wondering why we ever thought there was a difference between tablets and notebooks in the first place."
textfield