The Key to Maintaining Uptime Is In Offsite Disaster Recovery
Here are lessons you can learn from three companies' DR planning.
In the trucking business, uptime is of utmost concern, says Shawn Thobe, information systems manager for Cheeseman LLC: "It's hard in this industry to keep drivers and to get new ones. If drivers aren't driving, they're not making any money."
For that reason, like IT managers everywhere, Thobe has led Cheeseman's efforts to establish a disaster-proof infrastructure. What that has meant for the Fort Recovery, Ohio, company — with a fleet of more than 300 drivers and 75 office employees — is a progressive shift toward services hosted elsewhere.
Making sure workers have access to the corporate assets they need to do their jobs is just as critical for small and medium-sized business­es as for large ones, particularly as data increasingly is available in electronic formats only, says Justin Jaffe, research manager at IDC.
"Roughly three-quarters of U.S. SMBs have at least some sort of data backup policy," he says. And offsite storage options are gaining traction over more traditional solutions. "Survey data shows that although most SMBs still store data onsite, an increasing percentage [about 25 percent in 2011] are now storing data remotely," Jaffe says.
Anything from windstorms to equipment failure can bring a company to its knees, choking revenue streams to a trickle. Smart companies are increasingly reviewing the potential for disruption and then planning accordingly. Here's a look at how Cheeseman and two other companies created DR setups so that they can continue business no matter the circumstances.
Offsite Disaster Recovery Is A Move to Safety
The first move for Cheeseman took place four years ago when it switched to a hosted Voice over IP solution that lets employees make and receive calls from home when they can't come into the office. Then three years ago, the company began virtualizing its production data center. Thobe began to look at disaster recovery planning on a wider scale; he realized that virtualization alone wouldn't provide the desired uptime for his users.
"Virtualization helps us if we have one server that goes down — one virtual server or even our physical server — but it doesn't help us if we have an entire disaster here," he says.
Ultimately, the Cheeseman DR plan called for the ability to support employees as well as drivers no matter where they were located. To achieve that, Thobe set out to create a main data facility and a mirror site that could be activated quickly to provide remote access for everyone.
Today, Cheeseman has a pair of hosted sites, with IBM servers and EMC storage area networks, built on a Cisco Systems network backbone. The mirror DR site is located an hour away from the production facility, in part to protect the corporate communications pipeline.
Cheeseman relies on its Internet connection for critical day-to-day operations, which involve significant mobile communications between trucks, customers and employees in the office.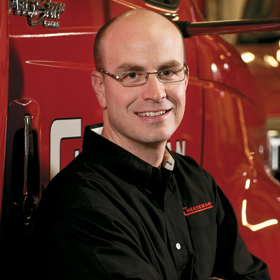 "Virtualization helps us if we have one server that goes down — one virtual server or even our physical server — but it doesn't help us if we have an entire disaster here."
– Shawn Thobe, Information Systems Manager for Cheeseman LLC
The Internet gateway at the remote site gives us extra protection in a different region than the production data center, Thobe says. Should a severe incident sweep the region where the production facility is located, "the DR facility and that generator-protected power can be running versus this one, which might not be."
Between the VoIP phones and remote access to the mirror facilities, Thobe says he's now confident that business can continue even if disaster strikes.
Ready, Set, Restore Anytime and Anywhere
Disaster had already struck a Midwest glass manufacturer when Jason Young came on board to run the IT team. Among his first marching orders: Find a way to back up and restore data fast.
Before Young's arrival, the company had suffered a corrupted Active Directory database. "Data was lost," he says, "and the downtime was probably three or four days of production time because of these issues."
Restoring services turned out to be an expensive process. After adding in the costs from lost manufacturing days, upper management was keen to see Young implement a new DR plan.
Young deployed Paragon Drive Backup Server. The software lets the glass company capture and store a weekly copy of its data on an external drive, which is then stored offsite in a fireproof safe. If need be, Young would be able to recover and restore images from Paragon on a virtual machine on a new physical host, he says. The offsite storage solution is simple to manage, and recovery can be accomplished at any location if the primary facility is inaccessible.
Today, a potential disruption won't mean lost production days, Young says. "If that situation were to arise, I'd have no problem getting this organization back up and running in a few hours, or at least getting them up to the point where they can function and work and minimize downtime," he says.
Young is interested to see what sorts of options cloud storage might offer the company going forward. Although budget restraints keep that from being an option right now, he hopes to revisit a move to the cloud within the next 12 months.
Offsite Disaster Recovery Pulls Through During Hurricane Katrina
Every good reporter knows the story comes first, and that's how the 125 employees at The Advocate approached DR planning. Published by Capital City Press in Baton Rouge, La., the daily newspaper began investigating its DR options during a corporate relocation.
When was the last time your company updated its disaster recovery plan?
29% Less than six months ago
26% One to three years ago
22% Six months to a year ago
17% We don't have a disaster recovery plan
6% More than three years ago
SOURCE: CDW poll of 352 BizTech readers
"We were moving into a new business office and building a new printing press facility at the same time," says Richard Shurley, chief technology officer for operations. "New distribution centers were also being built. Of course, all of these had to be networked."
Unfortunately, building a new IT facility was cost prohibitive.
"At that point, we began looking at outsourcing alternatives," Shurley says. "We knew we needed our provider to be a company with a local presence who would let us be hands-on."
The newspaper now stores mission-critical data offsite at a nearby business continuity center. It backs up data daily to the remote location, which will let the newspaper quickly recover from any type of interruption in daily operations.
"If there is ever any damage to our physical location, we know that we can conduct business at the offsite location," Shurley says. "We have enough space at the business continuity center to move half of the newsroom there if need be."
Hurricane Katrina gave The Advocate an unexpected opportunity to put its DR plan into action.
"Hurricane Katrina hit the day our staff was supposed to move into our new administrative offices in Baton Rouge," he says. "The hurricane impacted our move timeline but not our servers at our offsite location. Our network continued to run, and we were able to get the paper out and our online edition stayed up."
Chris Bucher