Seen and Heard at CES 2012
A collection of the interesting sights and sounds from the 2012 CES show in Las Vegas.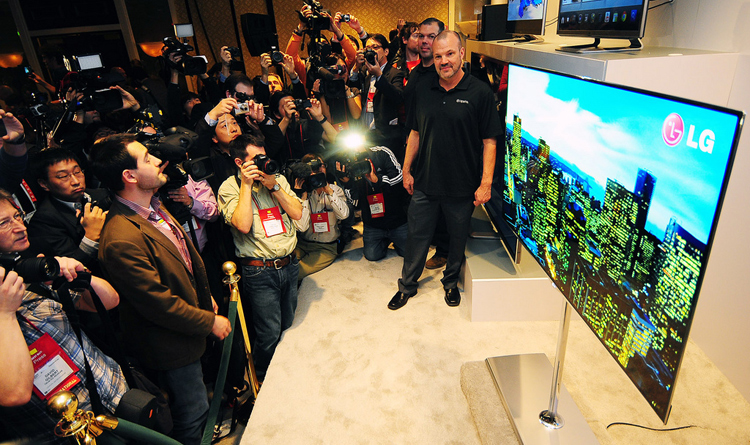 LG shows off its 55-inch, 3-D OLED TV at CES 2012 in Las Vegas.
Photo: LGEPR/Flickr
With the overwhelming abundance of things to see and do at the Consumer Electronics Show in Las Vegas, it could be easy to miss out on the best tidbits. Covering the exhibition hall can be a dizzying blur of whizzing gadgets, eye-popping pixels, magically wireless tech toys and more.
And that's just the experience of those live and on the ground.
There are also celebrities (yes, 50 Cent made an appearance at CES) and a host of data, trends, analyses and predictions about the future of technology. So if you didn't have the good fortune to attend this year's CES yourself, relax. Twitter and BizTech have you covered.
Here are a few highlights we snagged from the Twitterverse from people attending CES 2012.
Smartphone Chatter
Today, your smartphone has more computing power than all of NASA in 1969, says Intel CEO Otellini #CES

— Meredith Popolo (@mgpopolo) January 11, 2012
#LG is partnering with VMware for smartphones. #CES

— Parth Dhebar (@pdparticle) January 9, 2012
I have forgotten so many mobile device chargers in hotel rooms, if you strung them together, they'd stretch across the Pacific ocean #CES

— Kevin McLaughlin (@kmclaughlincrn) January 11, 2012
Lots of LTE handsets at #CES this week, which is good news. From what I've seen, NOKSOFT's #Lumia is the most differentiated in termf of UI

— Mark Lowenstein (@marklowenstein) January 11, 2012
Gorilla Glass 2 unveiled at #CES is 20% thinner but just as strong as original. Smartphones will keep on slimming down through 2012.

— Cecilia Liao (@cecilialiao) January 11, 2012
Intel smartphone demo showcases camera burst mode. Takes 10 pics/sec to help grab that 1 good photo. Very cool! #intelsmartphone #ces

— karentruitt (@karentruitt) January 11, 2012
iPad 3 Spotted in the Wild?
The scoop on the next iPad: ilounge.com/index.php/back… It's real, and you could walk by it without knowing you saw it.

— Jeremy Horwitz (@horwitz) January 10, 2012
Microsoft's Last Goodbye: CES Keynote
Why's everyone hating on the tweet choir? Best part of CES yet! Money on it being best part of CES, period. #tweetchoir youtube.com/watch?v=bCqJro…

— Jon Magliola (@kuhbillion) January 10, 2012
Steve Ballmer interviewed by Ryan Seacrest at CES #ces #microsoftnl - youtu.be/mFsDjsoEMYo

— Kel Koenen (@kkoenen) January 10, 2012
Steve Ballmer shows Windows 8 metro interface #ces2012instagr.am/p/gRsU7/

— Lateral (@lateral) January 11, 2012
Steve Ballmer announces at CES that Kinect will be available for PC in February. Yay!

— Simcha Lazarus (@42SFF) January 11, 2012
Steve Ballmer & Ryan Seacrest on stage at CES today. Too bad Simon Cowell wasn't commenting on it. I'd even take Paula Abdul.

— John Zissimos (@zissimos) January 11, 2012
Tablets and Ultrabooks Are Trending
Lenovo Ultrabooks are heating up #CES this year, just look they even ride on top of cars here. @EventXPERTS twitpic.com/860rc4

— EventXPERTS (@EventXPERTS) January 11, 2012
I mean, why not? #ces #lenova twitter.com/chelle1014/sta…

— Michelle T. (@chelle1014) January 11, 2012
Just Mobile at #CES is showing its new AluPen Pro, a touchscreen stylus tip and ink pen in an aluminum body. $40. twitter.com/starrett/statu…

— Charles Starrett (@starrett) January 10, 2012
2012 is the year for Tablets but can the manufacturers please think outside the box on the case design #allthesame #ces #windows8

— Douglas Powell (@DotNetDoug) January 11, 2012
I heard about the new #asus 7 inch transformer prime at #ces and I want one of those bad boys.

— Joshua Nadas (@DCLiterate) January 10, 2012
Everywhere you look at CES 2012 it's all about portable computing—Who can make the lightest, fastest & cheapest laptops?...

— Shelly Palmer (@shellypalmer) January 11, 2012
Thinnest Ultrabook I've ever seen! @Asus Zenbook #MSFTCES #CES skydrive.live.com/redir.aspx?cid…

— John Sampson (@jsampsonjr) January 10, 2012
Intel's Mooly Eden says Intel has sold over 150 million sandybridge processors so far. #CES #eet_CES

— sylvie barak (@sylviebarak) January 9, 2012
#Ces even bigger than tablets this year is the boom of handheld speakers for our handheld devices

— Shaun Newman (@shaunnewman02) January 11, 2012
Hey, Is That LL Cool J?
Don't call it a comeback. LL Cool J at #CES twitter.com/tweetingjose/s…

— Jose Flores (@tweetingjose) January 11, 2012
TVs Reign Supreme
Awesome TV wall from #panasonic at #ces #in twitter.com/ChambersGreg/s…

— Greg Chambers (@ChambersGreg) January 10, 2012
LG SmartTV w/ Dual Play. The coolest thing I've seen at #CES so far. twitter.com/brandonmcgraw/…

— Brandon McGraw (@brandonmcgraw) January 10, 2012
Justin Timberlake Bringing MySpace Back?
Justin Timberlakeis serious about bringing MySpace back #CES -- on.mash.to/A4KTxx

— GroupM Search(@groupmsearch) January 10, 2012
Miscellaneous Show Banter
all these compact/thin/lightweight devices at #CES. is substantial a dirty word in tech design nowadays? #bringbackthesteelandvaccuumtubes

— joshua conti (@analoguepilot) January 11, 2012
with all the 'smart' technology coming out of #CES #CES2012 I won't need to ever leave my armchair!

— Advanced MP3 Players (@AMPthree) January 11, 2012
LifeTechnologies CEO Greg Lucier says technology is moving us into the Genetic Age of medicine . #digitalhealth #CES

— Deanna Pogorelc (@DeannaJour231) January 11, 2012
CEO Ursula Burns: "Partnering is required if you want to be really good - you go to the best and cooperate in a competitive world." #CES

— XeroxCorp (@XeroxCorp) January 11, 2012
College students, pay attention -- LG new fridge will allow warm cans to be chilled in five minutes. Feature called "blast chiller" #CES

— Daisuke Wakabayashi (@daiwaka) January 9, 2012
Meeting with some interesting VC's this morning before hitting the floor again. Favorite quote: "Software is eating the world." #CES

— Michael B. Mahan (@michaelbmahan) January 11, 2012
textfield