How One Company Achieved Data Center Optimization in Four Months
Source Interlink moved, virtualized, consolidated and optimized an entire data center, reducing operating costs and enhancing business agility – all in four months.
Today's volatile business world calls for organizations to stay agile and efficient. Offering testimony to the importance of these qualities is the business conglomerate Source Interlink. Following the sale of a company division housing its corporate data center, the firm had to relocate core IT operations.
A leading integrated media, publishing, merchandising and distribution enterprise based in Bonita Springs, Fla., the firm decided to migrate its existing data center into a much smaller collocation space in Dallas. Adding to the challenge were contractual obligations calling for the move to be completed within a four-month window.
Assembling a highly scalable, flexible and reliable IT infrastructure along with a reduced data center footprint was critical to the firm's objectives. To meet the need, Source Interlink deployed server virtualization and unified storage — the combination of which is said to offer a synergistic effect multiplying the power of each.
Along with meeting the four-month migration timetable, Source Interlink was able to reduce approximately 40 racks of server hardware at its original data center in Coral Springs, Fla. to six at the Dallas collocation center. Other benefits have included superior scalability, enhanced business continuity and better business agility.
Optimization and Consolidation
A scalable, optimized data center is a prerequisite for maintaining competitive advantage in a business environment wrestling with a fickle economy. This is especially true for a successful firm navigating an industry in the midst of its own change.
Source Interlink has two primary business divisions. These include the largest multimedia enthusiast company — one of the largest sales, services and logistics providers for magazines and books in the U.S. The firm's distribution division offers display manufacturing, retail rebate services and an international distribution unit.
The firm has approximately 6,200 employees. This includes an IT staff of 82, who work at its corporate headquarters in Bonita Springs and other locations including Ann Arbor, Mich., Boston, Chicago, Detroit, El Segundo, Irvine and San Clemente, Calif., New York City and Tampa, Fla.
"We were selling a major division that included our principal data center facilities," says Rob Krepps, Source Interlink's group vice president, corporate IT. "After a careful analysis, we determined it was more cost effective to move to a collocation facility than to build a new data center of our own. This cut the size of our footprint and allowed us to reduce administrative costs along with utilities, cooling and space."
The firm needed to provide an optimized server and storage infrastructure to support its business objectives now and into the future. If that wasn't enough of a challenge, the company had to do it all in four months.
"The initiative to move the data center happened between August of [2010] and January 2011," says Luanne Lentz, senior director, IT planning and analysis at Source Interlink. "This meant we had a four-month timeline to be out of the existing facility and into a new one." This required the firm to utilize the assistance and expertise of vendor partners specializing in data center optimization.
Utilizing Server Virtualization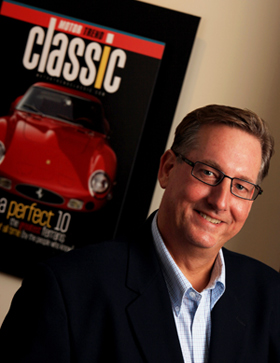 "After a careful analysis, we determined it was more cost effective to move to a collocation facility than to build a new data center of our own. This cut the size of our footprint and allowed us to reduce administrative costs along with utilities, cooling and space."
– Rob Krepps, Group Vice President, Corporate IT at SourceInterlink
Source Interlink initially decided to take advantage of server virtualization to reduce its infrastructure footprint at the new collocation facility. Actually, server virtualization had been on the firm's roadmap for quite some time. However, management was looking for the opportune time to roll it out.
"VMware performed a three-year total cost of ownership [TCO] analysis," Krepps says. "It compared our current topology with one based on VMware-based virtualization. After careful review, we found the benefits to look quite substantial."
Fortunately, a server virtualization skill set existed with some members of the firm's IT staff. "We were already well versed in multiple levels of VMware infrastructure," Krepps adds. "Therefore, using VMware vSphere Enterprise Plus meant we wouldn't have to completely retrain someone."
The firm started virtualization efforts by virtualizing and consolidating its web, application, file and print servers. "We weren't ready to dive into mission-critical financial applications just yet," Krepps adds.
The result provided Source Interlink with more than a 15-to-1 reduction in hardware servers for these functions, reducing approximately 125 hardware utility servers to only eight. Aside from reducing the sheer number of hardware servers to power, cool and manage virtualization, it also drove up server utilization significantly for a more efficient infrastructure.
"We had many servers that were sitting idle much of the time — particularly after 5 p.m.," Krepps says. "By going virtual we were able to get much more use out of our hardware purchases."
Overall, including both virtualized and non-virtualized servers, Source Interlink was able to reduce 350 hardware servers to approximately 225. "We saw significant savings in power, cooling and administration as a result," Krepps adds.
Better with Blades
Further footprint reduction came with transitioning from traditional rack-mount servers to the BladeSystem c-Class architecture from Hewlett-Packard. Blade servers pack CPUs, chipsets, memory and a small amount of storage into a compact module that sits vertically in a rack-mounted chassis side by side with other blades like books on a bookshelf.
Instead of each server providing its own power supply and Ethernet connection, blade servers share these resources across a high speed backplane. The result is that far more blade servers can be packed into a single rack than traditional rack-mount servers. In fact, thanks to the combination of VMware virtualization and HP blade server technology, Source Interlink was able to reduce 40 racks of server hardware into just six packed mostly with blade servers.
Aside from simply packing more servers into less space, blade servers' use of a shared backplane significantly reduces cabling headaches. And HP provides robust blade management firmware and software that monitor server temperature carefully to ensure an optimum operating environment.
Coupling the HP BladeSystem blade server technology with VMware vSphere offers Source Interlink the ability to move applications across blades easily for maintenance and performance optimization. VMware vSphere also makes it simpler and less expensive to provide higher levels of availability for important applications. In addition, HP's Virtual Connect Flex-10 10Gb Ethernet Module for BladeSystem provides the firm's blade server installation with a single, shared, super-fast 10-gigabit connection among blade servers. It also offers a simple, flexible connection to outside storage networks.
Enhanced Disaster Recovery
Source Interlink opted for a shared unified network storage solution from NetApp, based on the Network File System (NFS) protocol, to supplement its server virtualization initiative. "We liked the maturity and flexibility of NetApp's unified storage and NFS implementation," says Krepps, who adds that the price was right as well.
One advantage of NetApp's implementation of the NFS file system is its tight integration with VMware's vSphere virtualization hypervisor and operating system. "VMware can run directly with an NFS file system," says Tom Hudson, CDW solution architect. "Therefore, you have a very seamless environment that makes administration much easier."
In addition, the tight integration of VMware and NetApp allows IT to manage NetApp's snapshot capabilities directly from the VMware console. "You don't have to log into the SAN [storage area network] every time you want to schedule snapshots or run restores," Hudson adds.
NetApp's snaphot features transformed Source Interlink's disaster recovery capabilities, which formerly relied on traditional replication and backup. "The snapshot capabilities vastly improved our local data restore capabilities and allowed us to replicate much more efficiently for catastrophic recovery," Krepps says.
Snapshot requires far less bandwidth and storage at the secondary disaster recovery site than traditional replication. The combination of VMware's vMotion and NetApp's snapshot gives Source Interlink near continuous protection.
The NetApp snapshot capabilities made data migration from Bonita Springs to Dallas simpler as well. "We set up a NetApp DR [disaster recovery] frame in Coral Springs first to do a local migration. Then we could snapshot out to Dallas, ship the DR SAN to our DR center in McCook, Ill., and use snapshot again to synchronize everything," Krepps notes.
Thanks to its data center migration strategy using virtualization, blade server technology and NetApp unified storage, Source Interlink was able to meet the four-month migration deadline with few unforeseen challenges.
"We did uncover a few skeletons, such as applications that we didn't know were there," Krepps says. "However, we were able to deal with everything smoothly and get it all moved on time without any unscheduled interruptions."
The Agile Business
Perhaps the biggest benefit of Source Interlink's virtualization implementation is the boost it has given to business agility. "If we get a request from a business unit, we can deliver something that day with a virtual machine where previously we would have had to spend days or weeks finding or purchasing a physical server, getting it to the right location, and installing and configuring everything," Krepps notes.
In one case, a Microsoft Exchange server was having serious hardware problems, according to Krepps. "We were able to create a virtual platform in a few hours, saving us from significant downtime."
Virtualization also lets Source Interlink's internal developers fire up a software testbed in much less time than before. "We just spin up another virtual instance, snapshot the production environment and we're ready to roll," Krepps says.
"Initially, server virtualization is often thought of as simple consolidation and basic environment management," says Kelly Leach, account executive at CDW. "Once IT decision makers see how quickly a virtual machine can be spun up, they consider it more like added capacity or computing on demand."
Now that Source Interlink has become more comfortable with virtualization, the firm is planning to virtualize more than simple utility services. "We're actively redoing our Exchange and Active Directory architecture, with some of those servers going virtual," Krepps notes.
Paul S. Howell