Since joining Viva Chicken in late 2017, Hille has rolled out Cisco Meraki wireless access points to each of the company's 13 restaurant locations — 10 in North Carolina and one each in South Carolina, Delaware and Utah.
He chose Meraki because he can configure and manage the networks centrally through a cloud-based portal and because of its analytics features.
Today, one Meraki access point is mounted on the ceiling of each location's dining room. When customers sign up for Viva Chicken's loyalty program, providing their email addresses and sometimes cellphone numbers, the company will be able to track their buying behaviors.
MORE FROM BIZTECH: See how innovative technology transforms inventory management.
Data Gathered Via Wi-Fi Helps Businesses Drive Customer Attention
By understanding customer trends, executives can use digital signage to draw people's notice to overlooked menu items at each location.
"Some people always buy the same thing. They might not know what else is on the menu, so increasing menu knowledge is something we are focusing on moving forward," Hille says.
Meraki also integrates with third-party location-based software that would allow Viva Chicken to notify customers of the day's specials or other marketing offers through text or the mobile app. Hille says the company is considering such measures but hasn't yet decided whether to deploy them.
"We are mainly hoping to get customer data through the loyalty program, but we're looking at our options," he says. "These third parties that work with Meraki are on the table as part of the discussion."
MORE FROM BIZTECH: Read more about how to get the most out of retail data in 2019.
Wi-Fi Analytics Enables Businesses to Monitor Guest Traffic Patterns
Retailers can capture a lot of aggregated customer data from wireless networks, which can allow them to create better shopping experiences for customers.
For example, Seaway Mall, a shopping center near Niagara Falls that has a mix of retail stores, restaurants and a movie theater, recently installed 12 Extreme Networks access points to provide shoppers with fast, free wireless access — and to gain vital insight into customer activities.
"We can look at data while it is happening, which is exciting," says Michael Belcastro, Seaway Mall's president. "Now we know how many people come to the mall, how long they are staying and how many are new or repeat customers. It also shows a heat map, showing the traffic flow after an event."
Through its Wi-Fi analytics, management discovered that events increase -shoppers' average time onsite from 38 minutes to 48 minutes. Moreover, after an event, the majority of customers go to the food court — something Belcastro always suspected was the case but now has the data to prove.
"We spend a lot of money on promotions. How do we know if it's worth it? Now we can monitor it," he says.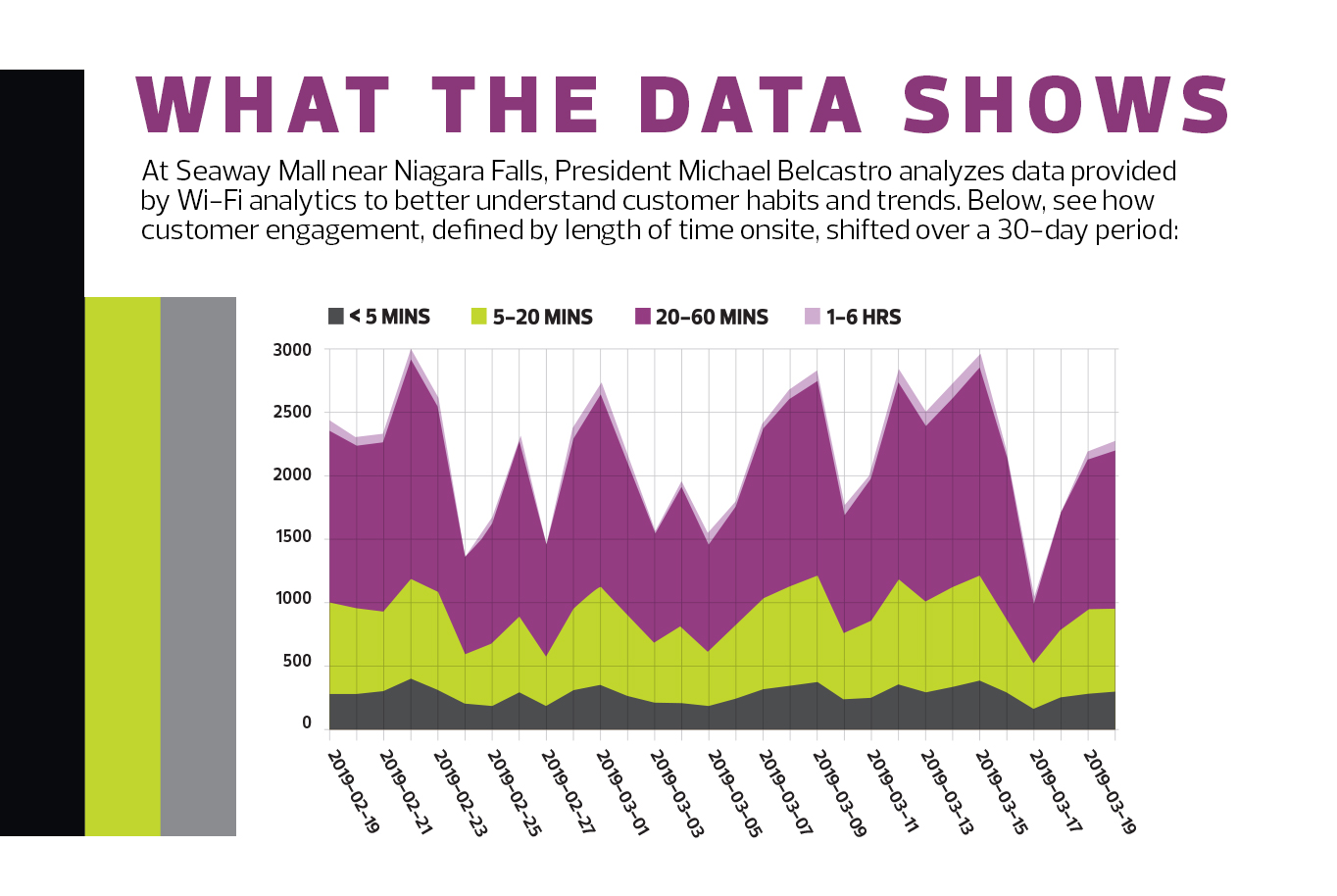 The data also helps the mall with property management, Belcastro says. He can use the traffic flow information to negotiate lease terms for retail spaces, for example.
Belcastro, who installed the Wi-Fi -network in December 2018, is still discovering the many benefits of customer analytics. After analyzing traffic patterns, he and his team are considering whether to hold events in different locations to drive more traffic to other parts of the mall.
"It's a learning experience for us," he says. "As every week goes by, my staff and I say, 'We can do this and this.' It helps us brainstorm new ideas."
Businesses Use Wi-Fi Data to Target Customer Promotions
At Harajuku Taproom in Culver City, Calif., about 1,500 customers have signed up for its monthly newsletter. About 70 percent did so through the guest Wi-Fi registration process, says Adam Guttentag, owner of the bar and restaurant, which serves craft beer imported from Japan, sake and Japanese food.
When Guttentag opened up the taproom in 2017, there was never a question about whether he'd offer free Wi-Fi. Customers expect it everywhere these days, and the need for it was more acute because the 50-seat eatery is located in a dead spot for cellphone coverage.
"A fair number of people come in during the afternoon or happy hour with their laptops and want to do a little work, so it's common for people to ask for Wi-Fi," Guttentag says.
He installed a Cisco Meraki access point and uses third-party software to handle guest Wi-Fi registration, newsletters, email marketing and customer analytics. "It provides a weekly report on how many guests have signed up," he says.
When patrons sign up for guest Wi-Fi, they give their names and email addresses and are automatically subscribed to the monthly newsletter, which shares details of new drinks or food items, upcoming sake tastings and other events.
In March, he started offering targeted promotions over email, testing out various promotions to see what works best. In the meantime, he says, his marketing efforts are getting people to come back, which is boosting the bottom line.
"People come in and say they saw the newsletter and are looking forward to an event," he says.