Review: HP EliteDesk Mini PC Is a Big Force in a Small Package
The smallest of HP's new Mini PC line offers advanced capabilities in a compact package.
The HP EliteDesk 800 G4 Desktop Mini Business PC carries a lot of power in a small package. The version I tested measures about 7 inches by 7 inches and is 1.35 inches thick, but has as much expandability as many larger systems, with seven USB ports, Gigabit Ethernet and two DisplayPort 1.2 monitor ports.
The Mini also includes a slot to add a USB Type-C display, a Thunderbolt cable, fiber network card and more. There are also two internal NVMe M.2 slots for storage and one for WLAN, as well as room for a 2.5-inch SATA solid-state drive. The PC can be mounted on the back of a monitor or in a vertical stand.
The system I tested came with an Intel Core i5/8500 processor, 8 gigabytes of RAM and a 256GB NVMe SSD, but it can be equipped with a Core i7 CPU, up to 32GB of RAM and two NVMe M.2 SSDs (or a SATA SSD at lower cost), as well as a discrete video card, which means it can handle content creation for high-resolution graphics, virtual reality or other high-performance tasks. Configuration was very straightforward, with HP-specific update apps and enhanced security capabilities, as well.
The system was responsive and snappy, with the pre­installed Microsoft Office apps and other test applications working well at the 4k resolution of the DisplayPort monitor. The NVMe SSD provided very quick data transfers and low latency, with updates and reboots happening very quickly. 
MORE FROM BIZTECH: Find out whether your business would benefit most from thick, thin or zero clients!
EliteDesk 800 Offers Plenty of Security
Along with the EliteDesk 800 and Windows, HP offers a set of security tools that go well beyond the basics, including HP Sure Click, HP Sure Start Gen4, HP Sure Run, HP Sure Recover, HP BIOSphere Gen4, Intel Identity Protection Technology, and multifactor authentication features. These include an optional fingerprint reader or webcam, both Windows Hello certified.
Taken together, the apps provide an excellent suite of security tools to update, protect and recover the operating system, preinstalled apps and user data in the event of hardware failure, user error or malware.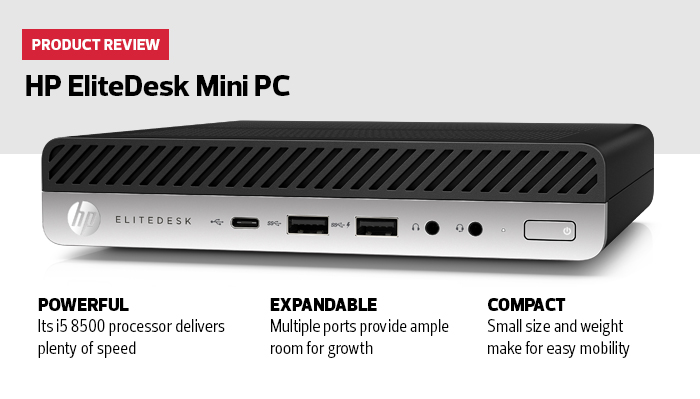 The suite protects applications from malware and other types of security problems, offers several options for multifactor security and biometrics, and can manage passwords across all the sites a user might visit — ensuring that, even if an external service provider or other type of website is compromised, only that site's credentials will be exposed, since the system helps the user ensure that no two sites have the same password.
The system provides a lot of performance, and in a quiet office environment, the nearly noiseless operation will be appreciated. It can handle all the usual office tasks and then some.
HP EliteDesk 800 G4 Specifications
Models: Mini, SFF, Tower, All-in-one
Dimensions: 6.97x1.35x6.88 inches
Processor: Intel Core i5 8500
Memory: 8GB as tested
Hard Drive: 250GB NVMe SSD
Weight: 2.13 pounds
Graphics: UHD Graphics 630