Chromebooks Delight Small Businesses with Mobile Workforces
Lightweight, portable and inexpensive, Chromebooks are an ideal computing solution for workers on the go.
Not long ago, Questar Assessment was buried in notebooks.
The educational testing company based in Apple Valley, Minn., readies computing devices for all of its workers whenever a test date draws near or employees have to travel to a training seminar.
That involves shipping, unpacking, updating and maintaining devices — a long, labor-intensive process that would take weeks to complete, says Nick Winnie, Questar's senior infrastructure architect. Because testing is cyclical, based on the school calendar, notebook provisioning often became overwhelming during Questar's peak times.
"We have these remote offices where people are physically grading handwritten math equations or literacy tests, but we don't have office space to set up 2,000 laptops," Winnie says. "Every year during our busy time, we have to go out and create scoring centers from scratch. Last year, we set up at the Mall of America. And we need devices during workshops when we are working with teachers to help them create exam questions."
Chromebooks to the Rescue for Questar Assessment
Hoping to eliminate some of the setup and maintenance work, Questar launched a 100-seat Chromebook trial in 2015 in one of its testing centers. The project proved so successful that the company expanded it in subsequent years. Today, it includes a mix of 1,600 Acer C910 Chromebooks and Asus C300 Chromebooks, which combined cost about 30 percent of Questar's notebook budget. 
The results have been outstanding, Winnie says: "Having the Chromebooks makes testing center setup faster and easier and improves productivity."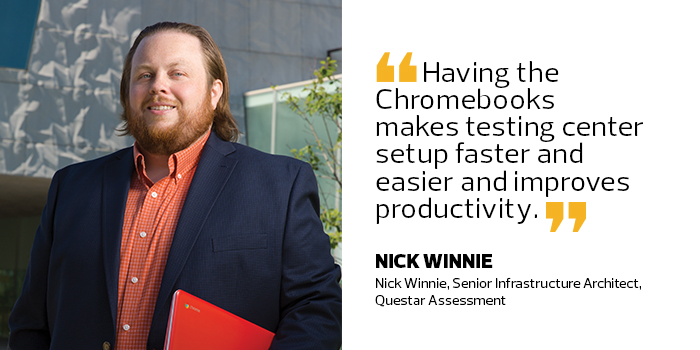 Photography by Richard Fleischman.
That sentiment is echoed by many Chromebook and Ultrabook users as the devices proliferate, says Andrew Hewitt, an analyst at Forrester Research. Chromebooks make up about 3 percent of business-owned notebook devices today, Forrester reports. 
"We see users have a couple of ­different goals," Hewitt says. "A lot of the time it's about lowering support costs. Chromebooks are pretty safe and pretty cheap."  
How are companies reinventing the work experience for employees? Find out in "The Modern Workforce Insight Report" by CDW
Chrome Device Management Simplifies Maintenance
Questar Assessment achieved its main goals (reducing ­management costs and support time) through the Chromebook deployment. The c­ompany can set up all 1,600 devices and push out updates and changes via a Chrome device management console. 
"The biggest benefit is that Chromebooks are set it and forget it," says Winnie. "We don't worry about patching anymore. We have test ­scorers working eight-hour shifts around the clock, and we don't have to worry about someone messing up a device for the next person either. As soon as they log off, any changes they made are gone." 
There's also no lag in productivity between when one person logs off and another logs on because boot time is very fast, he says. 
San Diego-based custom apparel company Greek U turned to Toshiba Chromebooks to improve productivity, President Daniel Passov says. 
Employees needed devices that would blend in with Greek U's casual, mobile work style. 
"Every morning we have a daily ­huddle and talk about the day. Using Chromebooks in the conference rooms, we know the device is always right there and ready," says Passov. "It doesn't matter which office or room you are in or who grabs which Chromebook; once you log in, all your settings, passwords and bookmarks are right there waiting for you." 
Companies Boost Security with Cloud-Based Chromebooks
With the growing risk of cyberattacks, Chromebooks have become an appealing option because they mitigate IT security concerns, explains Hewitt. "Chromebooks are easy to wipe if they are stolen, and they don't suffer from traditional IT security holes," he says.
Because Chromebook applications are cloud-based, there's little risk of malware or other malicious attacks affecting the network. And, because the Chrome OS updates every time the device starts up, there's no need to worry about virus protection or having to patch the operating system, he says.
"The time savings are significant since managing a Chromebook is similar to managing a mobile device," such as a smartphone or tablet, says Hewitt. "We find that organizations will spend ­hundreds of hours managing their traditional hardware deployments," including notebooks, but that's not the case with Chromebooks. 
Devices Prove Easy for Small Businesses to Deploy
Chromebooks use a ­combination of automatic updates, sandboxing, ­verified boot and data encryption to ensure the devices are secure. For instance, using sandboxing, every web page and ­application runs in its own restricted environment, so threats are contained. If malware makes it through the sandbox layer, verified boot ensures that if the system has been tampered with, the device instantly repairs itself, reverting to the last known version of the operating system.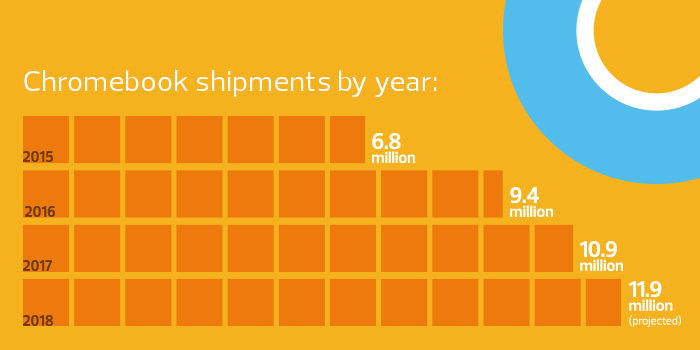 Source: ZDNet, "Chromebooks in 2018: Ready for take-off?" Dec. 6, 2017. Image by David Vogin.
It also helps that Google is out in front with OS security. The company will pay big bucks to anyone who finds a Chrome OS bug — since launching its Vulnerability Reward Program in 2010, it has already paid out $12 million.
Chromebooks appealed to 301 Digital Media for their compatibility with its current applications, including Google's G Suite productivity tools, which are based on Google OS. "Chromebooks are incredibly easy to deploy and manage, allowing users to log in to and manage their devices with the same credentials they use for email and other Google applications," explains Andrew Becks, COO of the Nashville, Tenn.-based ­marketing company. "Since most of our work is done in Google Drive or across web-based applications, Chromebooks offer nearly full access to all of the tools our teams need." 
Consider Whether Chromebooks Fit with Company Culture
Are Chromebooks for everyone? Hewitt says that c­ompanies should consider whether the devices are compatible with their ­culture. Despite their ease of use, some employees are accustomed to packing up a notebook at the end of the day, and might balk at the switch. "There can be a bit of a chip on people's shoulders," he says. 
"Given some of the physical and OS-related limitations of Chromebooks and Chrome OS, we have a mix of Mac and Windows devices that are mainly reserved for power users — those individuals who need access to desktop applications such as database management tools, coding IDEs and some analytics ­platforms," Becks says. "Nearly everyone in the organization has access to a Chrome OS device as a matter of ­convenience, though." 
Questar Assessment workers like that Chromebooks don't require any training; any employee who can use a browser can use a Chromebook. Winnie also anticipates less frequent hardware updates: "We used to have to update our laptops every three years, but we anticipate using Chromebooks much longer." 
AlexBrylov/Getty Images