Video Board Technology in Stadiums Kicks Fan Engagement Up a Notch
By using Snapchat-inspired filters and real-time data analytics, sports teams are turning video boards into an interactive, exciting part of the show.
Going to a professional sports game is a thrill in itself, but teams are doing more than ever to integrate digital elements to help fans connect more deeply to the game, teams and players they love.
Video boards, which have grown impressively in size and sophistication from mere scoreboards, are a major part of the fan-engagement strategy for many teams. This is particularly true as many stadiums undergo technology renovations to improve or offer Wi-Fi for fans.
One of the things that teams are experimenting with on their video boards is the use of face filter technology. Virtual filters have been popularized by social media platforms such as Snapchat. These filters, which can add virtual dog ears and a muzzle to your face for starters, are a great way to play and show off your personality.
But you can't exactly just throw up Snapchat on a video board and expect it to work the same way. That's where Game Changer MVP, an events and entertainment company specializing in the sports and entertainment industry, saw an opportunity with its Filter Fan Cam.
The company works with teams and corporations to create custom filters for their fans. Carolina Panthers fans, for example, can whoop it up and holler while donning virtual Panthers helmets thanks to the Filter Fan Cam.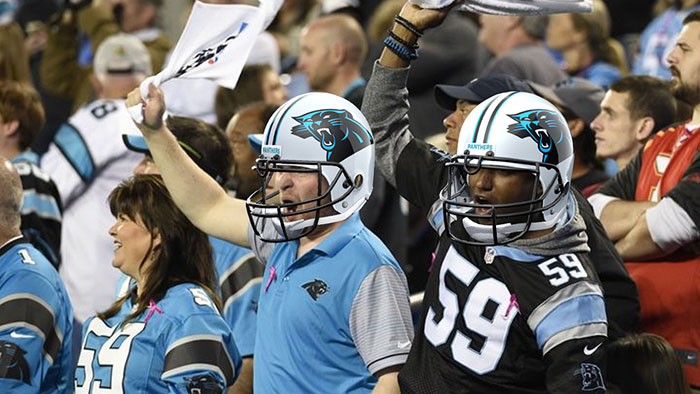 "They may have a mascot head, they may have face paint, and we create those custom filters and build them into our software," says Matt Coy, executive vice president and general manager of Game Changer MVP. "Really, it's something that takes what everybody already loves at sporting events when they're on the big screen and just makes it that much better. It also makes it so that it's sponsorable. And that's a big deal for teams, where there's that ROI for that sponsor."
Sports Teams Upgrade Their Video Board Tech for the Next Generation
As stadiums age, they go through refreshes. And increasingly, those refreshes include information technology. Previously, we took a look at how the Minnesota Wild revamped its video board technology as part of its stadium tech overhaul. One of the things the team was able to do with its implementation of Cisco's StadiumVision is show live stats on the video board and throughout the arena, which is perfect for stats-obsessed fans who participate in fantasy hockey.
"Now the fan experience is heightened. They can constantly see the game and they can see the live stats," Sarah Elkmeier, former digital designer and digital signage specialist for the Wild, said in a previous interview.
Other sports teams are aiming to go very big with their video board strategies. Recently, Louisiana State University announced that it would be installing what is being touted as the "largest video board in the country," according to NOLA.com.
"It's all in our continuing effort to enhance the in-game experience for the best fans in college baseball," Senior Associate Athletic Director Robert Munson tells NOLA.com. "The new board will not have any static advertising, so it will be focused on baseball. It will have constantly updated in-game stats for batters, detailed pitch stats like pitch counts and speed, and will essentially function like a real-time box score. It's an open canvas for us and we're excited to see what we can do with it."
Game Changer MVP
More On