Review: Aruba's Instant 205H AP Delivers Secure and Fast Public Wireless Access
The access point comes with two radios to support both older devices and the latest smartphones and tablets.
Adding wireless connectivity to public spaces — especially in places where people gather, such as restaurants, hotel lobbies or stores — makes for happier customers. It can be a tricky process, but Aruba's Instant 205H wireless access points make it less so.
Aruba has designed these self-contained APs to plug into any standard data wall box. Each comes with a mounting plate and installation kit, and attaching one to the wall takes only a few minutes. There is also a security screw that can lock each AP in place so no one can remove or steal it.
Once in place, the AP provides wireless signals in a wide arc in front of the unit. The 205H has two radios, so customers with the most modern gear can use its 5-gigahertz 802.11ac radio, while those with older devices can access its 2.4GHz 802.11n signal.
The AP is configured automatically using Aruba's Adaptive Radio Management feature, which assigns channel and power settings and helps bypass sources of radio frequency interference. When two devices are connected, they find one another and create a mesh that provides solid signal throughout the covered area.
Multiple Layers of Wireless Security 
The 205H has built-in security as part of its plug-and-play functionality and includes a reputation service that blocks known bad URLs and files. Although this won't replace the need for internal network security, it does provide an extra layer of protection for public access.
For those who want to augment the AP's standard safeguards, Aruba provides a management console to configure advanced features, such as critical application prioritization, virtual private network tunneling and encryption.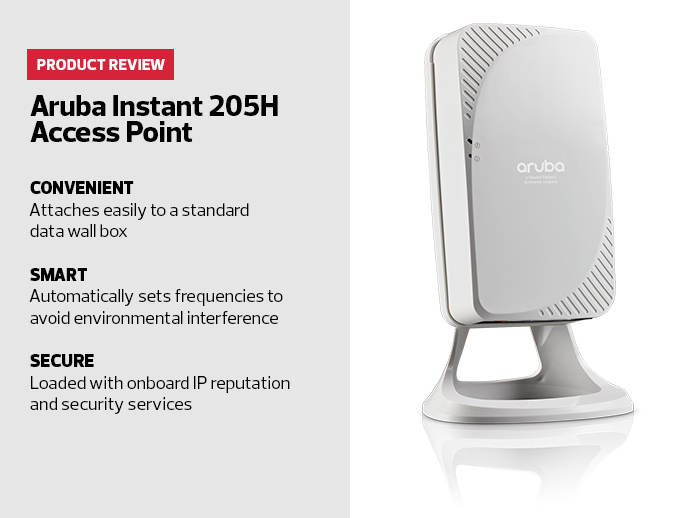 With one (or several) Aruba Instant 205H APs, any small business can create a professional and secure public wireless space for its customers, without the need for technical support for either setup or management — and at a reasonable price.
Aruba's Instant 205H AP Keeps Wireless Traffic in the Fast Lane
The Aruba Instant 205H access point is ideal to support a public wireless space.
Its dual radios provide fast access for older devices through its 2.4-gigahertz 802.11n signal, giving those customers as strong a signal as their devices can handle and clearing them out of the wireless bandwidth channels for users with newer gear.
For those with the latest devices, the 205H provides access through its 5GHz 802.11ac radio with Wave 2 and multiuser multiple input, multiple output (MU-MIMO) technology.
The AP removes lower tier users from the higher bandwidth stream by providing them with their own signal. It then further enhances the signal for those with MU-MIMO–capable devices (including most new smartphones) by allowing up to three of them to connect using dedicated bandwidth with faster download speeds in a reserved lane, while clearing them out of normal channels.
As those three users disconnect or move into a new AP's zone, that reserve slot opens back up. This clears the fast lane once again for new users, likely moving them up from the regular pool.
In a transient environment, such as a restaurant, hotel lobby or store, keeping a rotating pool of high-bandwidth users served with excellent connectivity can markedly ease demand on the rest of the channel.
Coupled with a separate radio to serve older devices, this makes the Aruba Instant 205H AP a perfect way to provide public connectivity to the maximum number of users with the minimum amount of oversight or management.
Aruba Instant 205H AP
AP Radios: Dual 5GHz 802.11ac, 2.4GHz 802.11n 2x2:2
Clients Per Radio: Up to 255
Data Rates: 867Mbps (5GHz), 400Mbps (2.4GHz)
Dimensions: 4.52x2.4x6.57 inches
Weight: 1.2 pounds
Aruba Networks, Garvin Grullón