Review: Asus' Flip C302CA Notebook Is a Slim but Powerful Business Companion
Despite a deceptively light appearance, this convertible has the power to host most biz apps — and is rugged to boot.
The Flip C302CA notebook follows the same popular design that Asus created for its educational Chromebooks, but do not be deceived by appearances.
Asus beefed up the C302CA to better accommodate high-end business applications and handle the always-working schedule of the modern businessperson. Like other Flip models, the C302CA features a 360-degree hinge. When used in conjunction with the touch screen, it lets users work in notebook, tablet, standup or tent modes.
Given the lighter footprint of their operating systems, Chromebooks typically have not needed powerful processors. But that has been changing as heartier apps, including many programs like Google Docs and specialized business tools, have made their way to the Google Chrome Web Store.
The Flip compensates by adding a 2.2-gigahertz processor, which ran everything I threw at it — including a couple of multitasking apps that have stymied lesser Chromebooks in comparable test drives.
With a large 12.5-inch touch screen, the C302CA is perfect for use as a presentation tool. Its native resolution is 1920 by 1080 pixels, so even the most detailed images and videos pop on its screen. The smart inclusion of an anti-glare panel and light sensor, which automatically tunes monitor brightness, also helps it perform well in most environments, from a bright conference room to a darkened train car.
A Notebook Built for Busy Travelers 
Everything about the design seems to have been made with a business traveler in mind. Even the USB port is one of the new 3.1 Type-C models, which accepts cables in any orientation to eliminate fumbling when setting up for a presentation or sharing work to a key drive.
Travelers won't have to give up comfort when typing either. The Flip has a full-size, chiclet-style keyboard with a natural feel. And with the touchpad — often a hotbed of mistake-inducing frustration — Asus added a palm rejection feature, which knew the difference between my resting hand and fingertips. I almost never moved the cursor unintentionally.
Beefing up a Flip model for business travelers, while keeping the weight less than 3 pounds, is quite a feat — one that road warriors will appreciate after spending long hours with the Asus Chromebook Flip C302CA as their boon companion.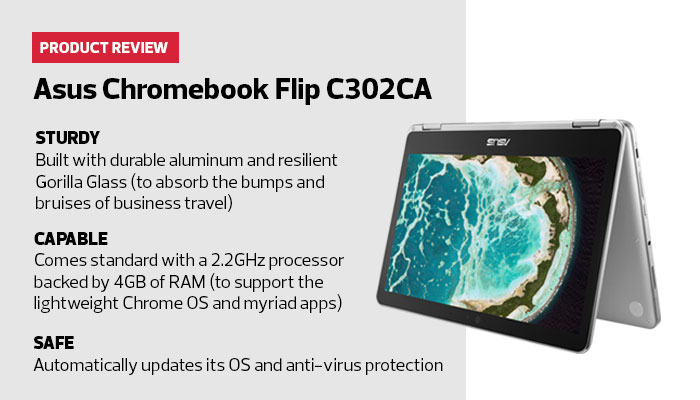 Battery Life that Keeps Going and Going and Going
Portable computers normally follow a pattern: As performance increases, battery life and runtime decline. Reducing the weight of a notebook also tends to reduce battery life because most batteries are on the heavy side.
On the surface, the Asus Chromebook Flip C302CA — with its upgraded processor and 2.65-pound slim design — didn't seem a like a platform that would provide the type of battery life required by business travelers.
But I found out that I really shouldn't judge a Chromebook by its cover. To find out how long the C302CA could last when power outlets are few and far between, I put it to the test in three different situations mimicking real-life use.
First, the nightmare scenario: I set the brightness and sound to 80 percent, and then disabled all internal power-saving features (such as the light sensor for screen brightness). I finally downloaded the movie The Name of the Rose and sat back to see how many times I could watch the two-hour, 11-minute thriller on a single charge.
Sean Connery's monk character investigated the abbey murder four and half times, with the C302CA turning in an impressive nine-hour, 39-minute runtime before dying. That's pretty incredible for a notebook that weighs in at less than 3 pounds.
Going a little more reasonable, I recharged the battery and worked with the notebook over time, allowing it to connect using its 802.11ac wireless radio whenever the application or the operating system wanted. I used it to conduct business tasks such as typing email, checking the web and writing this product review.
In this more standard-use mode, the C302CA performed even better, turning in a 14-hour, 12-minute runtime before warning me about critically low battery.
Finally, I disabled the connectivity and worked completely offline, allowing all power-saving features to activate when needed (such as shutting down the Flip during inactivity). Here the Chromebook lasted for two days, achieving a 33-hour, 18-minute runtime.
It's clear that however you choose to use the Asus Chromebook Flip C302CA, it will have the power to get the job done — and probably run for a lot longer than you might expect.
Asus Flip C302CA Notebook
Processor: Intel Core m3-6Y30 2.2GHz
RAM: 4GB LPDDR3
Hard Drive: 64GB eMMC flash drive
Display: 12.5-inch Full-HD touch screen
Graphics Processor: Intel HD Graphics 515
Dimensions: 11.9x8.3x0.5 inches
Weight: 2.65 pounds 
Asus