Dell EMC World 2017: Dell Says Businesses Need Modern IT to Stay Competitive
At its annual confab, Dell EMC unveiled new servers, hyperconverged infrastructure solutions and cloud-like pricing model for IT.
"Digital transformation" is one of those buzzwords in tech that doesn't really mean anything when it's disconnected from the technology that businesses use to reach customers and drive their companies forward.
Dell Technologies' stated goal at the Dell EMC World conference in Las Vegas this week is to make digital transformation real, and the company is unveiling a wide range of integrated IT solutions — real-world technologies and services — to allow businesses to be successful at a time when IT is becoming the business.
The company opened the conference with a keynote from CEO Michael Dell and David Goulden, president of Dell EMC, and announced a bevy of new technologies designed to help businesses modernize their IT architecture.
Dell believes that as businesses modernize IT, and data centers in particular, they will wind up with hybrid cloud environments, mixing some public cloud deployments with on-premises cloud implementations. As they do so, they will need infrastructure designed to support all those cloud workloads, including mission-critical applications that need reliable quality of service not found on the public cloud.
Dell Unveils New Servers for Scalable IT
Michael Dell noted in his keynote that software is allowing companies to make more services digital, and that generates massive amounts of data that can then be analyzed and used to create better products and services. Companies are getting more sophisticated at using data and injecting smarts into their services. Businesses will consume cloud in a variety of formats — public, private and hybrid, he said.
"If you have a 'public cloud first and only' strategy I think you are going to find yourself uncompetitive in the long term," he said. "Because when on-premises systems are modernized they become software-defined, which enables automation and efficiency."
Businesses have data centers full of apps and infrastructure they have built and deployed over the past few decades, he said. But to be competitive, all that infrastructure needs to be faster and more reliable. And if that modernization is done correctly, the savings companies generate can then fund shifts to the cloud and digital transformation, he said.
A key element of that transformation is Dell's server line, and the company announced the 14th generation of its PowerEdge server portfolio. The company is positioning the new servers as a secure, scalable compute platform for cloud, analytics or software-defined data center initiatives. Dell said that the new servers are "built to be the bedrock of new data centers" that are cloud-enabled and software-defined. The new portfolio is designed to optimize data centers for a wide variety of new and emerging workload requirements, with performance optimized for traditional and cloud-native workloads.
Dell says the servers will increase application performance and response time, since they have 19 times more non-volatile memory express (NVMe) low latency storage than the prior generation. Additionally, one-click BIOS tuning enables fast and easy deployment of many processing-intensive workloads. The servers also have enhanced storage capacity and flexibility, allowing customers to tailor their storage configurations to their application needs, which is especially critical in a software-defined-storage environment.
The new servers use the upcoming Intel Xeon Processor Scalable family of processors. Intel's technology will include many advancements that complement the servers' performance, efficiency and security, according to Dell. Additional details and pricing information on the servers are expected to be available this summer.
Dell Introduces New Hyperconverged Solutions
Dell also made strides with its hyperconverged infrastructure solutions running on the new server family. Hyperconverged platforms combine computing, storage, networking and virtualization capabilities, all preintegrated and controlled by a single management layer. Such solutions tend to cut down on data center hardware costs and footprints.
Dell said the Dell EMC VxRail Appliance family is powered by VMware vSAN and jointly engineered with VMware. The new Dell EMC VxRail Appliances 4.5 will deliver several new enterprise features available via the PowerEdge 14th generation servers in the next few months.
First, Dell will make it easier to adopt hyperconverged solutions. The VxRail Appliance deployment experience, which is optimized to deploy a single appliance in only 20 minutes, can now be applied to larger cluster sizes, allowing customers to add and manage 10 or more appliances as easily as a single appliance, according to Dell.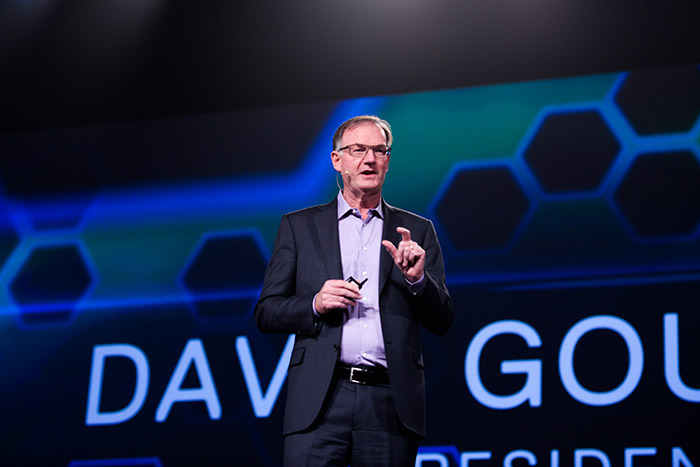 Dell EMC President David Goulden speaking at the opening keynote of Dell EMC World 2017. Photo credit: Dell EMC
Second, Dell said that it will now offer single processor options, priced as low as $25,000 for a three-node cluster, to reduce the cost of deploying processor-based licensed software for scaling up to 64 nodes. Goulden said that the HCI solution is aimed at small and medium-sized businesses or for remote location deployments for enterprises.
Goulden said he thinks companies need to modernize, automate and transform their IT — starting with a modernization of data centers. To Dell, data centers need to be flash-based, scalable, software-defined, cloud-enabled and trusted.
Flexible Cloud-Like Pricing for IT Infrastructure
Dell also introduced new flexible pricing models for IT purchasing and consumption based on cloud pricing models. "This gives organizations more flexibility with their IT planning and strategy – they can scale capacity up or down with changing business demands, respond to unpredictable spikes in demand, or roll out new technologies incrementally without large upfront capital costs," according to a Dell statement.
Initially available for Dell EMC's hyperconverged family of products, Cloud Flex for HCI lets customers take advantage of a cloud-like consumption model with simple monthly payments, built-in price reductions over time, and no upfront costs or obligation after the first year.
Starting with Dell EMC VxRail Appliances and Dell EMC XC Series, the new pricing model is designed to eliminate initial capital costs and let customers spread out payments over time. Dell says that under this model companies will be able to spend more time and resources on innovating and growing their businesses.
Dell said that such financing will be available for storage, PC as a Service, virtual desktop infrastructure and software.
Read all of our Dell EMC World 2017 coverage here.
Dell EMC