Will Intel's New Data Center Storage Tech Make Memory Cheaper and Faster?
The chipset giant's 3D XPoint technology promises to enhance enterprise data centers and PCs.
Will your data center and your PC get a lot faster? Intel hopes so, thanks to its 3D XPoint memory technology.
The new technology, which will make its way into both data centers and PCs, is designed to bridge the gap "between speedy conventional memory where computers hold data for immediate use and the flash memory used for longer-term storage," as The Wall Street Journal reported.
"It blurs the line between system memory and storage," Diane Bryant, an executive vice president who oversees Intel's Data Center Group, told the Journal. Bryant said 3D XPoint, which is pronounced "three-dee cross point," can help accelerate tasks such as fraud detection, retail purchase recommendation and autonomous driving, according to the Journal.
The benefits to 3DXPoint are that it is faster than NAND flash storage memory and cheaper and denser than the speedier DRAM system memory. It's designed to bridge the gap between them.
According to Ars Technica, the 3D XPoint technology has about one-thousandth the latency of NAND flash memory and about ten times the latency of DRAM memory, which delivers information speedily (meaning it's 1,000 faster than NAND but has 10 percent of the speed of DRAM, since latency refers to the time delay between when a command is entered and executed). As Wired points out, this speed won't be achieved right away — likely not until the second half of the year, when Intel offers products that plug directly into the hearts of data centers.
"It's the most responsive data center technology in the world," said James Myers, Intel's director of non-volatile memory solutions architecture, according to CRN.
However, 3D XPoint has 10 times the density of DRAM, meaning it can store 10 times more data. DRAM is speedier than NAND flash memory, but it is also more expensive and holds less data. 3D XPoint could potentially bridge the gap, and allow enterprises and large internet companies like Google to, as Wired reports, "build new kinds of systems — systems that can hold data in memory even when powered down, that merge memory and storage or mix and match them in new ways — all in an effort to create vast networks of machines that can more efficiently juggle information."
Making Data Centers Faster and More Efficient
Intel spent about a decade developing the technology in cooperation with Micron, and last month unveiled the first product based on it under the brand name "Optane." The snappily named SSD DC P4800X promises to "significantly increase scale per server and accelerate applications," according to Intel.
"When deployed as extended memory, this drive expands the system memory pool, creating bigger, more cost-effective memory to gain higher quality insights," Intel says. 3D XPoint-based solid state drives for the data center will "let users do more work with the same servers, improving [total cost of ownership] or expanding capabilities," Intel said. "And because the drive is extremely responsive under any load, it is highly predictable and delivers ultra-fast service, consistently."
Intel says the Optane SSD DC P4800X with Intel Memory Drive Technology "enables data centers to deliver more affordable memory pools by displacing a portion of DRAM or significantly increasing the size of memory pools."
As TechRepublic notes, an obvious use case for 3D XPoint is in-memory databases: "The ability to have several [terabytes] of data in-memory significantly reduces query times and results in faster business answers."
Additionally, the article notes, "virtualized and hyperconverged infrastructures should benefit from 3D XPoint memory as well. Very few virtualized environments experience CPU resource constraints. Memory and disk [input/output] are the typical constraints. With tweaks to the hypervisor, virtualized infrastructures could take advantage of different levels of RAM. For example, [operating system] instances could run in DRAM. The virtual machine tools may instruct the hypervisor to make 3D XPoint available for application memory vs. DRAM."
3D XPoint Could Benefit PCs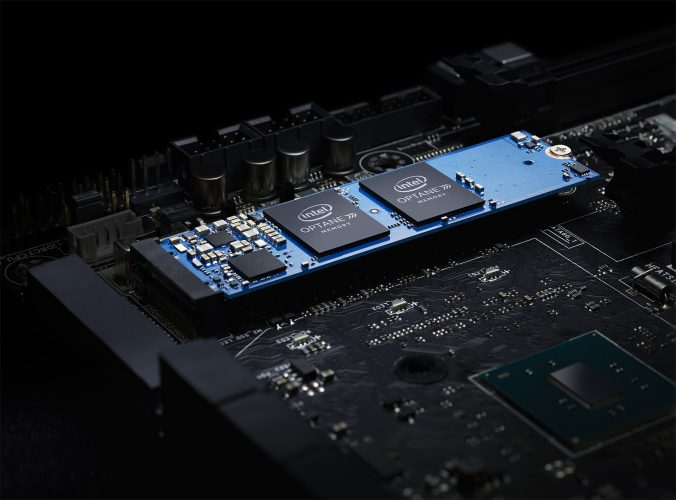 Intel Optane memory. Photo credit: Intel
It's not just data centers that Intel is targeting with 3D XPoint.
Navin Shenoy, senior vice president and general manager for the Client Computing Group (CCG) at Intel, says the company's Optane memory will allow PCs "to deliver significantly more performance and faster load times across a broad range of personal computing experiences" and "will enable new levels of PC responsiveness for everything from compute-intensive engineering applications to high-end gaming, digital content creation, web browsing and even everyday office productivity applications."
Shenoy says that most people launch 11 apps every day, and then launch each app seven times. The Optane memory, in a PC running on a 7th Gen Intel Core processor-based system, could allow users to power on their PCs up to twice as fast and make overall system performance up to 28 percent faster.
According to Intel, applications like Microsoft Outlook will launch up to nearly six times faster and Google's Chrome web browser will launch up to five times faster.
Intel said that Optane memory modules (16GB and 32GB) will be available for desktops starting April 24 for customers who want to install them in their Intel Optane memory- ready motherboards or systems. Additionally, Intel said that starting in the second quarter of this year, PC manufacturers like Acer, Asus, Dell, HP, Lenovo and others will begin shipping both consumer and commercial products equipped with Intel Optane memory.
Vladimir_Timofeev/ThinkStock