Golf and Technology Unite to Make a Difference in Local Communities
Through its charitable giving program, CDW and its partners make a commitment to truly using tech for good.
Golf is a sport with some serious history. It traces its roots to as early as the mid-15th century when the Scots fell in love with an earlier iteration of the game, according to About.com.
But today's kids are living in an entirely different era, where toddlers are able to swiftly navigate the user interfaces of tablets and smartphones innately.
Which presents a challenge: How do we engage kids, steeped in the modernities of technology and instant communications, with a historic and traditional sport like golf?
That's where CDW hopes to make a difference. Last year, the company piloted its Tech Fore! Kids program in partnership with the Chris Paul Family Foundation. CDW hosted an event, in partnership with Lenovo, to provide kids with technology devices and a golf simulator that blends the worlds of sport and technology.
The success of that pilot has now led to Tech Fore! Kids becoming a full-fledged charitable giving program, which CDW announced formally at an event at Topgolf in Scottsdale, Ariz., this week. The company made a generous donation of computers and servers to the Boys & Girls Clubs of Metro Phoenix, with support from Lenovo and Intel.
"It's been really exciting because the kids of today know technology better than we'll ever know it. One of the things that's been great has been connecting technology to golf for them, and really helping them understand what they're seeing in statistics and yardage and things like that," said Matt Troka, senior vice president of product and partner management at CDW. "All of those things together really have given us the ability to say, how do we give those kids an opportunity to use technology in ways that we never thought of, and what are they going to come up with as we go forward."
It's important to note of course, that the game of golf has changed dramatically as data analytics measures every swing and putt, allowing players to understand and tweak their game with mathematical precision.
But one area in tech that professional golfers are excited about is the potential for virtual reality.
"VR, I think that's growing," said PGA Tour pro Gary Woodland at the CDW event. "It's unbelievable, the way it's going. I guarantee you before long they're going to find some ways to use it in golf. I'm sure it's going to be pretty cool."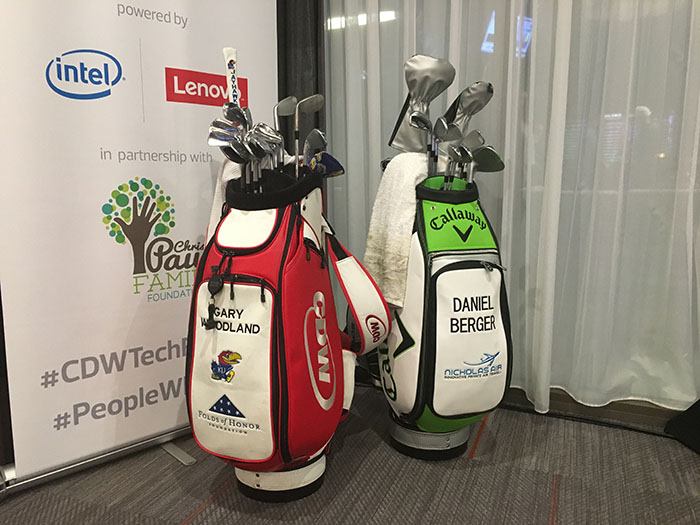 A Hole in One for Technology, Sports and Community
While many people focus on the macro changes that technology brings about in the world, the truth is that technology can also have a meaningful impact on a smaller scale as well.
Most people take for granted the access they have to high-speed internet and technology, but for many families in the metropolitan Phoenix area, that simply isn't the case.
"Truthfully, many of our kids and their families, they do not have technology in their homes, so they come to the Boys & Girls Club after school. Those devices are not only used for homework, they're used for informal learning and communication," said Marcia Mintz, CEO of the Boys & Girls Clubs of Metro Phoenix. "This is their time to be on technology so it's our most heavily used room, the technology center, and that's what they really crave. It's tremendous learning and social-skill building for them."
For Woodland, who also participated in the Tech Fore! Kids pilot with Chris Paul last year for the Los Angeles-area Boys & Girls Club Watts-Willowbrook location, this donation has extra meaning because his wife has ties to the area.
"My wife is actually from Phoenix so it's nice, obviously, to have impact where she's from," he said. "I've been very blessed to be where I am and to be able to give back and see the impact that it's having on these kids. The game of golf can teach you a lot of life lessons. It's something kids can do for the rest of their lives. That's why it's special for me, being in my position, to be able to show that to people."
The gift of computers and servers from CDW, Lenovo and Intel will help with the daily operations at the various clubhouses, but in the long run, the kids will be immersed in the game of golf on an ongoing basis through the First Tee — a nonprofit founded by the PGA, PGA Tour, LPGA and Masters Tournament — as part of the Tech Fore! Kids program.
"The idea behind it is teaching these kids a lifelong game that's healthy, that they can play their entire lives, and they can walk away with the core values and characteristics from the golf course into their families and communities, to be better individuals later on in life," said Mike Tucker, director of business development for the First Tee's Phoenix chapter.
As part of the Tech Fore! Kids program with CDW and the Boys & Girls Clubs of Metro Phoenix, the First Tee will offer programming to the kids after-school and during the summer. Beyond that, the First Tee will identify four kids at three sites who will receive complimentary First Tee memberships, so they can expand their interest in golf, he said.
Building a Relationship That Delivers Solutions and Support
The Topgolf event hosted by CDW wasn't just a launch event for the Tech Fore! Kids program; it was also a vehicle for showing customer appreciation. In addition to Gary Woodland, PGA Tour players Daniel Berger, Ben Crane and Harold Varner III were also on hand to lend their support to the program and to coach and mentor CDW customers from the Phoenix area as they hit drives under the starry skies and neon glow from the Talking Stick casino.
To up the stakes a little, a technology prize was offered to the driving range bay that totaled the highest score. For Reynaldo Imbert, a senior applications and support tech at Paradigm Precision, the opportunity to hobknob with professional golfers and engage on an intimate level was meaningful to him.
"Working in the IT field, I have been in partnerships with different companies and so far CDW is the only one I've seen that has given back to the community," he said. "This is my second event that I've attended and Tech Fore! is a great concept, honestly."
While Reynaldo is more of a basketball and softball player, he relished the opportunity to hit the driving range, even if he knew he might not score big and take home the technology prize.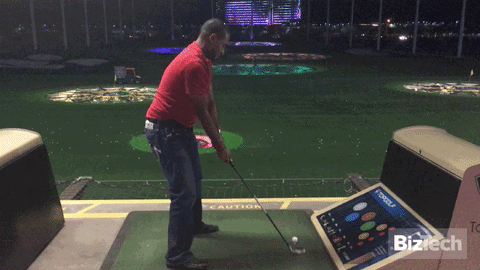 "Honestly, just the experience itself is pretty unique," said Imbert. "I'm having a good time so I'm already winning, so whatever comes, it's fun!"
More On