Review: Dropbox Business Plays Well in the Enterprise
The business-friendly version of the software offers the drag-and-drop functionality of the beloved consumer app, with decent security and administrative controls.
Dropbox Business takes the easy-to-use features in the consumer version of the app and couples them with a back end that emphasizes security and user management. From a user perspective, almost no training is needed. Files can simply be dropped into place, or automatic syncing options can remove even that bit of manual labor. Every version of a file can be saved independently as well, so if a user makes a mistake, systems administrators can pull up an earlier version so that nothing is permanently lost.
And business users get unlimited storage space in the Dropbox cloud, so even the largest sets of information, plus all versions of all files, can be securely stored and shared.
Granular Administrative Control 
One of the most powerful aspects of Dropbox Business is the admin console, which provides granular control over who can access information and how.
To test this, I added users to a business account to simulate new employees. I was able to decide if they could use single sign-on with Active Directory or would be required to provide two- factor authentication (an increasingly common security requirement).
In addition, I easily created employee user groups (such as finance, contractors, executives and other designations) and then set rules for how each one could access and share information. Groups might be allowed to share info only with others in their group, or only within the company. Certain groups, such as the public relations team, might have settings that let its members share files with anyone.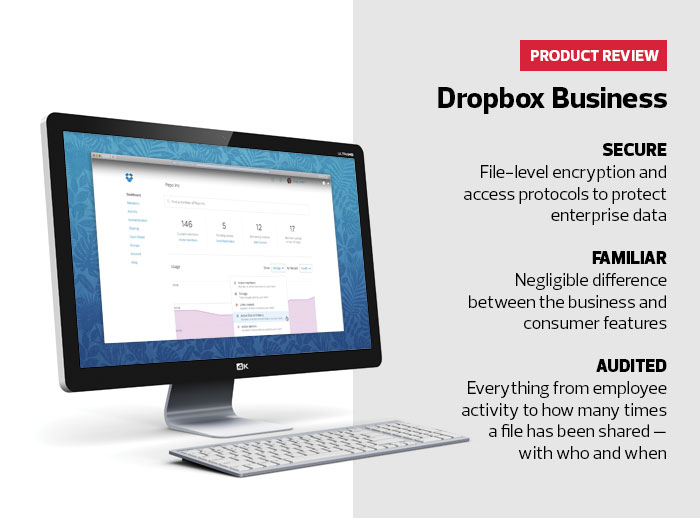 SPECIFICATIONS: License Level: Per seat, up to 299, License Period: 7 months, Supported Operating Systems: Android, iOS, MacOS, Unix, Windows, Access Security: Two-step verification, Encryption: 256-bit Advanced Encryption Standard, Storage: Unlimited 
A New Approach to Permissions 
Permissions can also be designed around folders instead of groups. I was able to create a central repository open to everyone, regardless of group, where the faux company could put things like schedules, employee handbooks and corporate news. Sysadmins can also program folders and files to sync to specific devices or give certain users permission to create such relationships as needed.
Everything that happens to data is fully auditable within the admin interface. While the console is probably most valuable as a tool to see who is using information and where it is being shared, it also could be used to check productivity and ensure that people are working on specific files or projects.
In today's digital world, audit capability is a must. Should a data leak or breach occur, the audit trail detailing who saw what and when makes Dropbox Business a powerful tool that goes beyond simple file sharing in the cloud.
scanrail/Thinkstock
More On