Nonprofits Hope Everyday People Go Big for Giving Tuesday
Organizations are banking on the new holiday tradition to hit fundraising goals and make investments in technology.
Emily Moberly understands the allure of finding great deals on Black Friday and Cyber Monday. But come Tuesday, after consumers across the country have gone on a collective holiday shopping binge, she's hopeful people will have some money left over to donate to nonprofits, such as her very own literacy organization, Traveling Stories.
Tuesday, Nov. 29, is Giving Tuesday, an annual post-Thanksgiving event that encourages people to donate money, their time or goods and services to their favorite nonprofit organizations and charities.
Moberly, the founder and executive director of Traveling Stories, hopes to raise $10,000 on Giving Tuesday — and a total of $25,000 by year's end — to help pay for the story tent experience next year and to pay for much-needed technology in the office, including a computer, color printer, projector and tablets.
"We're a small organization, so $25,000 would make a huge difference for us," she says.
While brick-and-mortar retailers salivate over Black Friday and online retailers gear up for Cyber Monday, more nonprofits than ever are chomping at the bit for Giving Tuesday, an event that raised $116.7 million in over 71 countries last year.
Tracing the Rise of Giving Tuesday
Giving Tuesday was founded in 2012 by the 92nd Street Y, a cultural center in New York City, in partnership with the United Nations Foundation as a way to celebrate and encourage giving. In its fifth year, the annual campaign has fast become a new holiday tradition with more than 40,000 organizations worldwide now taking part.
"It's a great way to shift from the consumerism of Black Friday and Cyber Monday and remind people that it's a time for giving and what we can do to help others, whether it's giving to a large nonprofit or a small, grassroots organization," says Karen Kaufman, senior manager of communications for the IEEE Foundation.
Giving Tuesday is a social media phenomenon, with organizations using the hashtag #GivingTuesday to promote themselves. In 2015, the event reached 917,313 Facebook users and garnered 114 billion Twitter impressions, according to the event's website.
Many nonprofits use Giving Tuesday to kick off their end-of-year fundraising campaigns. To maximize outreach and donations, some nonprofits partner with corporate sponsors or collaborate with each other in their respective communities.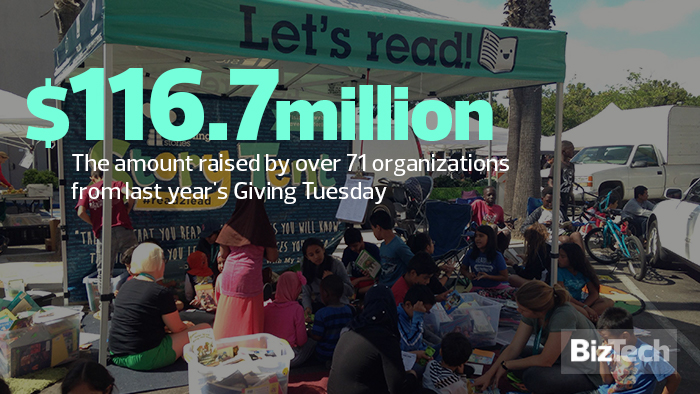 Nonprofits in Charlotte, N.C., for example, have banded together for a campaign called #GivingTuesdayCLT. The effort, spearheaded by a nonprofit called SHARE Charlotte, raised $4.2 million for local nonprofits last year. They hope to raise $8 million this year.
"The large majority of annual giving happens in the last 30 days of the year, and Giving Tuesday kicks that off," explains Charlotte James, communications director of Code in the Schools, a nonprofit focused on teaching computer science to Baltimore city youth.
Engineering Groups Partner to Raise Funds
The IEEE Foundation, the philanthropic arm of the Institute of Electrical and Electronics Engineers, has partnered with five sister engineering organizations to raise funds on Giving Tuesday to support their individual programs.
The collaboration — named "Engineer a Better World" — is in its second year and strives to raise awareness for Giving Tuesday among the engineering community and donations for the participating organizations, Kaufman says.
Last year, the engineering organizations raised a combined $73,000 from 360 donations. The IEEE Foundation itself garnered $28,431 from 127 donors in one day to help fund its programs that improve the human condition through technology and education, empower the next generation of innovators, preserve technological history and celebrate innovation.
"Our first year participating in Giving Tuesday was a huge success," Kaufman says. "This year we hope to raise $40,000 for IEEE Foundation, and the 'Engineer a Better World' collaboration hopes to raise $125,000 collectively."
How Nonprofits Can Drum Up Support for Giving Tuesday
In Baltimore, Code in the Schools relies primarily on social media channels to promote its Giving Tuesday fundraiser. But last year, the organization received an assist from AOL, which ran $10,000 worth of free ads to promote the organization's fundraising effort.
The 3-year-old nonprofit, which provides computer science education in schools and after-school programs, successfully raised about $20,000, half from a matching donor, during its Giving Tuesday campaign last year. It paid for a mobile computing lab, featuring 20 new notebook computers, at the Baltimore Leadership School for Young Women, and tablets and robotic kits for the organization's other educational programs.
"By having more laptops to work with, it meant they could have more tech classes at their school," James says.
James says the organization was successful in its Giving Tuesday fundraiser because it had a clear goal. She advises nonprofits to do the same.
"Last year, we showed what the donors' contribution buys. People like to know where their money is going, so the more clear it is to them, the more successful you will be," she explains.
To drum up support for donations, another strategy is to post stories on social media about how donations benefit people's lives, James says. Last year, for example, she posted profiles of students at the school who needed computers.
This year, Code in the Schools hopes to raise $10,000 to pay a stipend to 26 students who are taking part in a yearlong vocational education program called The Prodigy Program. The students — age 17 to 21 — learn coding skills, such as HTML, CSS, JavaScript and video game development, while working on projects, such as building a drug overdose prevention app for the community, she says.
To spur donations, James is posting profiles of students who discuss the positive impact computer science has made in their lives — and how they hope to make coding a career. She's posting the profiles on Instagram and promoting them on Facebook.
"We're sharing profiles that are human-centered and really compelling," she says.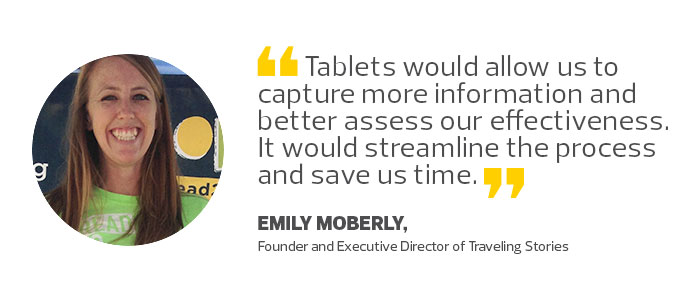 Taking on Giving Tuesday for the First Time
In San Diego, Moberly is fundraising on Giving Tuesday for the first time.
Last year, San Diego Christian College donated a portion of its Giving Tuesday proceeds to Traveling Stories, giving Moberly's organization $3,000. This year, Moberly is launching her own fundraising campaign. It's a grassroots effort in which she's asking her volunteers and regular donors to help fundraise by telling their family and friends about her organization.
"I'm putting together a campaign kit with sample emails, tweets and social media posts they can send," she says.
Three partners — Scribd, IDW Publishing and Humble Bundle — will also adopt Traveling Stories on Giving Tuesday and ask their social media followers to donate, she says.
A $40 donation allows Traveling Stories to provide one child the opportunity to read weekly with a volunteer at a story tent for one year, she says.
The tents are filled with 150 to 200 books. Students can sit comfortably in chairs or on rugs. And with each book they read, they can earn "book bucks," which they can collect and turn in for prizes, such as pencils, skateboards, soccer equipment and other toys.
As for technology, Moberly and her two staff members use their own personal notebook computers. But she'd like to raise enough money to purchase a notebook or desktop computer, so staff and volunteers have a computer in the office to work on. She'd also like to upgrade from a black-and-white printer to a color printer to print flyers, and a buy a projector for fundraising efforts and for the organization's yearly gala.
She'd also like to buy iPad devices so they can more easily track attendance by having children digitally sign in and out. Today, the organization tracks attendance on paper and manually types in the information so they can analyze the data and evaluate the program's effectiveness, such as how long kids stay and how often they visit.
"Tablets would allow us to capture more information and better assess our effectiveness," she says. "It would streamline the process and save us time."
Rawpixel/Thinkstock