Review: HPE Hyper Converged 380 Makes Deploying Virtual Machines a Breeze
This admin-friendly virtualization platform advances IT productivity and is ideal for SMB, remote and branch offices.
Equipping any workforce with virtual machines often makes more sense, physically and financially, than trying to deploy multiple ­desktops, workstations and servers to meet every possible business need.
The greatest obstacle with VMs, especially for small and medium-sized businesses, is an extended learning curve: Users now run, essentially, a ­software-defined data center.
The HPE Hyper Converged 380 ­system standardizes the approach to VM deployment. A key to the HPE 380's power is backing from the new HPE ProLiant DL 380 Gen9 servers, which range from very high-end to modest setups, with plenty of open slots and ­configuration options.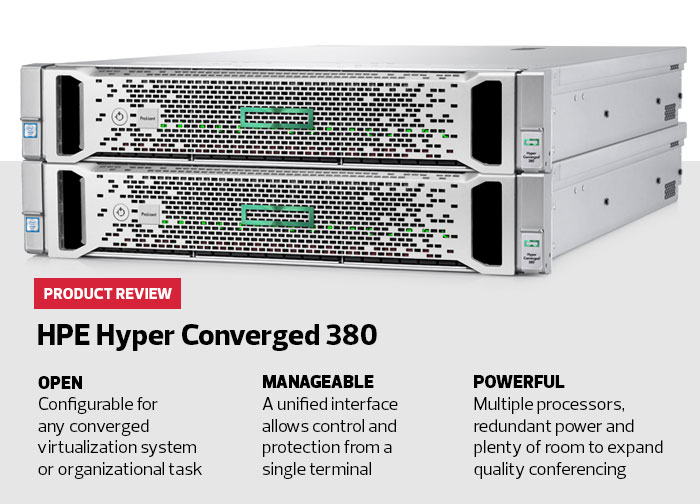 SYSTEM REQUIREMENTS: Processor Dual 2.6GHz Xeon E5-2697V3, Memory Up to 3TB HPE 2400MHz DDR4 SmartMemory, Read/Write Speed 12Gbps, Size 2U rack-mountable, Slots 24
The HPE 380 system comes in one of three main configurations: general virtualization, HPE CloudSystem and virtual desktop infrastructure. For our testing, we looked at one for general virtualization and another for VDI.
Simplifying the Process
Given the complexities of VM deployment, we braced for a steep learning curve and a lot of technical reading. Thankfully, HPE has eliminated many of the more cumbersome steps. Our ProLiant servers came with VMware vSphere and were loaded with the proper amount of storage and memory to support their planned role (the VDI unit had more flash memory to ­prevent boot storms, for example).
The HPE OneView User Experience interface makes VM deployment incredibly easy. We configured each based on its expected role, which varied wildly on the general virtualization server. Security programs and policies could be set to apply automatically to each new VM, or be added after the fact to all existing VMs or to specific ones, through the entire interface.
Performance monitoring, likewise, was very easy, and we could nicely show the need to expand the ProLiant DL 380 server to senior management as needed.
Never an easy task, deploying a network of VMs is typically fraught with dangers. But the HPE Hyper Converged 380 performs most of the hard work prior to deployment, and makes continuing maintenance a breeze. For SMBs looking to finally take advantage of virtualization, the 380 is a good way to open that tricky door.
Hewlett-Packard Enterprise