Chris Paul Brings Technology, Golf and Hope to Boys & Girls Club in L.A.
The Los Angeles Clippers point guard partnered with CDW, Lenovo and GOLFZON to donate a technology gift to the Watts-Willowbrook Boys & Girls Club.
It's mid-August and star basketball players like Carmelo Anthony and Kevin Durant are overseas in Rio de Janeiro competing for gold at the 2016 Olympic games.
But the Los Angeles Clippers' star player isn't in Rio. He's at the Watts-Willowbrook Boys & Girls Club in Los Angeles donating his time, talents and energy to a group of kids as part of a charity donation from his nonprofit organization, the Chris Paul Family Foundation.
In partnership with CDW, Lenovo and GOLFZON, Chris Paul and his organization have assembled a tech bundle for the club that includes an assortment of notebook computers, tablets and an eye-popping, tech-powered golf simulator.
Paul already has two gold medals with Team USA from the 2008 and 2012 Olympics. And you could say his time spent with the kids of Watts-Willowbrook Boys & Girls Club was just as golden as standing up on that podium during the medal ceremony. His reception when he walked into the gym certainly was as loud as what you'd hear at an Olympic ceremony.
This is what happens to a roomful of kids when @cp3 steps in the building. #CDWtechforekids pic.twitter.com/QprMtvWH1K

— Ricky Ribeiro (@ricktagious) August 15, 2016
Nonprofits Benefit from Tech Giving
As a nonprofit organization, the Boys & Girls Clubs of America relies on the kindness of donations like these to offer the latest and greatest technologies. A lack of both human and physical resources to support nonprofit IT is unfortunately a common occurrence.
"In general, you'll see a lot of understaffing for technology within nonprofits. They're often working with very tight and slim budgets," says Ben Weiss, director of nonprofit sector at CDW. "So when they come to us, a lot of the resources that we offer are at no fee to the customer. It's really helpful for them to get some guidance on industry best solutions."
Paul believes that giving technology to the kids at the Boys & Girls Club is one of the most powerful gifts he can give because, as a self-described tech geek, it's an investment that will pay off in the long run.
"With everything being so technology based, kids on one side of town shouldn't have the opportunity to these benefits just because they grew up here and kids on the other side of town don't," he says.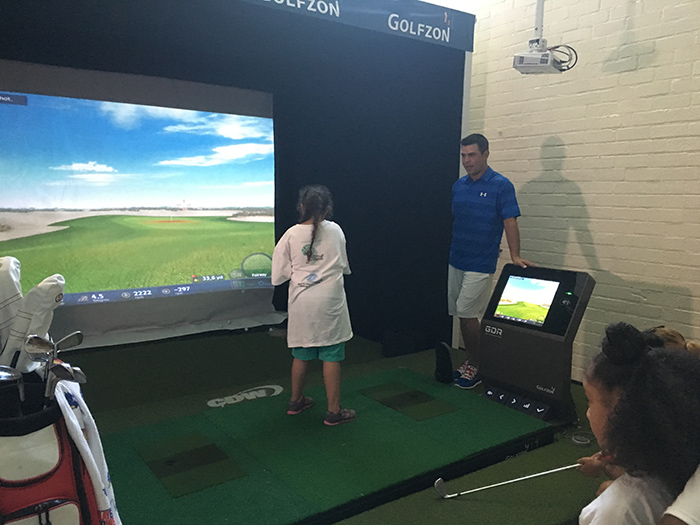 While the notebook and tablet devices offer straightforward ed-tech benefits, the introduction of the golf simulator offers the kids a different kind of education. One that broadens their horizons and exposes them to a sport they might not otherwise have access to.
"I didn't have a golf simulator growing up. To see this and really make golf fun is a big deal. When I was growing up, my friends didn't play golf so I'd go play by myself and then I'd go play basketball, baseball and football with my friends," says PGA Tour golfer Gary Woodland. "Now these kids are getting an opportunity to do it together. Hundreds of kids come in here and technology is really paving the way to grow the game of golf."
The inclusion of golf in the donation is no accident; Paul has become an avid golfer in recent years, recently hitting the links with President Obama.
"I was never introduced to golf," says Paul. "Nobody ever came to me and said this is a cool sport, this is something you should try to figure out to learn. So these kids, they're getting an early start on this."
Ricky Ribeiro