Businesses Benefit from Municipal Broadband
High-speed networks spur economic development in Hudson, Ohio and Chattanooga, Tenn.
There are few everyday business situations more frustrating than a slow, unreliable Internet connection. As more office applications rely on the Internet, business slows to a crawl without it.
That was certainly the case for Jan Gusich, founder and CEO of AKHIA, a public relations and integrated marketing company in Hudson, Ohio, and her 60 creative designers, writers and support staff.
The company's Internet connection was so slow that uploading art files to clients and printers could take up to an hour — even if the transmission went smoothly. If the Internet went down, which it often did, some employees would have to pack up and head home or to a coffee shop to get work done.
Gusich wanted to invest in faster, more reliable Internet, but it simply wasn't available in Hudson, a suburb of Akron. Her only options were two commercial Internet providers, but neither would upgrade beyond their sub-broadband, copper-based capabilities.
"I kind of accepted that this was the way it was going to be," says Gusich, who started her business 20 years ago in her Hudson home's dining room and has since grown it into one of Ohio's most successful agencies. "I figured, we'll have some frustrating days. We'll have to leave the office on occasion. And we'll just live with that and do what we have to do."
Then she heard in early 2015 that the city of Hudson was planning to become its own Internet service provider (ISP) with reliable citywide fiber-optic connectivity and 1 gigabit speeds. "As soon as I heard about it, I was in," Gusich recalls. She quickly volunteered her firm to take part in an initial pilot project and is now fully connected.
Now, AKHIA's huge files upload in minutes, and the Internet connection hasn't gone down once. "The employees are happier, we're more productive, and I don't have frustrated clients wondering why we can't get something to them faster," Gusich says. "As the owner of the business, it has taken a huge weight off of me."
Broadband Beckons Businesses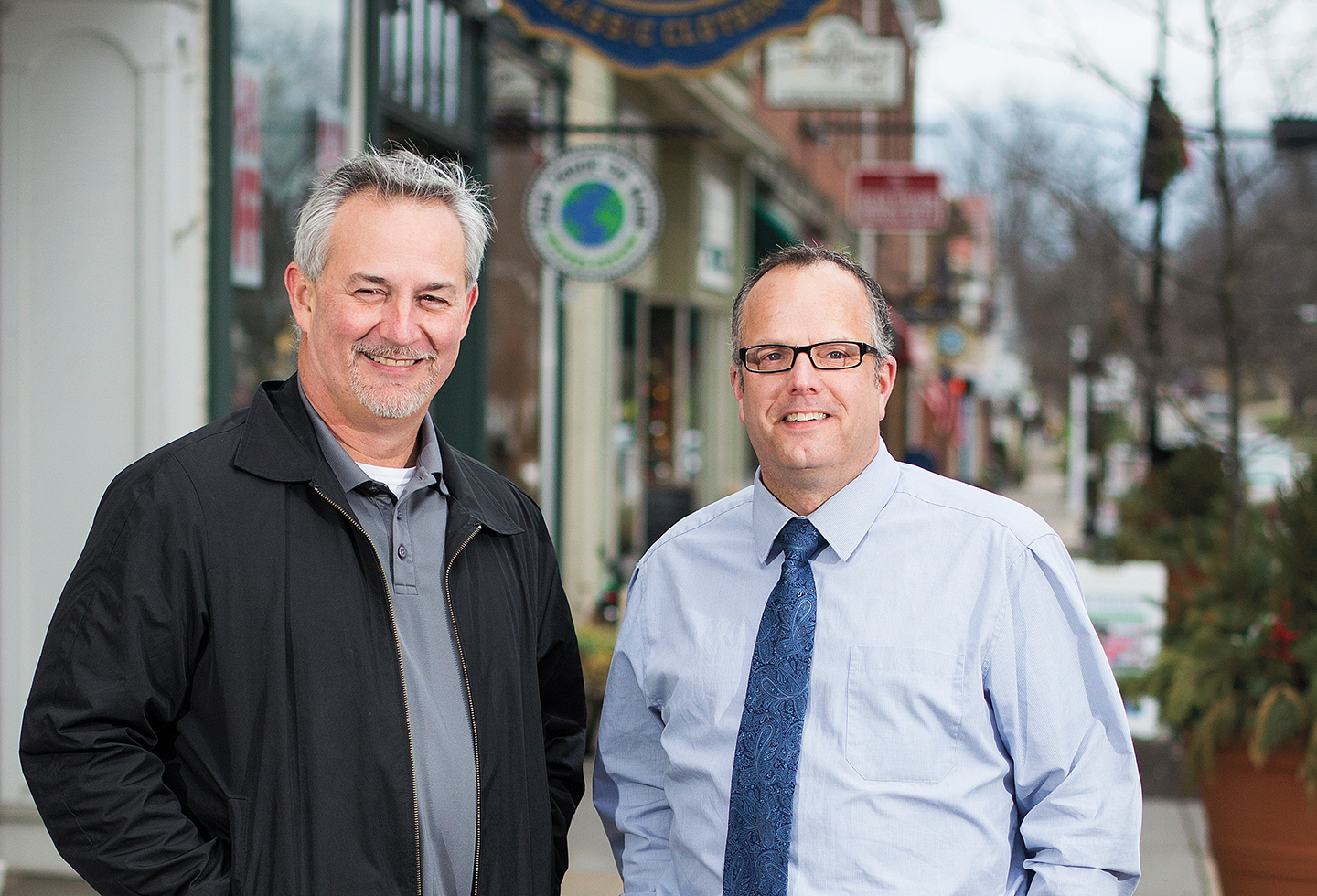 The city of Hudson, Ohio, courts businesses by running its own public broadband network, say Bill Hilbish and Frank J. Comeriato Jr.
Hudson, Ohio, has long been an ideal place for business. More than 900 companies, including Jo-Ann Fabric and Craft Stores, make their home in this city, attracted by its location, educated workforce and charming downtown.
The lack of ultrafast broadband, however, put that business-friendly reputation in jeopardy.
"A lot of our businesses are very data-intensive, and we had them telling us over and over, 'We can't grow here, we can't expand,'" recalls Assistant City Manager Frank J. Comeriato Jr.
"And new companies that we were trying to attract to Hudson were telling us, 'There's no way. You don't have the bandwidth we need.'"
That's why the city decided to take a leap of faith and become its own service provider. "We had no choice, really," says Bill Hilbish, IS manager for Hudson.
"Businesses need access to fast, reliable bandwidth if they're going to compete, and we needed to do whatever we could to provide that to them."
With an initial $800,000 investment, Hudson officials last spring began laying the groundwork for the Velocity Broadband fiber-optic network for businesses. Hilbish and his team built a new data center that houses a Cisco Systems 9000 series router, Cisco Catalyst and Power over Ethernet switches, Cisco ASA firewalls, APC Symmetra UPS switches and VMware virtual servers, among other equipment.
The team also buried fiber-optic lines throughout the city, put out bids for a primary and redundant Internet backbone provider and ramped up billing and customer service functions.

In September 2015, Velocity Broadband began connecting businesses. "We have a backlog of companies that want us to hook them up," Hilbish says. The broadband network has also helped Hudson court other companies.
"As soon as we announced the 1 gigabit service, we got calls from businesses outside the city who wanted in," says Comeriato. "Realizing they'd have access to fast, reliable broadband was the tipping point in finally making the decision to come to Hudson."
Cities Lead the Way with Broadband for Business
Hudson is one of an increasing number of municipalities launching broadband networks to help existing businesses and attract new ones, says Christopher Mitchell, director of community broadband networks at the Institute for Local Self-Reliance.
"Many communities have realized that if they do not invest in themselves, they will be left behind in the digital economy," Mitchell says.
Chattanooga, Tenn., offers one such success story. In 2010, the city's Electric Power Board (EPB) utility unveiled a network offering speeds of 1 gigabit per second, which was then the fastest in the country. EPB recently rolled out a 10Gbps service.
The city's network began when officials decided to modernize the power grid by laying a fiber network throughout its 600-square-mile service area.
"We essentially overlaid a communications network and devices that could help us better understand the health and performance of our grid in real time," says Danna Bailey, EPB's vice president of corporate communications.

"However, we knew that high-speed Internet would also be critical infrastructure in the future, so we decided to try to also make the network available to the community."
While other local providers offer high-speed Internet service, more than 75,000 Chattanooga residents and businesses get broadband from the city.
According to a study by Bento Lobo, a professor at the University of Tennessee at Chattanooga, the network has generated between $865 million and $1.3 billion in economic and social benefits while creating as many as 5,200 new jobs.
Now known as Gig City, Chattanooga has become a hot spot for startups, entrepreneurs and 3D printing activity.
"Having this sort of connectivity is opening up lines of creativity that may have been there before but couldn't be easily explored," Bailey says. "More than that, it's giving us this new level of confidence and enthusiasm about the future."
Alex Slitz
More On