Tablets Are Changing the Way We Work
Use cases for tablets on the job continue to evolve, and make employees more efficient.
Tenneco's North American Aftermarket business unit manufactures and supplies replacement auto parts to ­parts distribu­tors, auto repair shops and retail stores so mechanics and car owners can boost vehicle ­performance.
Now the company is r­evving up the speed and effectiveness of its sales force by equipping staff with Apple iPad devices.
While the unit's sales representatives have notebook computers, they rarely bring them on sales calls because the devices are too bulky or take too long to boot up, says Susan Keshen, business analyst for the aftermarket sales automation group at Tenneco.
"When our salespeople walk into car shops, the people managing the counter are dealing with customers. That's their first priority. We're fighting for their attention span," she says. "When we want to introduce new products and show new marketing collateral, we can't say, 'Let me fire up a laptop and PowerPoint. Give me 5 to 10 minutes.'"
Sales team members can launch presentations on their new tablets instantly and quickly access corporate applications and product and customer databases, offering their customers immediate answers — and boosting Tenneco's bottom line, Keshen says.
Like Tenneco, businesses large and small are embracing tablets as a way to boost employee productivity and improve efficiencies and customer service. While some purchase tablets for their employees, others embrace bring-your-own-device (BYOD) policies, while still others offer a mix of both, says Chris Chute, research vice president with IDC Global's SMB Cloud and Mobility Research Practice.
Tablet devices represent a near-perfect form factor for many mobile workers because they are light and portable. As a result, the sales ­environment is a popular use case.
In retail stores, employees use them in point-of-sale transactions, Chute says. Content creation, not just consumption, also is an emerging use case for tablets, given the recent launch of Microsoft Office for iPad. Rollouts of more user-friendly desktop virtualization software also make it easier for business users to access traditional desktop files and create, collaborate and share content on their tablets.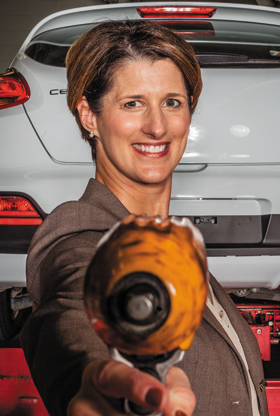 Photo: Bob Stefko
"The more I talked to [sales], the more I realized tablets would help."
Susan Keshen, Business Analyst for Sales Automation, Tenneco.
Work Faster, Save Money
Keshen initially was tasked with updating the Tenneco North American Aftermarket business unit's custom, web-based customer relationship management (CRM) software. After talking to some of the sales staff, she discovered that what they truly needed first were tablets.
The unit's many representatives work within the United States, Canada and Mexico to sell replacement auto parts such as shock absorbers, struts and brakes, and emissions control products to automotive channels that include auto repair shops, retail auto parts stores and car dealerships. They typically work out of home offices where they use company-issued notebook computers. On in-person calls, they required a different technology.
"The more I talked to them, the more I realized tablets would help," she says.
In the past, when salespeople visited their customers or prospective clients, they would provide paper brochures about Tenneco's products. If customers had questions, the reps would jot down notes on paper.
"They'd collect the tasks, and at the end of the day, go home, turn on the computer and take care of each task, one by one," Keshen says. "We wanted to help them become more efficient. Why not answer the questions using an iPad when they're right there with the customer?"
The company deployed 32-gigabyte iPad Air tablets to its sales team over the summer, and they allowed the employees to protect the tablets with either Griffin Technology's rugged Survivor cases or Logitech Keyboard Folio cases. So far, the greatest benefit is improved productivity, Keshen notes, but the tablets also are saving the company money. Sales team members connect directly to Tenneco's CRM tool with their tablets and can access a product database to answer questions immediately.
"They no longer have to call back later with answers," she says. "That's made a huge difference. Our customers are impressed."
For instance, if a customer says its team can't fit a muffler or suspect it's damaged, a sales rep can take pictures or video, email the tech support department and obtain quick responses over email or the phone.
Using tablets for troubleshooting also saves money because shipping costs are reduced, Keshen says. Before, salespeople had to ship the auto parts in question back to headquarters in Monroe, Mich., for the tech support team to diagnose problems. Keshen estimates that if the sales team can cut shipping by 25 percent, the company will save $25,000 a year. Reducing a small portion of the printed sales materials by showing marketing materials on the tablet screens saves another $10,000 on paper and printer ink costs, she adds.

Photo: Mary F. Calvert
Increasing Sales
The Charmer Sunbelt Group, one of the nation's largest distributors of wine, spirits, beer and nonalcoholic beverages, also recently replaced notebooks with tablets, offering its mobile sales team a more efficient and innovative platform.
CSG's IT department began furnishing the company's 2,200-member sales force with iPad devices in early 2014. The devices feature a custom-built sales app that integrates historically disparate back-end programs into a single user interface.
The company standardized on the 32GB iPad Air 4G model and Otterbox Defender Series rugged cases. Today, CSG field sales representatives enjoy access to order entry, pricing, real-time inventory information and multimedia-rich product marketing materials — all accessed with just a tap on the screen.
"One of the worst things we can do to a customer is take their order and then call back later to say, 'Sorry, we have a shortage of inventory on that item,' " says Peter Coliukos, CSG's executive director of IT services, operations, planning and delivery. "With the new app, when you get an order confirmation in real time, you can have confidence that the order will be delivered."
99.6%
The accuracy rate of The Charmer Sunbelt Group's order entry, inventory and fulfillment system since developing a real-time mobile app linked to its ERP system
Knowing that an item's quantity is limited, the sales reps can work with their customers immediately to make appropriate adjustments, he says.
Before the integrated mobile app, inventory information was not updated in real time, and salespeople didn't like to lug notebooks on sales calls. Instead, they'd bring a binder full of printed product information, says Michael Berger, the company's executive director of enterprise management.
"It was not a platform for innovation and growth," he says.
CSG, based in New York, is one of the first in its industry to deploy iPad devices with a fully integrated sales app, giving the company a competitive edge against other wholesale distributors. The tablets and mobile app will not only make the sales staff more productive, but should also help generate more business, Berger says.
"We have better selling materials in rich media, sell sheets, PDFs, videos and presentations," he says. "We hope to see an uptick in revenue, but just as important, we hope to retain our exist­ing suppliers and attract new ones."
Photo: Darren Hauck
"Why don't we take some of the same content ... enhance it with greater interaction and shift it toward a tablet?"
Michael Cornstubble, Vice President of Technology, Jail Education Solutions.
Starting from Tablets
Companies are also leveraging tablets to create innovative business models. Jail Education Solutions (JES), a Chicago-based company that provides tablets to inmates who want to pursue an education or vocational training, aims to empower prisoners with the skills and knowledge they need to succeed when they are released, says Brian Hill, a JES co-founder.
The founders' initial strategy was to educate prisoners through television sets placed in prison common areas. After a pilot at Cook County Jail in Chicago last fall, the company realized that trying to teach as many as 60 people in a room with one 32-inch television was not an optimal learning environment, says Michael Cornstubble, vice president of technology at JES.
To be more effective, JES needed to individualize learning modules and have the ability to track each prisoner's progress. The company has since developed tablet-based learning software that could do both.
"We thought, why don't we take some of the same content, make it on-demand, enhance it with greater interaction and shift it toward a tablet?" Cornstubble says.
The company's first customer for its tablet-based learning system is the city of Philadelphia, which began a pilot in September. Whenever prisoners are within a prison common area, they can rent JES tablets at minimal cost and use the company's learning software, Edovo, to take education or vocational training courses.
After considering several tablets, Cornstubble standardized on a Samsung Galaxy Tab 4, choosing the 7-inch display instead of the 10-inch version. Going with the smaller screen makes it more affordable, ensures longer battery life and is safer within the prison setting. JES also protects each tablet with a customized, patented case to prevent inmates from breaking or shattering the devices and turning them into weapons.
Hill believes the company will be successful through its tablet rental model, which charges inmates a nominal fee each day to use the tablets. The tablet learning service is provided at no cost to prisons or to taxpayers. "We want to make sure people have the opportunity to learn and achieve, so they have a fighting chance when they exit," Hill says.
Bob Stefko