NFL Unveils Sideline Viewing System with Microsoft Surface Tablets
The league is transitioning away from its old-school, print-based approach to studying opponents from the sidelines.
The march toward paperless workflows is well under way in industries such as air travel, where ditching paper-based boarding passes in favor of a QR code on your smartphone has become the norm.
But until now, the NFL, despite its significant expertise with other technologies, including digital signage, had insisted on remaining old school in one area: Sideline strategizing.
For fans who tune in to the game, it's not uncommon to spot players on the bench flipping through binders with photos of the action on the field, photos produced by onsite printers. The images are used by the coaching staff, as seen here in a photo from the Baltimore Ravens sideline: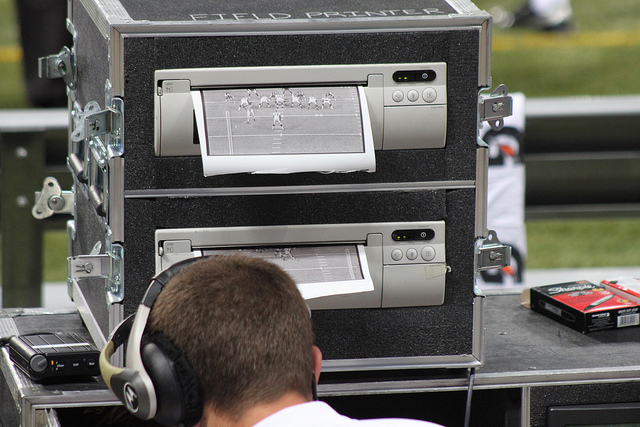 Credit: Stephen Bolen/Flickr
The changes associated with switching from a paper-based process like this are obvious, since a digital photo system can provide immediate and real-time images, but printers cannot. This season, however, it will all change when the NFL officially goes digital and rolls out a tablet-based approach, called the Sideline Viewing System, through a partnership with Microsoft, according to a report from the San Francisco Chronicle.
[T]he appearance of Microsoft Surface tablets marks the first time players and coaches can legally use such electronic devices on the field during the game. The tablets will come into play for the first time Sunday night, when the New York Giants and Buffalo Bills play in the Hall of Fame Game in Canton, Ohio.

"We think it's an opportunity to use technology to improve the game on the field," said NFL spokesman Brian McCarthy.
The deal calls for each team to have 13 Microsoft Surface tablets on the sidelines and 12 in the coaches box. You can view more images of the NFL's customized Surface tablets at GameSpot.
The change, while impressive in its scale and speed, is more evolutionary than revolutionary, though. And though the shift to digital is certainly here, the league isn't ditching its sideline printers. Coaches who are hesitant or perhaps superstitious about making changes to their winning processes can still use the old method. But given the rapid pace at which NFL teams such as the Indianapolis Colts and the Washington Redskins are embracing technology, it's hard to imagine that many others won't be quick to take up the new digital tools at their disposal.
Microsoft/Gamespot