Washington Redskins Go State-of-the-Art with iPad, UC and Wi-Fi Deployments
The NFL team replaces its aging phone system, implements a major wireless infrastructure upgrade, and rolls out iPads to replace playbooks for coaches, players and scouts.
Asheesh Kinra doesn't throw touchdown passes, kick field goals or sack quarterbacks. But when it comes to technology, his fingerprints are all over the Washington Redskins' success on and off the field.
Last year, Kinra, the Redskins' vice president of information technology, and his IT team built a blazingly fast wireless network at Redskins Park, the organization's headquarters and practice facility in Ashburn, Va. The deployment allowed coaches to replace paper playbooks with iPads and give the team a competitive edge.
This past summer, Kinra and his four IT staffers also completed a two-year project in which they replaced two aging phone systems that crashed repeatedly with a more reliable Voice over IP (VoIP) system. The new technology (installed at Redskins Park and FedExField, the team's 79,000-seat stadium in Landover, Md.) features many unified communications (UC) capabilities, including the ability for employees to route office calls to their mobile phones.

The new communications infrastructure provides coaches, players, team executives and office employees with the mobility, uptime and quality of service they need to communicate and collaborate effectively, says Kinra.
"The players and coaches love the iPads. They can roam around, go from one meeting to another, and study the playbook and watch game video," he says. "As for Voice over IP, communication is obviously key to any business. When customers call, our phone lines need to work. And on game day, our coaches in the booth have to be able to call down to the sidelines to talk to players."
By investing in tablets, Wi-Fi and UC, the Redskins are addressing several issues that companies of all sizes are grappling with today: the increased popularity of mobile devices; the need to upgrade infrastructure to support growing bandwidth demands; and employees' desire for communications tools to improve productivity, simplify IT support and reduce costs.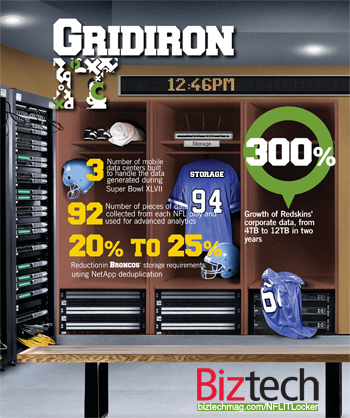 Take a look at our infographic to learn how the league is using data analytics, storage and wireless technology to drive the evolution of the game.
Unified Communications Is the Right Call
In 2011, the Redskins' two traditional phone systems were in bad shape. At FedExField, the voicemail system for its then 15-year-old public branch exchange system crashed several times during the year, frustrating employees and fans alike. With voicemail down, for example, the team could not provide callers with automated greetings for stadium directions, ticket sales and other important information, says Redskins IT Manager Sonny Sun.
Furthermore, a key reporting system that logged inbound and outbound calls no longer worked, preventing sales managers from tracking worker productivity. The team also charges vendors for phone usage, but it was difficult for executives to know how much to bill them without accurate records, Kinra says.
The PBX at Redskins Park, 48 miles away, had also reached end of life. It crashed about every three months, resulting in dead phone lines for hours at a time, Sun adds. The voicemail system's small hard drive reached capacity every two to three months, forcing the IT staff to drop whatever they were doing to delete voicemails so callers could leave new messages.
By the spring of 2011, the team had had enough, and Kinra consulted with CDW to find a solution. He and his staff briefly considered several VoIP vendors, and even flirted with the idea of a cloud-based phone system, but because the Redskins had previously standardized on Cisco Systems for its network, it was an easy decision to go with Cisco's UC phone system, Kinra says.
For about six months, a team of CDW experts helped the Redskins design the new phone system. CDW Corporate Account Manager Steve Hurst and two solution architects visited the Redskins several times and had about a dozen more meetings over the phone.
Planning for a Refresh
During the planning process, the Redskins' IT staff surveyed each department in the organization as well as stadium vendors regarding their phone system needs, and as requirements changed, CDW adapted and revised the designs, says Michele Marx, a CDW UC solution architect.
"Going onsite is important because it gives us a better understanding of their needs," she says.
The design included an upgrade of the existing network, multiple Cisco UCS servers to run the new phone system, three types of Cisco IP phones, and Cisco Contact Center Express call center software for the ticketing office, says CDW UC Solution Architect Rahul Mathur.
"The network was out of date, so we designed a network refresh with new switches that could support VoIP," he says.
The Redskins IT staff, with the help of CDW, installed the new phone system over a two-year period. In early 2012, the IT team upgraded the network, while a CDW engineer installed the new phone system at both Redskins Park and FedExField. Over a weekend, Kinra and his staff moved every user at Redskins Park to VoIP, but decided to take a phased approach at the stadium.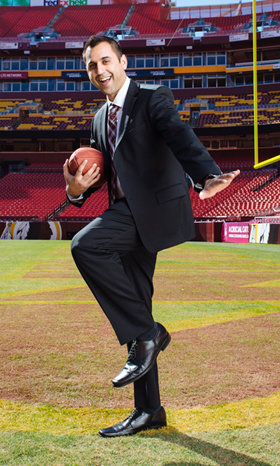 Photo: Matthew Furman
"We are looking at a lot of different options now to increase the technology to better accommodate our fans," Kinra says.
That first year, the IT staff migrated business users at the stadium to VoIP. Last spring, the team spent several months switching the remaining phones at the stadium, in the luxury suites, press box and concession stands.
The team bought IP phones for its employees, but for game day functions (such as concessions, elevators, media, guest service and suites), the team still uses analog phones. To do so, they installed Cisco VG224 analog voice gateways, which connect the analog phones to the VoIP system, Kinra says.
Kinra and his staff implemented everything with high availability and good voice quality in mind.
While upgrading the corporate network, for example, Sun replaced one old core switch at FedExField with two new Catalyst 6506-E core switches. He also upgraded the network edge with new Cisco Catalyst 3560 Series switches — 17 at FedExField and six at Redskins Park. The new switches support Power over Ethernet so the team can use an Ethernet connection to power the IP phones.
To ensure good voice quality, Sun set up a Virtual LAN to prioritize voice traffic over data traffic.
With the network upgraded, the Redskins installed Cisco Unified Communications Manager software, which handles call processing and serves as the foundation for Cisco's family of UC serv­ices, and Cisco Unity Connection, a unified messaging application.
A CDW engineer deployed Cisco's communications software as virtualized applications on three Cisco UCS C-Series rack servers. Two servers were installed at FedExField and another at Redskins Park, so if the equipment failed at one site, the other site would keep the phone system up and running, Kinra says.
With the project complete, the team is now reaping the benefits of VoIP. "The phone system has run 24/7, and voice quality has increased dramatically," he says.
Kinra says the Redskins could not have done the project without CDW.
"They are a great company, and specifically to this project, they were critical to our success," Kinra says. "They were professional. They clearly had the expertise with Voice over IP, and we felt that we had the best available engineers working on the project."
UC Scores Big
The new UC phone system is much easier to manage. Using web-based software, the IT staff can remotely configure and manage the system. Adding, moving or transferring a phone line is also a piece of cake. In the past, adding a new phone extension would take 30 minutes. Today, says Sun, it takes as little as one to five minutes because it's IP-based. "Now we just have to plug a phone into a network jack, and it's almost instantaneous."
The new system also saves money because the calls between employees at FedExField and Redskins Park are carried over the LAN, rather than through the public switched telephone network, Kinra says. For Redskins employees, the new phone system enables vastly improved communications and workplace mobility.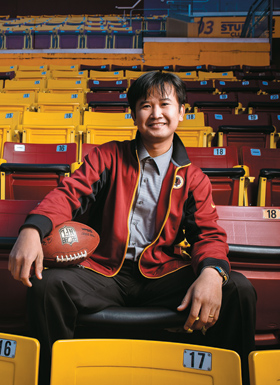 Photo: Matthew Furman
"Adding, moving or transferring a phone line is a piece of cake, thanks to the Redskins' new VoIP phone system," says IT Manager Sonny Sun.
John Schlieman, Redskins vice president of business operations and executive entertainment, is in charge of suite sales and assisting the team's corporate partners and VIPs with their needs, so phone service is critical.
He has separate offices at the stadium and headquarters. In the past, when each facility had its own phone system, he had two different numbers and voicemail systems, which made life difficult. "If I were waiting for an important call, I'd check my voicemail every seven minutes," he recalls.
Now, with the new phone system and UC features, customers can reach him immediately.
His work calls are routed to the IP phone in whichever office he's in. If he's working offsite, he can use his notebook computer's Cisco IP Communicator application to make and receive calls. And when he's out of the office, his calls are routed to his smartphone. He can also listen to his work voicemails through his smartphone's email client.
"My business is predicated on building relationships, and I am dependent on our phone system," Schlieman says. "With the new Cisco system, the voice quality and reliability is significantly improved, and now I'm able to deliver concierge-level service faster than ever."
The Skins Go Digital with iPad Playbooks
Washington was among a dozen NFL teams that embraced digital playbooks in 2012.
The technology, first adopted by the Baltimore Ravens and the Tampa Bay Buccaneers a year earlier, allows coaches to more quickly and cost-effectively distribute playbooks for each week's game. Instead of spending hours making paper copies of playbooks, they can now electronically deliver them to players' iPads.
For players, a tablet is not only more lightweight, it provides them with everything they need — playbooks, video footage and email from coaches — at their fingertips.
But before introducing the mobile technology to the team, the Redskins IT department had to first deploy a new wireless network at its practice facility in Redskins Park. Previously, the facility had a few access points in conference rooms and for media use, but that wasn't robust enough.
The team deployed one Cisco 5508 Wireless Controller and 26 Cisco Aironet 3600 Series access points that support the 802.11b/g/n standard on both the 2.4 gigahertz and 5Ghz wireless bands. For redundancy, it also installed a wireless controller at the stadium that the practice facility's APs can failover to.
A CDW engineer performed a radio frequency site survey to determine the optimal locations for installing the APs. He also configured the controller and APs, while the Redskins IT staff installed the equipment.
The site survey proved critical to the success of the Wi-Fi deployment, says Richard Noonan, a CDW mobility solution architect who assisted with the project. "We take into account the signal coverage and the specifics of the user environment — where the coaches' offices are and where the high-density common areas are," he says.
With the wireless network up and running, the team issued 125 third-generation 64 gigabyte iPads to coaches, players and scouts during training camp in summer 2012. The devices have been a big hit.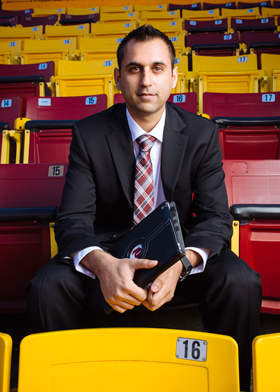 Photo: Matthew Furman
"Once the playbook is completed, players can immediately download it Tuesday night and review it before coming in Wednesday morning," Kinra says.
Anecdotally, the Redskins have seen evidence that players are studying their playbooks more, thanks to the iPads, so they're better prepared for games every week, Kinra says.
"Coaches used to print the paper playbooks Tuesday night and hand them out Wednesday. Now, once the playbook is completed, players can immediately download it Tuesday night and review it before coming in Wednesday morning," he says.
Another big benefit is the ability for coaches to change game plans on the fly. Before a meeting, for example, a coach can add five plays, upload them to the server, and have them automatically downloaded to selected players' iPads.
More than one year into the Wi-Fi and iPad deployment, the feedback the Redskins IT staff has received has been all positive.
"It's very successful — everyone is happy," Kinra says.
More Tech in the Redskins' Future
Despite all the tech improvements put in place over past two years, the Redskins continue to push the envelope.
For fans, Kinra and his staff are now working hard to beef up the Wi-Fi network at FedExField with several hundred APs. In the future, he wants to upgrade the stadium's distributed antenna system to improve cellphone service as well. Next year, the defending NFC East champions will introduce a new mobile app to provide fans with more real-time stats, video replays and other features.
"We are looking at a lot of different options now to increase the technology to better accommodate our fans," Kinra says.
Internally, now that the Cisco VoIP implementation is complete, the IT team plans to introduce additional UC technologies. They've rolled out instant messaging to Redskins executives and coaches, and will make the feature available companywide next year. The IT department also plans to begin testing video conferencing features next year.
In the meantime, Kinra is ecstatic that he no longer needs to worry about the phone and voicemail systems. When employees pick up the phone, there is a dial tone — and when fans and business partners call the team, the call connects.
"We wanted a fully redundant infrastructure with 99.9 percent uptime with our phone system, and that's what we got," he says. "Everything has been extremely smooth and successful."
Matthew Furman