How to Sell Unified Communications to Your Boss
IT leaders share how they made the best business case for a UC deployment to senior management.
When Vice President of Information Technology Greg Judy and his staff at Colony Bank evaluated the latest in unified communications and collaboration technologies, they saw a range of potential benefits. A Voice over IP (VoIP) phone system and standard UC services such as four-digit speed dialing, centralized management of extensions and calling queues, instant messaging (IM) and video conferencing would not only reduce costs, but also could improve internal business processes and enhance customer service.
Armed with a clear analysis of these benefits, Judy's department received a formal commitment from Senior Vice President, Technology Officer Jim Jowers, who played a key role in selecting a Cisco Systems–based solution for Colony Bank's Fitzgerald, Ga., headquarters and a handful of branches this year. Remaining facilities across Georgia are scheduled for upgrades in 2014.
Building a solid business case for UC rests on two main pillars: eliminating the costs and complexities of traditional phone systems and launching a host of new communications and collaboration serv­ices enabled by modern platforms.
Experts like Judy and others agree that the following five core benefits can help win commitments from senior managers.
UC Enables Reduced Management Complexity
Each of Colony Bank's 30 facilities have relied on separate phone systems under individual contracts with local providers. That's 30 separate systems to pay for; and when it's necessary to add or move an extension, a Colony Bank staffer must schedule a service call, at about $115 an hour.
With UC in place, new four-digit phone extensions now let bank staff quickly connect with peers at any location. IT administrators can centrally manage one phone system that serves all 30 locations and lets them add extensions and perform other routine duties remotely. "I'm looking forward to being able to manage and control everything ourselves," says David Sheffield, network administrator at Colony Bank.
UC Provides Better Cost Controls
Mascia Law Firm, in Orlando, Fla., uses a cloud-based ShoreTel platform for VoIP, IM and video conferencing. "Unified communications for collaboration and video conferencing is important because about 90 percent of our workforce is remote," says Shane Hayes, director of operations for the associated title agency and real estate firm.
On the cost side, Mascia no longer keeps an IT company on retainer for tech support, now part of its UC service contract. The firm also avoids the expense of a dedicated T1 line because its solution runs successfully on more-economical cable broadband services. Hayes estimates that cutting these two items alone saves $1,200 a month.
At Colony Bank, managers have long struggled to determine exactly how much they spend for phone services. "When I print out the phone bills from each of our 30 facilities, I'm not the happiest camper," Judy says. "There are charges for caller ID and for the on-hold feature; for this tax, for that tax. The bills just don't make sense."
UC will eliminate almost all of these fees and taxes to outside phone providers, while still including caller ID and other must-have features.
UC Fosters Enterprisewide Collaboration
The Wittenstein Group, an international corporation with locations in 40 countries (including U.S. offices in California and Illinois), creates precision motors for gearboxes used in industrial automation systems. It relies on Microsoft Lync for UC.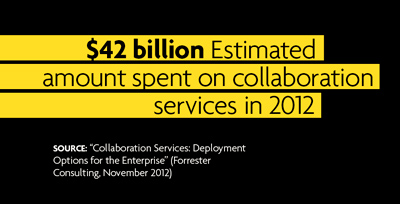 "We are a global organization with headquarters and much of our engineering power located in Germany, so the ability to communicate and collaborate throughout the company is very important for us," says Holger Beuschlein, Wittenstein's information technology manager.
UC can link together product specialists, service reps or IT technicians from multiple facilities to collectively answer customer questions or solve internal problems.
"We may be IM'ing with a colleague in Germany and decide we need to share our computer screens to answer a question," Beuschlein explains. "Right from the IM window, we can click a button and connect to share our screens."
Similarly, Beuschlein adds, Wittenstein staff can share screens with customers — even if they're not running Lync — if the need to review a design comes up during a phone call.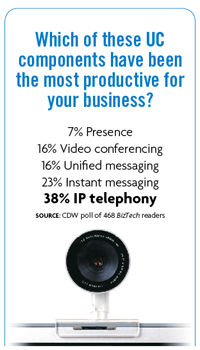 ProctorU is a live online proctoring service that verifies the identities of students taking online courses during exams at three physical testing facilities or remotely via webcams and a screen monitoring applet. A cloud-based UC solution provides core internal communications services at the company's Birmingham, Ala., headquarters and two California facilities.
"UC tools bridge that geographical gap with chat, video and VoIP phones," says Matt Jaeh, ProctorU's senior vice president of technology.
With UC, organizations can have face-to-face communications without spending time and money to move people to a single location. This is beneficial for both internal and external communications. For example, ProctorU installed cameras and 40- and 50-inch displays in its three facilities and keeps a live video feed running throughout the day.
"When a question arises, someone can stand up and get the attention of the right person in another office," Jaeh says.
Mascia Law Firm uses video conferencing for both company meetings and for meetings with clients. "With video, someone can hit a button and look the other people in the eye," Hayes says. "This is especially important when people are discussing changes to a contract."
UC Enhances Customer Service
It's company policy at Wittenstein to always connect a customer call to a live person. But in the past, there was no way for operators to know who was free, already on another call, in a meeting or otherwise unavailable.
With UC, operators now see an overview of everyone's status and can quickly route a call to someone who's available rather than risk sending the customer to voicemail.
Ryan Gibson