MLB Rolls Out Interactive, Mobile Experiences for iOS Users
Using new iBeacon technology from Apple's iOS 7, the league is hoping to craft a uniquely digital experience for baseball fans.
When Apple released the latest version of its mobile operating system, iOS 7, most people overlooked the fact that Apple rolled out iBeacon, a location awareness feature that takes its mobile devices to the next level.
Apparently, while the rest of us were either fawning or fuming at the new flat designs in Jony Ive's iOS 7, Apple was quietly working with the MLB to roll out interactive experiences in its stadiums that leverage this new iBeacon technology through its At the Ballpark app, reports Mashable.
"We've been looking at customizing the app based on where you are within the stadium, but GPS is notorious for not working indoors, especially when you are in a building made of steel," Marc Abramson, iOS developer for MLB, told Mashable. "Instead, we are incorporating Apple's new Bluetooth and iBeacon technologies for iOS 7 and couldn't be more excited about the potential."
The app uses this location technology to offer different experiences based on your location and the stadium you're visiting. So the experience at Yankees Stadium won't be the same as the one at the Orioles Park at Camden Yards. This location awareness allows for heightened automation, such as the app loading up your tickets in the Passbook as you approach the gate.
Redmond Pie explains a bit more about how Apple's iBeacon works:
The magic happens courtesy of little discs that send out a Bluetooth signal that is picked up by an iOS 7 device – iPhone 4S and above – in a similar way to how NFC works. The beauty of iBeacon though is that the range can be altered depending on the use, and with NFC that range is severely limited.
Additionally, coupons and special offers can be pushed directly to baseball fans' mobile devices through the app, which could generate additional revenue that the teams might not otherwise get from the concessions sales.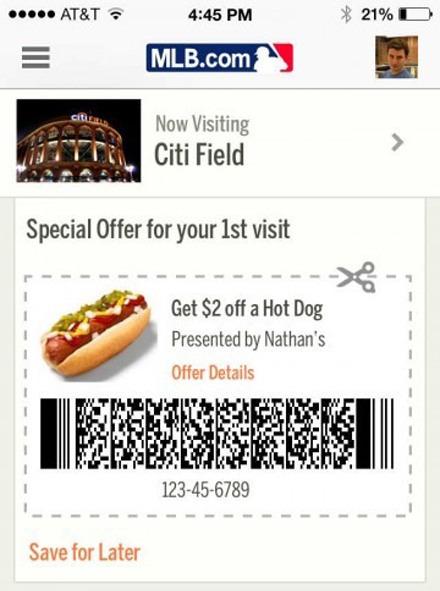 Credit: Mashable
So far, the only team to officially sign up for the MLB's new app is the New York Mets. The team is currently testing the application and the iBeacon technology and hope to offer it to their fans at Citi Field sometime in 2014, according to Mashable.
"A lot of teams have expressed interest so far," Abramson said. "It will truly change the way you experience games, both at your home stadium and while visiting other ballparks."
<a href="http://mashable.com/2013/09/26/mlb-at-the-ballpark-app/">Mashable</a>
More On