This Wedding Toast Was Brought to You by the Cloud
How modern tech tools helped me successfully prep and deliver a wedding toast.
I had a toast to write and I had to do it quickly. My twin brother was getting married in a few days, and as the best man, I had to deliver a speech honoring him, his lovely wife and his two sweet children during the luncheon after the ceremony.
If he and his fiancée could pull together a beautiful wedding in a little over a month, I should be able get my small contribution ready with plenty of time to spare, right?
Although I delayed putting words to paper, I had thought quite a bit about what to say (and what not to say) in the weeks before the wedding. So when I wrote the toast a couple of days before the wedding weekend, it flowed easily from my brain to my fingertips.
Still, I wasn't planning on taking my notebook computer with me on our trip to Boston for the wedding. Between me, my wife, my mother-in-law, my two daughters and all of our travel gear, it was a packed nine-hour roundtrip and not worth the risk to my notebook.
This presented a slight problem, as the toast would surely require some tweaking and editing once I had some time away from the initial draft. Also, I needed a handy way to read — or at least periodically check — what I had written while giving the speech to the expected 150 or so wedding guests. With no printers on hand, that was another challenge to overcome.
How I managed to successfully give the toast illustrates how basic tech tools can help anyone, in business or otherwise, quickly prep and deliver a speech.
Cloud Nine
I decided the best course of action would be to copy my toast to a synchronization/storage service, such as Dropbox or Box. That way I would have access to it no matter what device (smartphone, desktop, notebook, tablet) or computer platform (Windows, Mac, iOS) was available.
My main computing tool for the weekend turned out to be the one I carry with me every day, my iPhone.
DataViz Documents To Go, one of the first and most popular mobile office apps, allows users to create and edit Word, Excel and PowerPoint files in nearly every major mobile platform. I've used it since the days of the Palm V in the late '90s, and today Documents To Go remains one of my most trusted smartphone apps.
In addition to letting you synchronize documents with your desktop, as it has always done, Documents To Go now lets you synchronize files with various cloud services. I have used it extensively with Google Docs and, more recently, Dropbox and Box. For the purposes of the wedding, this feature was a lifesaver.
Throughout the weekend, I was able to directly access my toast using Documents To Go. I could easily edit and tweak the file, knowing that every time I saved changes, the latest version of the speech would be safely and securely ensconced in the cloud.
After family and friends celebrated the happy couple by dancing the Horah, the bandleader suddenly called my name. I shook off my remaining nerves, pulled out my iPhone 5 and gave the toast, thumbing through the text — I had it pretty much memorized by that point — as needed.
After the wedding, I posted my toast on Facebook along with a picture of my brother and sister-in-law dancing. The feedback I received has been tremendously gratifying, and I have the cloud, mobility and connectivity to thank for ensuring a happy ending for me, my brother and his wife.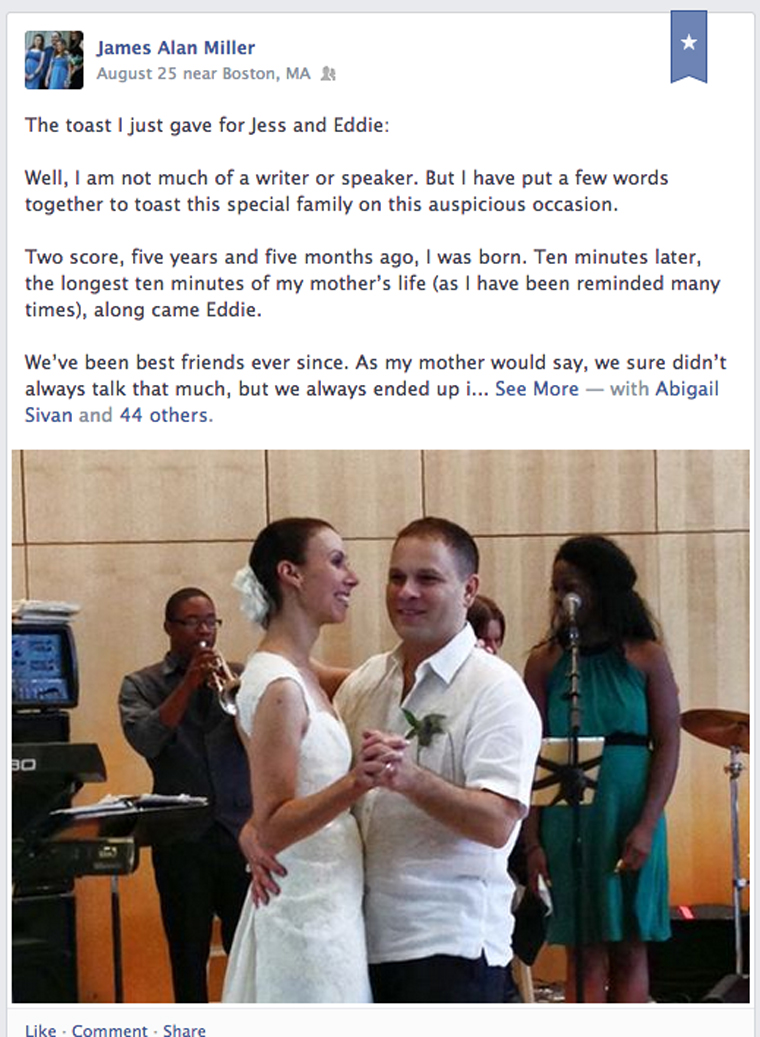 iStockPhoto/ThinkStockPhotos
More On