Making the Business Case for Mobile Apps
Companies offer pointers on how to take advantage of mobile tools through the development of apps.
When online brokerage company tradeMONSTER began assessing its mobile strategy not so long ago, it found a gap that needed to be filled — and quickly.
The Chicago-based financial company offers a wide range of investment tools that set it apart, but until early this year, its resources weren't available for tablets and smartphones, says Sanjib Sahoo, tradeMONSTER's chief technology officer.
The company then dedicated development resources to creating a custom mobile application. The browser-based, mobile trading platform now streams about 8 billion quotes a day.
"Before we launched our mobile app, we were missing out on revenue opportunities with people who are trading using tablets," Sahoo says. "So we made sure the award-winning tools that we have on the desktop for trading and proactive investing could all be used on a mobile platform. That helped differentiate our company in the marketplace."
Face the Inevitability of Mobility
With roughly 120 million U.S. smartphone users, and nearly half of all searches occurring on mobile devices, businesses that don't add mobile to their marketing and services mix put growth and efficiency at risk, says Aapo Markkanen, senior analyst at ABI Research.
Recognizing opportunity, many organizations are demonstrating interest in mobile applications with their checkbooks. The global app market surpassed $30 billion in 2012, almost double that of 2011, according to ABI Research.
Revenues can come from several areas, including charges that users pay to download apps and profits from in-app advertisements. Yet the drive to cash in on mobile apps is often counterbalanced by tough decisions when it comes to devising development strategies. The first steps become clearer when decision-makers focus on creating a coherent business case.
Mobile apps come in a variety of formats. Some are customer-focused, such as the trading platform that tradeMONSTER launched. Other companies offer apps that send product catalogs, showcase new promotions, provide coupons or offer additional incentives or services to customers.
Alternatively, some businesses are creating apps to increase staff productivity. Some examples include mobilized sales automation and customer relationship management or decision-support solutions.
The Mobile App Creator's Dilemma
But creating apps can create a new challenge for the IT team. Even talented programmers may find they don't have the specific expertise required for crafting mobile apps.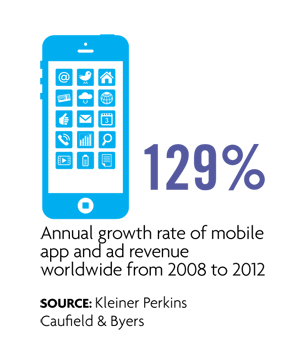 "People often underestimate how difficult it is to build a mobile app," says Will Scott, president of Lextech Global Services, which designs and develops suites of custom mobile apps to optimize internal processes.
"It's actually pretty easy to write an app and stick it on a smartphone or tablet," he says. "The hard part is making that app talk effectively to back-end IT systems."
To do that, developers must devise ways to extract critical information from back-end applications and data repositories, while delivering output formatted for small screens. Mobile also forces hard decisions about which features to include.
"When customers say, 'Here are the must-have features, and here are the ones that are nice to have,' we don't even look at the nice-to-have features," says Farhan Thawar, vice president of engineering for mobile products and strategy services provider Xtreme Labs.
App Decisions: Going Native, or Not
Businesses must choose between two fundamental types of mobile apps: native and web. A native app runs on each individual device/operating system combination. A web app enables all mobile devices to access features via a URL. Hybrid apps incorporate key elements of both approaches.
Organizations should weigh the pros and cons of each mobile app option before proceeding.
Photo: Callie Lipkin
"Before we launched our mobile app, we were missing out on revenue opportunities with people who are trading using tablets," says tradeMONSTER CTO Sanjib Sahoo.
For example, native apps typically perform better because they run locally and are optimized for a specific platform. They can also run if a device isn't connected to a network and can be more easily personalized.
But native apps also come with trade-offs. Along with having to create separate versions for each platform, the IT team must ensure users can readily find essential apps in internal app stores or those maintained by Apple, Google and others. Third-party app stores may also require approval before an application is made available.
For these reasons, some consider web-based mobile apps a better approach, at least initially. When tradeMONSTER launched its web app in February, the company wanted to quickly fulfill a "cross-platform strategy that reduced time to market; helped us achieve anywhere, anytime trading; and provided the same user experience in a mobile platform that our customers were used to on the desktop," notes CTO Sahoo.
Since then, the company decided to also adopt the hybrid path (HTML5 code wrapped with native layer) for its rollout of an iPad-only app in June and has plans to follow with a hybrid Android tablet app shortly. For the iPad app, it also used HTML5 as the core code to deliver a web-like experience.
The aim of the HTML5-based iPad hybrid app is to provide traders with the same trading abilities they enjoy at their desk. For example, users can have up to four different trading applications open at a time — all from within the iPad app. This simulates having four monitors strategically positioned on a desk.
"The iPad app provides unique customization features and can save custom layouts by the user to fit with their own trading objectives," says Sahoo. "It sits on the back-end code and streams up to 8 billion quotes from the market. This shows that serious trading is possible with tablets."
Sahoo says tradeMONSTER's mobile web apps and hybrid iPad-only app have been very well received. For the development process, "we broke the entire release plan into smaller cycles and focused a lot on testing," he explains. "Risk management is very important when developing innovative projects. Project management experience for mobile projects is very different from traditional desktop projects."
Riding the Mobile Tsunami
Remember, mobile apps are moving targets. "Keeping up with all the new types of devices will always be a challenge," tradeMONSTER's Sahoo says. "Mobile strategies must constantly address the changing mobile world."
No matter the approach taken, businesses should at least weigh the options available for mobile engagement of em-ployees, customers and partners. "We're no longer talking only about a short-term gold rush. Apps have become a major digital industry," ABI Research's Markkanen says. "2012 will go down in history as the year when the economic side of the business finally took off."
Callie Lipkin