A History of IT Innovation Drives Success at Grainger
An early adopter of UC tools, W.W. Grainger Inc. builds its business by amping up services to its customers and its workforce.
In 2003, W.W. Grainger became one of the first major U.S. companies to recognize the value of converged voice and data systems and make the switch to Voice over IP (VoIP) telephony.
No surprise, really — the global business-to-business supplier of facilities maintenance products has a long history of leveraging new technology to serve its customers and stimulate its business.
For example, Grainger was one of the first companies in its industry to move its catalog to CD-ROM and to launch an e-commerce site.
ThŒe company has also made the most of its VoIP implementation, using the deployment as a foundation for building out a unified communications infrastructure that today supports a distributed IP contact center, click-to-call and chat on its website and a modern collaborative workplace for its employees.
Technology's role at Grainger hasn't gone unnoticed.
In 2012, it was honored by CIO magazine as one of the top 100 organizations that use IT "in innovative ways to deliver competitive advantage to the enterprise and enable growth."
Founded in 1927 in Chicago as a supplier of parts for electric motors, Grainger today attributes approximately $2 billion of its $8 billion-plus annual revenue to online sales. ThŒe company has more than 700 branches and a growing network of distribution centers — some larger than 1 million square feet — that serve customers worldwide.
Grainger customers have access to more than 900,000 products, most of which are available for same-day or next-day delivery based on innovative technologies that streamline ordering and fulfillment. Customers can place orders via web, telephone, mobile device or fax.
ŒThe company completes more than 120,000 transactions a day, each averaging about $260. A new and growing part of its business offers inventory management solutions.
"At Grainger, it's really all about helping customers save time and money," says Glenn Allison, director of network services. "Often these are business-critical products that our customers need to keep their facilities running. For example, we support facility maintenance engineers, so if a part breaks down on their manufacturing line, we're able to help get that line back up and running."
Grainger Makes the Move to VoIP
Although the Grainger IT team recognized the potential of the VoIP implementation for establishing unified communications capabilities, it was the need to replace obsolete traditional phone systems with more cost-effective technology that triggered the move in 2003.
With the old systems, calls were routed directly to local branch offices, which had to be fully staffed at all times to meet maximum call volumes. VoIP promised to improve customer service and allow more efficient use of staffing because of the ability to route calls automatically to available Grainger agents, without regard to those agents' locations.
To prepare for the move to VoIP, the company upgraded its data networks with new Cisco Systems equipment and implemented quality of service technologies. In 2004, with those enabling steps in place, the Grainger IT team worked closely with Cisco specialists to create a distributed IP contact center routing, using multiple data centers and a high-availability configuration.
Using Session Initiation Protocol (SIP) trunking technology, Grainger can route its customer-facing telephone numbers to data centers and then on to contact center agents.
"ThŒese combined technologies translate into impressive scalability," Allison says, "allowing Grainger to provide customers with service when it's most needed."
If an event triggers a spike in call volume, such as a natural disaster, the system automatically distributes calls among service centers so that no single center becomes overwhelmed.
"Now, we're able to relieve call congestion by routing a call to a neighboring branch during busy times, which results in much better customer service," Allison says. "Grainger tends to answer calls very quickly. We don't do queuing or use interactive voice response. When you call into a Grainger branch, we expect a live agent to answer within a couple of rings."
SIP trunking also provides disaster recovery and failover benefits for Grainger's own infrastructure. If there's a problem with a data circuit in one branch, calls automatically redirect to neighboring locations.
"When we used to support thousands of traditional phone lines and something went down, we had to work through our telecommunications provider, which added time and complications," Allison says. "With VoIP and SIP, most of that goes away because it's absorbed into the data center."
Creating a Modern Workplace
The move to UC technology has also enabled the company to create a modern workplace outfitted with tools that enhance the productivity and flexibility of employees. Grainger's perspective is that technology can provide a distinct competitive advantage.
Being on the leading edge of innovation helps the company attract talented employees too. ŒThat pays off in other, less tangible ways, Allison notes. ŒThe high-level skills of the Grainger team members have a direct impact on service to customers, he says.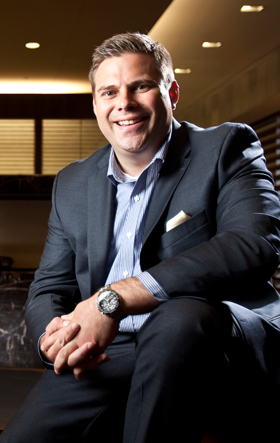 Photo: Todd Winters
"Our technology investments help us pull costs out of the business, attract the most talented team members and make them more productive," says Glenn Allison, Director of Network Services for Grainger.
"Having the best people in the best workplace is one of our strategic goals," Allison says. "Automated processes are often more efficient and help us respond to customer needs more quickly. Œat works for the customers and it works for the team members."
Since it revamped its backbone architecture and outfitted offices with Cisco IP telephony equipment, Grainger has rolled out an array of communications and collaboration tools to help its North American employees do their jobs more efficiently and to facilitate idea sharing:
Employees connect with one another and with customers using Microsoft Exchange and Live Meeting.

Microsoft Office Communications Server (OCS) delivers corporate instant messaging and presence technology.

Microsoft SharePoint portals on Grainger's internal web page let employees post blogs, articles, video and other content, and also comment on the contributions of others.

Cisco Show and Share provides additional video sharing.

A plug-in adds social media capabilities.
"ThŒere's an open culture of sharing information at Grainger," says Allison, who notes that in the near future the company plans to push out a standardized set of collaboration and social media tools out to branches outside of North America as well. 
"Our executive leadership team has posted blogs and videos," he says. "It really opens up the culture by sharing information this way. Blogs and video content related to company strategy helps get all team members aligned around a common strategy."
ŒThe use of video conferencing is exploding at Grainger too. After analyzing the travel patterns of its employees, the company installed video conferencing studios at frequently visited locations. ThŒe savings in airfare and employee productivity led to a return on investment within a few months, Allison says.
What's more, overseas employees can now take a more active part in meetings, which would be prohibitively expensive and nearly impossible to organize without video conferencing.
For now, Grainger is doing most of its video conferencing from dedicated studios, but the company has been exploring the use of Microsoft OCS along with Tandberg Movi, a SIP-based video conferencing desktop software client.
ThŒe early results are promising and adoption is growing, Allison says. ThŒe IT team is holding back on a full-scale desktop initiative until it completes a planned upgrade to MicrosoftLync,the latest version of OCS, so that Grainger can take advantage of the enhanced capabilities.
Mobility and flexibility are also essential to Grainger's workplace vision, so including a robust wireless UC capability was a must, Allison says. Working with CDW, Grainger has deployed hundreds of Cisco wireless access points (APs) at its Lake Forest, Ill.,headquarters and other locations.
Grainger's network services unit has moved to an open workspace, in which team members can work wirelessly.
"We're immersed in a mobile wireless workspace experience all day, so our work and connections go with us everywhere," Allison says. "Wi-Fi is critical to us and softphones are too."
In addition to hiring new team members, Grainger has recently increased its use of consultants and outside specialists to help team members keep up with the rapid growth of the company and the pace of technological innovation, Allison says.
ŒThe open workspace provides an extensible, highly collaborative environment that allows Grainger to absorb and support this variable workforce.
"ThŒe company is growing at a double-digit rate globally so we have to manage the balance between building new systems with new capabilities and maintaining the existing ones," he says. "Outside consultants help us get the value out of IT investments faster. When equipment is sitting on the dock or licenses are sitting in an envelope, they're depreciating. We want to get the value out of the IT assets by deploying them faster."
Paying Technology's Value Forward
ΠThe value of Grainger's UC technologies shows itself in a variety of ways, not the least of which is measurable cost savings.
"After any IT investment we make, from collaboration tools to video conferencing to network upgrades, we do a study and hold a productivity meeting," says Allison. "In many cases, the productivity is related to cost savings, like the multi-millions of dollars we saved from SIP trunking. We can take that savings and reinvest it into the business to support more growth."
ŒThat reinvestment philosophy forges a chain of innovation and improvement. For example, the move to SIP trunking technologies facilitated distributed IP call centers.
In turn, the call centers led to early implementation of click-to-call and chat.
At least as important as the savings and revenues generated, the IP call centers let Grainger take and fill customer orders more quickly. Satisfied customers boost the company's reputation and help drive return business.
"It's all centered on improving the customer experience," Allison says. "Our technology investments help us pull costs out of the business, attract the most talented team members and make them more productive. ŒThey also generate a significant ROI that we then reinvest back into the business to accelerate more growth."
Todd Winters