RFID Tags Get Skiers Back on the Slopes in No Time
A ski resort pairs a network upgrade and RFID tags to cut down wait time and improve customer service.
The last thing most skiers and snowboarders want to do after enjoying a speedy downhill trip is to wait any longer than necessary to board a ski lift that will take them back up for another crack at the mountain.
Unfortunately, ski resorts have long kept track of skier eligibility and instructor whereabouts by inspecting ski passes — historically with visual checks but more recently by scanning barcodes on lift tickets. But that's a cumbersome process that slows down skiers and snowboarders as they prepare to board the ski lift, sometimes adding precious minutes to the wait time.
The IT team at Mt. Hood Meadows Ski Resort in Mt. Hood, Ore., decided to apply technology to do away with those delays. This past winter, it rolled out a new system that relies on radio-frequency identification tags on ski passes.
Networked to the Mt. Hood ticketing system, the lift gates now wirelessly capture skier information from the RFID tags — no visual inspection or barcode scan required.
Getting a Handle on the Downhill Dilemma
Improving customer service prompted the change in Mt. Hood Meadows' lift-check system, says Paul Thomson, the resort's IT director. The scans were more than just a mild annoyance: Customers ranked the lift wait as their No. 1 complaint on a satisfaction survey, he says.
"It's not just the time lost, but the barcode scans were kind of intrusive," Thomson says. Skiers often carried their lift tickets in a pocket or inside their jacket to protect them from the elements, which meant they had to stop, find the passes and then pull them out so attendants could scan them with barcode readers.
"Our guests just didn't like that solution, and we wanted to try and find something better," he says. Enter the new RFID tags.
Last spring, Thomson and his IT team deployed Skidata, which included RFID tags and suspended turnstile gates equipped with RFID scanners. This upgrade also led the resort to refresh its network.
The tech team replaced its existing Wi-Fi network with a more robust Gigabit Ethernet fiber network and Netgear network switches, so real-time RFID data could be sent from each of the resort's 11 lifts back to its Microsoft SQL database server in the central data center. Each lift operator also has a ruggedized Panasonic Toughbook notebook that wirelessly connects to the central database to monitor activity at the gates in real time to detect any attempted fraud.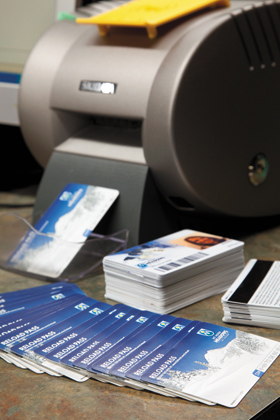 Photo: Robbie McClaran
These RFID-tagged ski passes from Mt. Hood Meadows Ski Resort help get customers back on the ski lift faster.
The solution, which took six months to build and was unveiled on the opening day of ski season this past November, has been a huge hit, Thomson says.
A key benefit is that it's hands-off, he says. Skiers and snowboarders simply glide up to the RFID-enabled gate, and almost instantaneously their passes are scanned and verified, the turnstiles drop and the customers move on through to the lifts.
"People just fly through now," says Jeremy Riss, assistant director of the Mt. Hood Meadows Ski and Snowboard School. He noted that students and their parents are happier because they're getting more instruction for their money.
"The customer feedback has been great because the guest experience is at a much higher level," Riss says. When planning to upgrade the lift-check system, the resort's IT team faced some unique challenges, largely because of the environment, which affords year-round skiing.
Although Mt. Hood Meadows is located on the sunny side of Oregon's most famous mountain, the resort still receives an average of 430 inches of snowfall a year, sees daytime temperatures that routinely dip into the teens and experiences wind gusts that kick up without notice.
Extreme IT That's Built to Last
Any technology components, either on skiers or on the mountain proper, needed to be hardy enough to hold up continuously under the extreme conditions on the mountainside, Thomson says.
As a result, the team knew it would need to protect the equipment. When space allowed, Thomson and his staff placed network switches and related power supplies within the lower control booth of each ski lift. When space was an issue, they installed climate-controlled, heated enclosures to house the components.
In addition, every critical piece of hardware is configured to failover to another identical component to ensure the system continues to run in the event of an equipment breakdown or power outage. The network switches, for example, have APC 1500 uninterruptible power supplies, while UPS Network Management Cards from APC give the IT team the ability to remotely monitor every one of the network switches for power issues and environmental changes.
"The monitoring capability lets us know if the switch is consistently getting good power, but it also alerts us to changes, like if the power supply is being affected at all or if the temperature drops below a certain threshold," Thomson explains. "That way we can send someone out to check on things and fix them before it becomes a problem."
In fact, he notes, the system is so reliable that when occasional power outages hit the ski resort this season, "the RFID system and the network and its servers were sometimes the only thing that stayed up and running."
Skiing Meets the Interet of Things
Convenience, efficiency and customer satisfaction are the most important returns that resort officials have been able to gain from their investment.
The solution, however, also displays the promise inherent in the so-called "Internet of Things," says Steve Halliday, committee and standards coordinator for AIM Global, a trade association representing automatic ID and mobility technology providers.
"IoT's not just about collecting information in real time, but also then taking it to the next level, where businesses can take that information, aggregate it, enable decision-making processes and give information back to customers."
In the case of Mt. Hood Meadows, customers can log in to the resort's website and, based on the RFID data collected at the ski lifts, learn which lifts they rode and the total number of vertical feet they attained — over the course of an hour or an entire season.
"It's a neat feature," Riss says, "and not just for the intense skiers, but for everyone."
Robbie McClaran
More On