Matthew Inman of The Oatmeal Dishes Social Media Advice to SMBs: Be Human
The Internet hero speaks about his rise and lessons learned at SXSW Interactive in Austin, Texas.
If the Internet had a team of superheroes similar to DC Comics' Justice League, then Matthew Inman might be considered the Superman of the squad. Or maybe he's more like the Flash. After all, Inman's biting sense of humor is more Barry Allen than Clark Kent.
Inman wields his super sense of humor as a tool to cut through life, the Internet and geekdom, which helps him connect with and relate to his readers through his web comic The Oatmeal.
The site has become an enormously popular and powerful online force, and Inman's used the platform he's built for everything from promoting correct grammar and pondering the peculiar nature of cats to raising money for the National Wildlife Federation and the American Cancer Society — and more than $1 million toward construction of a museum dedicated to inventor Nikola Tesla.
The 2013 SXSW Interactive Festival in Austin, Texas, chose Inman as the closing keynote speaker, and his humor was alive and well in the punch lines he delivered.
"Inspiration is like food poisoning. It just kind of sprays at you when you don't need it," Inman said when discussing his process for coming up with ideas, according to Wired.
But before the keynote at SXSW, TechCocktail caught up with the writer and comedian to ask him what advice he would give to startups and small businesses when it comes to marketing and social media.
The number one mistake he thinks too many businesses make? Not being human enough.
"I see a lot of these brands, and they get on their Facebook page and every other post is a coupon or something like that," he says. "If you write there like you'd talk to someone in person, it works a lot better and makes it more human."
He also thinks too many companies are focused on begging for likes and tweets when they really should focus on creating a better product. If you build it, the social activity will come, so to speak.
"Really, if you take all that energy you're putting into your social media campaign and just made your thing better, become a better writer, draw better pictures, make better software, you'll probably see more success," he says. "I've never asked for a tweet in my life, and I never plan on it."
For a visual recap of Inman's SXSW pearls of wisdom, check out this sketch by ImageThink below.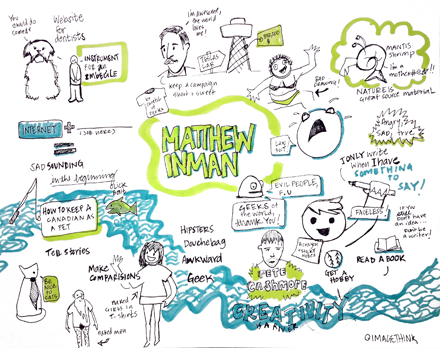 <a href="http://www.flickr.com/photos/cannedtuna/6930577109/sizes/l/">CannedTuna</a>
More On