Distracted Driving Mobile Apps Help Companies Keep Drivers' Eyes on the Road
Two new solutions from AT&T give businesses the ability to establish and enforce mobile-device policies.
The campaign to curb people from interacting with their smartphones while driving has picked up serious steam in recent years. Oprah Winfrey famously unleashed a battle cry against texting while driving in 2010, which put the issue on the map for consumers.
But businesses have to combat the issue too.
There are the obvious use cases, such as trucking companies, but businesses in retail, landscaping and even pizza delivery have an interest in keeping their employees' eyes on the road and not on their phones while they're on the clock.
"While trucking and transportation is one vertical that's very obvious, the majority of fleets and drivers are deployed in industries that are not transportation," says Igor Glubochansky, executive director of advanced mobility for AT&T Business Solutions. "Whether it's service fleets, local delivery, maintenance, landscaping … it's a very large market, and there are about 20 million commercial vehicles in the United States, and maybe 30 percent of them have some kind of fleet management solution."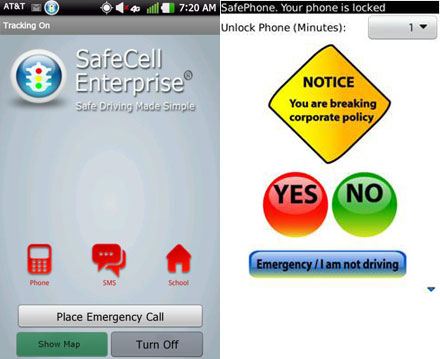 That's why AT&T has rolled out two mobile applications targeting the enterprise. SafeCell Enterprise, which is powered by AT&T, and Associate PLEDGE, which was born out of AT&T's Foundry innovation centers program, both offer companies the ability to monitor and intervene to prevent distracted driving.
Using Associate PLEDGE, businesses can be notified when employees break corporate mobile driving policies. It also helps companies meet compliance requirements, monitor mobile device usage and restrict device functionality while employees are moving. With Associate PLEDGE, companies can both prevent bad behavior and intervene if necessary.
SafeCell Enterprise offers similar functionality, but also allows companies to assign multiple drivers to one manager, integrate with fleet management software and push and enforce state and local laws related to cellular use while driving based on GPS location.
To many, these apps might sound like Big Brother encroaching in areas of their lives they'd rather not share with their companies. Glubochansky, however, points out that many initially felt the same about GPS. Today, most people are not only comfortable with GPS but actually rely on it.
"Increased accountability for the enterprise is good, but for the worker it feels like a violation of their privacy," he says. "Most people were positive about GPS because they felt like it gave them additional conveniences such as giving driving directions or improving safety where the company could find them if they were stranded somewhere, and those lone workers definitely appreciated the company knowing where they are."
If software like SafeCell and Associated PLEDGE are able to prove that their use in the enterprise has resulted in fewer accidents, the case for adopting widespread use of such solutions will be easier to make.
Additionally, while users might be accepting of such applications on corporate-owned devices, it's not clear how such software would be received on a personally owned phone.
Associate PLEDGE is available right now on BlackBerry, Android and iOS; SafeCell Enterprise, which should be released in the coming weeks, will be available for Android, iOS and Windows 8.
iStockPhoto/ThinkStockPhotos
More On