1776: Washington DC's Startup Incubator Leads an Entrepreneurial Revolution
What can the nation's capital unleash on the world when entrepreneurs and policymakers get together?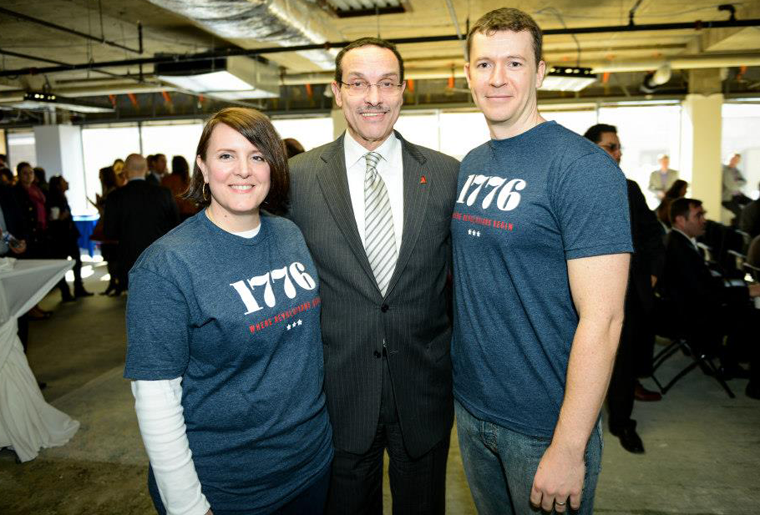 Co-founders Donna Harris and Evan Burfield with D.C. Mayor Vince Gray at 1776's Open House.
Credit: Daniel Schwartz/1776
The power held within the nation's capital makes its presence felt when visitors tour Washington, D.C.'s, majestic monuments and gaze upon the imposing neoclassical architecture throughout the city.
While some people bemoan the bureaucratic nature of Washington, the founders of 1776, a startup incubator, hope to leverage the city's political machine to unleash an army of disruptive companies on the Greater Washington region and the world.
Donna Harris, a 1776 co-founder, believes that D.C. is uniquely positioned to effect change in healthcare and education, two areas that have been difficult for many startups to break into.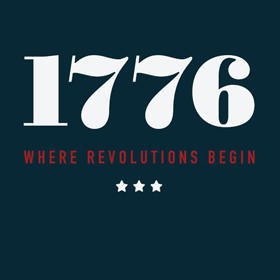 "I see the potential of what could be, if we can figure out how to unleash these disrupters on these big challenges," Harris says.
Based on her experience with running startups and working as a managing director of Startup America for the past few years, Harris believes that 1776 is just the innovation seed that D.C. needs to blossom as a region.
"These great minds from Silicon Valley, Boston and all these other ecosystems aren't spending as much time in D.C. as they could and should, because there's no place for them that feels comfortable," she says.
That's why in 2011 she reached out to Evan Burfield, an accomplished startup founder and technologist. After Burfield sold his company Synteractive, which worked closely with the government to build open-government platforms like data.gov, recovery.gov and treasury.gov, he received an e-mail from Harris, inviting him for a leadership meeting.
The connection between the two was strong early on, and Burfield jumped right in and began strategizing with Harris and the rest of the 1776 team to hash out ideas around launching a cutting-edge startup incubator in the city. He eventually signed on as a co-founder.
Located in downtown D.C., in an office space of 15,000 square feet, with the option to expand up to 60,000 square feet over time, 1776 appears to be off to a great start. D.C. Mayor Vincent C. Gray was on hand for the incubator's official launch, and interested applicants are pouring in, Harris says.
"The response [to 1776] has been phenomenal. Our advisers are people like Brad Feld, Paul Singh, Scott Case — just some fantastic, really smart thinkers, who immediately said this is exactly the concept that D.C. needs," Harris says.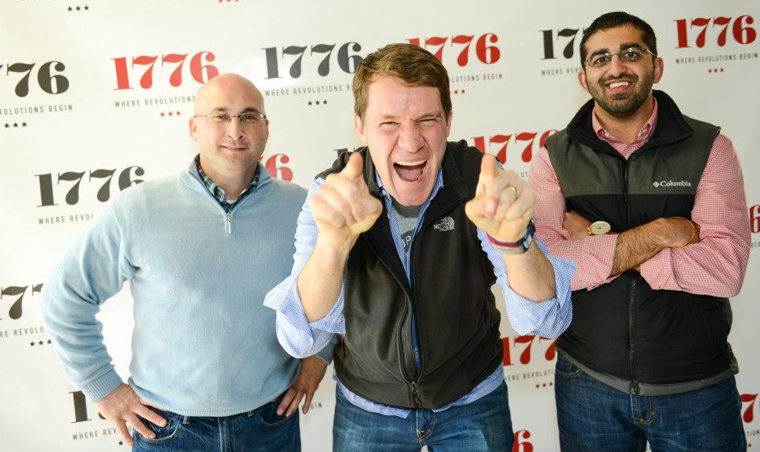 Jonathon Perrelli, CEO of Fortify Ventures, poses with Scott Case and Paul Singh, who both serve as advisors to 1776, at the incubator's open house.
Credit: Daniel Schwartz/1776
A Change Is Gonna Come to Washington
One of the most fear-inducing words to utter around the steps of Capitol Hill these days is "sequestration" — the steep budget cuts that are set to hit government spending if Congress fails to pass a budget.
But these budget cuts, which Burfield believes will happen sooner or later, have the opportunity to free the necessary talent to light a fire under D.C.'s startup scene.
"In New York, it's not an accident that you've had a massive flowering of Silicon Alley right after you saw the dominant industry collapse and you saw a whole bunch of talent get unleashed," he says.
D.C., Burfield explains, has a deep bench of technology and engineering talent that's been locked up in government contracting work.
"In Silicon Valley, the dot-com bubble burst, and everybody just started new companies because they didn't really have anything else to do. In D.C., what really put everything on freeze was you had the dot-com bubble burst, immediately followed by 9/11, which resulted in a massive increase in technology spending by government," he says.
While sequestration might hurt, it could potentially give birth to a new breed of entrepreneurs.
"It's going to open up a whole lot of really interesting opportunities for smart entrepreneurs to step in and take advantage of this change," Burfield says.
The Declaration of Entrepreneurship
When Harris and Burfield began putting together the idea for 1776, they went out and sought advice from other cities that had launched similar initiatives. Chicago's 1871, in particular, was an inspiration.
The two relied on Kevin Willer, president and CEO of the Chicagoland Entrepreneurial Center, which operates 1871, for guidance on how they should move forward with their idea. They started by taking cues from the Chicago incubator's name, which references the year of the great Chicago fire.
"After we spent time with Kevin from 1871 last year, we thought, 'What about 1776?'" Burfield says with a laugh.
The United States declared its independence from Britain in 1776. Similarly, Harris and Burfield hope that entrepreneurs in the region will claim their independence by entering the startup ecosystem.
They also hope that 1776 becomes a must-visit stop for influential people in the same way 1871 has for Chicago: U.K. Prime Minister David Cameron paid a visit to the incubator during a trip to Chicago last year.
Harris believes that if entrepreneurs and politicians can meet and collaborate more regularly, it'll be easier to connect the dots for innovation.
Life in the Startup Lane
While Living Social is probably the most well-known startup headquartered in the city, Social Tables has quietly been making waves of its own. The startup company's web-based software for event planning received some high-profile exposure when the Recording Industry Association of America used it for the Latin Grammys last year.
Social Tables, which has moved into 1776's campus in downtown D.C., was one of the first startups to do so, says Trevor Lynn, responsible for conversion and strategic partnerships at Social Tables.
The value that 1776 offers the company — which has grown from three employees to 15 in seven months — has been essential in terms of providing a flexible workspace.
"A startup is sort of like a toddler," Lynn says. "You know that the clothes won't fit in three months."
1776 has "literally smoked out all of these additional startups that [no one knew] had been here the whole time," says co-founder Evan Burfield.
Besides the shared workspace, 1776 also plans to offer startups access to a "fat pipe," Burfield says. Connectivity has been a challenge for D.C. in particular, but access to high-bandwidth, high-speed Internet is non-negotiable for most startups, he adds.
"Sitting around in a shared work environment and being told, 'No one can use YouTube and no one can use iTunes' is kind of a crappy way to work," says Burfield.
In addition to the campus space, 1776 will offer a startup school, host events and launch a competitive accelerator, which will eventually fund and invest in startups it deems worthy.
If all goes well, Lynn thinks the potential of 1776 and the D.C. region to have an impact on the economy is huge.
"People have tried to do this in other cities, but I think the best part about D.C. is every city doesn't have all of these embassies and government agencies," he says. The convergence of international power and entrepreneurial innovation is, according to Lynn, "a whole other advantage that any other city can't offer really."
1776
More On