IBM Connect: All Roads Lead to Social Business
Big Blue builds a strong case for adopting the engagement and transparency of social media in the enterprise.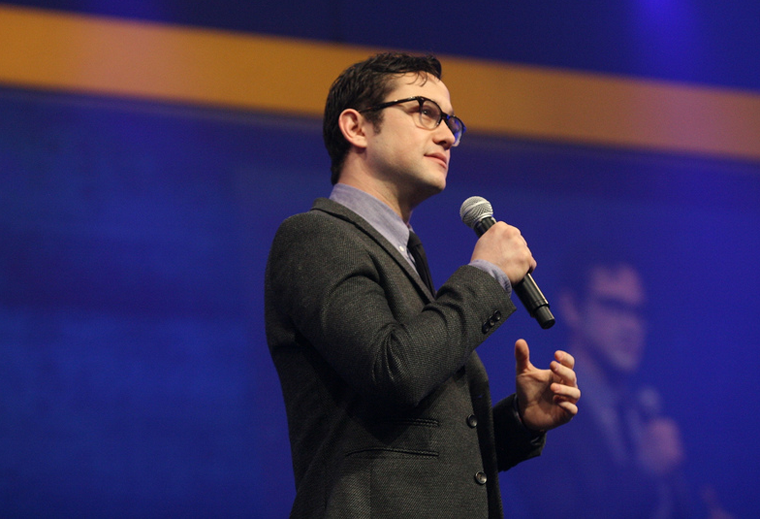 Actor Joseph Gordon-Levitt speaks about the power of open collaboration at the 2013 IBM Connect conference in Orlando, Fla.
Credit: IBM/Flickr
It might surprise some people to see IBM so gung-ho about social media. After all, the company has a storied legacy in enterprise computer hardware and software, but it hasn't been at the forefront building social media platforms.
Until now, at least. IBM acquired Kennexa, a social twist on employee and HR management, last year and recently launched its Social Business Analytics tool, which allows companies to make sense of unstructured data from the various popular social media platforms. The way IBM sees it, social will be the conventional way of doing business in the near future.
Alistair Rennie, general manager of IBM Social Business, tried to bring some clarity to what the company considers a "social business."
"Social business is when an organization takes some of the incredible innovations and ideas that have come out of social networking, that we've all seen in our personal lives, and start to apply them to the way they work to the way they drive their business processes and the way they engage with their employees," he said in a promotional video ahead of the show.
The company shined a spotlight on actor Joseph Gordon-Levitt and his social business, hitRECORD, an open-collaborative multimedia production platform at its IBM Connect show in Orlando, Fla. He urged attendees to open their minds to letting go of "ownership," which he said gets in the way of collaboration.
"Once you let go of notion that 'this is mine' and others build on top of what you did, you can work together a lot better," Gordon-Levitt said, according to a report from ZDNet.
Other attendees at the show relished in the exchange of ideas and information about social business and shared pearls of wisdom socially.
Here are a few highlights from IBM Connect attendees:
Creativity. Ownership is not part of the equation for collaboration. Let go of "this is mine". #IBMConnect. Joe Gordon Levitt

— IBM Connect (@IBMConnect) January 28, 2013
Social business is the humanization of capitalism.my take of Joseph Gordon-Levitt talk at #IBMConnect

— Yaacov Cohen (@yaacovc) January 28, 2013
Absolutely fascinating & inspiring talk from Joseph Gordon-Levitt on his community art site Hit Record. Thank you #IBMConnect #OGS

— Gabriella Davis (@gabturtle) January 28, 2013
don't do social, be S.O.C.I.A.L. - sincere open collaborative interested authentic likeable - #ibmconnect #socbiz

— Vala Afshar (@ValaAfshar) January 28, 2013
In my opinion one of the biggest things to do: Motivate your employees to drive better Performance #ibmconnect #Kenexa

— Stefan63 (@Digitalnaiv) January 28, 2013
1700 CEOs 71% identified Human Capital as the #1 source of growing revenue in the latest IBM CEO study #ibmconnect

— R Ray Wang (@rwang0) January 28, 2013
Social platform will become the "motherboard of your business"#socbiz #ibmconnect

— sandy carter (@sandy_carter) January 28, 2013
The nature of work is changing : 20% structured, routine activities, 80% unstructured and untaped opportunities to collaborate #ibmconnect

— Bertrand Duperrin (@bduperrin) January 28, 2013
IBM Barton talking Risk Analytics, need for them, agreed, our research finds need on operational risk mgt robertkugel.ventanaresearch.com/2012/06/29/ope… #IBMConnect

— Mark Smith (@marksmithvr) January 29, 2013
Wow the blackberry booth is packed #IBMConnect seems everyone is interested again

— Brent Silva (@brentsilva) January 29, 2013
IBM to deliver secure document editors for iPad users with IBM Docs. #IBMConnect #ibmmobile

— robscotingram (@robscotingram) January 29, 2013
@marciamarcia That's the absolute best part of #social -- raises bar / forces everybody to actually live up to promises #ibmconnect

— Timo Elliott (@timoelliott) January 29, 2013
#socbiz value prop for manufacturing #8: more effective & efficient M&A integration, faster time to realize value, lower risk | #IBMConnect

— Joe Shepley (@joeshepley) January 29, 2013
<a href="http://www.flickr.com/photos/ibm_media/8423437595/sizes/l/" target="_blank">IBM/Flickr</a>
More On