DC Startups Seek to Transform the Nation's Capital into an Entrepreneurial Hub
Early-stage startup founders meet and huddle at Foster.ly's annual Study Hall event.
Of all the things that Washington, DC, is known for, entrepreneurship probably isn't among them — at least not the sort of startup entrepreneurship that regions such as Silicon Valley and New York City are known for.
The potential to build a rich startup ecosystem in the Washington, DC, area is there, and the city already has an anchor in daily-deals company LivingSocial (though it's fallen on hard times lately). Foster.ly hopes to oil the district's startup engine by facilitating collaboration and communication among the area's entrepreneurs.
For the past two years, the organization has hosted an annual Study Hall, which allows entrepreneurs to meet, pitch and collaborate. This year's meetup of early-stage startup founders was sponsored by Microsoft, with support from the CoFounders Lab, and was held at the company's Chevy Chase office in Maryland, right near the border with Washington, DC.
Bagels and coffee were served during check-in, and people milled about as they sought out kindred entrepreneurial spirits.
The event is sort of a business-minded version of speed dating: Entrepreneurs introduce themselves to one another and pitch their ideas. If they aren't a match, they move on to the next person.
Although the organization doesn't have a gold-star case study from its events to point to yet, the potential to match a new-generation Steve Jobs type with a new-generation Steve Wozniak type is enough to draw the bold and the hopeful.
Fleshing Out Startup Dreams
There were people at various stages of their startups at Foster.ly's Study Hall. Some came with an idea for a startup but sought technical expertise. Ama Marfo, founder of Airfordable, hopes to build a layaway payment platform for air travel, which she believes will make air travel more affordable for consumers.
At the Study Hall, Ama was busy going back and forth with another young lady while they discussed and shared information behind their notebook computers.
"I think I found my technical co-founder," Marfo said with a smile.
Other entrepreneurs were more experienced and in search of new talent, like Rami Essaid of Distil. Based in Arlington, Va., Essaid's company helps websites block content scrapers, who repurpose original content without an owner's permission. The scrapers then use the content for their own profit or to damage a site's reputation.
Distil, which counts Apple enthusiast site Cult of Mac among its customers, is already running well, Essaid said. The company is looking to raise another round of funding, but, to continue its growth, the company needs more hands on deck. Essaid thought that the Study Hall might be a good place to scout developers.
Another entrepreneur seeks to marry the past and the present with her personal and corporate history startup Stories Inherited — memoirs as a service, if you will. Founder Lauryn Sargent, who has a background in human resources, realized that there was a need for story telling and memory recording at both the personal and the corporate level.
She and her team — which includes co-founder Scott Thompson — work to interview, research and write stories of individuals and companies, which can then be turned into print products or interactive experiences on an iPad.
Watch a demo of one of the company's interactive books below.
These interactive experiences are rich in content and include audio, video and text. More importantly, they're intensely personal. They feature audio of a person's voice and include little notes and personal artifacts, which are perfect mementos of a loved one.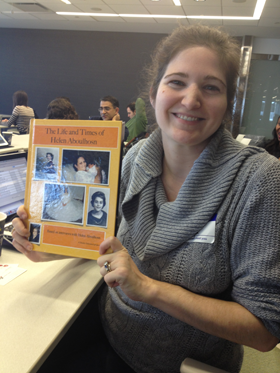 Photo: Ricky Ribeiro
Lauryn Sargent, founder of Inherited Stories, holds up one of the printed memoirs her startup company created.
On the corporate side, Sargent and her team document the birth, milestones and achievements of a company. Often, people in a small or new company are too busy to document their story, she said. With a corporate history to refer to, companies can easily look back on their journey to see how far they've come.
Rob Ness, business development manager and co-founder of SeQR Pay, hopes to bring the simplicity of Amazon's one-click shopping to mobile. According to Ness, his co-founder got the inspiration for the company's product when he ran out of hair gel. It was a "fancy European brand," and he wished that he could just click a button on his smartphone and know that another shipment of the product was on its way.
Thus, SeQR Pay was born. The company builds mobile apps and integrates its QR codes with products to enable the one-stop shopping experience. So far, the company has 25 customers, and Ness believes it has the potential to make consumers' lives easier. If e-commerce disrupted in-person commerce, he believes mobile commerce can do the same to e-commerce.
Foster.ly Helps Put Washington-based Startups to Work
Foster.ly's Study Hall was free to attend, and Foster.ly founder Adam Zuckerman couldn't have been more pleased with the community's response.
"With triple-digit attendance throughout the day, and several e-mails in the inbox already thanking us for the day, I'm confident in saying it's a success," he said.
While many cities are envious of the startup nirvana that is Silicon Valley, one key component to that area's startup engine is community. That's why Foster.ly takes its role in the region very seriously.
"The bottom line is that entrepreneurship is hard. The Foster.ly team has been in and around startups long enough to know this firsthand. It's a high-risk environment and can be extremely taxing physically, mentally and emotionally," said Frank Taylor, himself an entrepreneur, who is responsible for partnerships at Foster.ly.
"In order to succeed, entrepreneurs need the support of their community. Our team is driven by a desire to foster entrepreneurship though the aggregation of resources both online and offline at Foster.ly events," he added.
Ness is just thankful that the entrepreneurial spirit is finally making its way to DC "Five years ago, there was nothing like this here," he said. "It's awesome."
Ricky Ribeiro
More On