What You Need to Know About Apple's Lightning Connector
The iPhone 5 turns mobile syncing and charging on its head with its newest accessory
If you were one of the 5 million people who purchased the iPhone 5 during its first weekend of availability, make sure you don't leave your connector behind.
With older models of the smartphone, users could charge their devices with the help of any good Samaritan who happened to own an iPhone, iPod or iPad. But with the advent of the iPhone 5's new Lightning connector, good Samaritans with the right cable may be hard to find.
The Lightning connector was created to complement the thinner iPhone 5. It takes up significantly less real estate in the phone, which needs every centimeter it can get to make room for the larger battery needed to support 4G LTE service.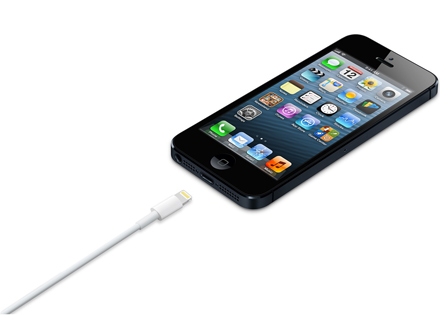 While the inconvenience of the new connector might give some loyal iPhone fans pause, there's still plenty to love about Lightning.
Here's a list of the pros and cons (and the in-between) of Apple's new connector.
PROS
Lightning Is Smaller
The new Lightning connector's all-digital, eight-signal design is also more durable than the 30-pin connector it replaces.
Lightning Is Reversible
Remember the frustration of having to guess which side was up when plugging in your connector? Well, those days are over — Lightning's reversible design means there is no wrong way to plug in your cable.
Lightning Is Intelligent
The connector's adaptive interface can sense what type of device it's being connected to and assign appropriate pin functionalities — a clue that the Lightning interface may evolve over time to support new technologies.
CONS
Lightning Could Be Faster
Because it uses USB 2.0 technology instead of USB 3.0 (the latest version of the standard), the Lightning connector doesn't quite live up to its name. In fact, in one test, there was only a 4.5-second difference in transfer speed.
Lightning Is Proprietary
Last year, Apple was listed among several tech companies (including Nokia, LGE and Samsung) that supported the International Electrotechnical Commission's push for a universal, micro-USB charging standard. A standardized micro-USB would be comparable in size to the Lightning connector — but Apple alone controls the specs for Lightning.
Lightning Needs a New Pair of Shoes
As if dropping down some major coin for a new phone isn't enough, longtime iPhone users also have to purchase an adapter to connect Lightning to any 30-pin accessories they might want to hang on to. There's also a Lightning-to-USB cable to buy. And one more thing: The new adapters do not support video output.
IN BETWEEN
Lightning Is Harder to Fake
The intricate architecture of the new connector, which features an authentication chip, makes it harder for black-market manufacturers to copy. This is a win for Apple and a win for consumers, but it's a loss for those who like to get their accessories from less-than-aboveboard accessory vendors — sorry, but picking up chargers from hole-in-the-wall shops won't cut it anymore.
If you want new accessories for the iPhone 5, it's best to go straight to the source until legitimate third parties bring new accessories to the market under Apple's Made for iPhone (MFi) licensing program.
Snagged an iPhone 5? Let us know what you think about Apple's new Lightning connector in the Comments section.
Apple
More On