How the Tampa Bay Lightning Is Improving Hockey Games with Digital Signage
More businesses are using digital displays to increase engagement and bump up the entertainment value for customers.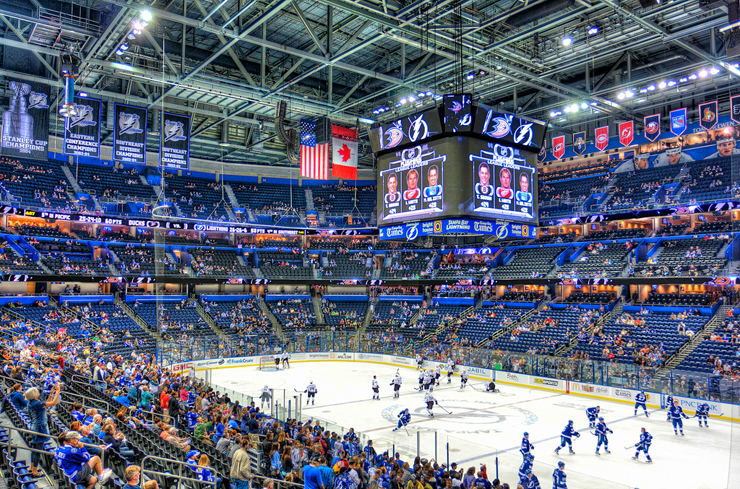 Fans watch as the Tampa Bay Lightning warms up in the Tampa Bay Times Forum.
Photo: Flickr/Photomatt28
Fans who attend a Tampa Bay Lightning hockey game never have to miss a breakaway, slap shot or save thanks to the 500 LG high-definition LED flat-panel screens deployed throughout the concourse, luxury suites and press areas of the Tampa Bay Times Forum.
For now, the screens display a video feed of real-time game action and replays. But eventually the monitors will be part of a digital-signage system that will deliver a wide range of content, including promotions and advertising, to hockey fans and other arena event attendees, says Ian Steele, director of IT for the NHL team.
60%
Percentage of respondents who say that mobile applications are the technologies that will have the biggest impact on digital signage in the future
Source: "Digital Signage Future Trends 2011" (Digital Signage Today, April 2011)
"First and foremost, the goal of using digital signs will be to enhance the fan experience so they have a reason to buy tickets and come see us," Steele says. "Everybody has a 50-inch TV at home that they can watch for free, so we have to offer that on top of the live action. The other big reason is to sell the ads that will go around the game feed."
The digital-signage system will complement the recently completed renovation of the Times Forum. Prior to the renovation, there were roughly 200 small monitors scattered around the arena. Most had 19-inch or 21-inch screens, and some were based on CRT technology, whereas the HD flat panels range in size from 32 to 60 inches.
As part of the new look, almost all of the static signage in the building and paid advertisements have been replaced by team photos, images of the community and scenes depicting the natural beauty of the region. But the makeover presented a business problem.
"We can't, unfortunately, make money on pictures of our beautiful beaches," Steele says. "So all the sponsorship revenues that went away needed to be replaced with something, and the easiest way we could think of was through digital signage."
Eyes on the Goal
Improved customer experience and increased revenue are the key goals organizations have for their digital-signage deployments, says Alan Brawn, principal of Brawn Consulting and chairman of the Digital Signage Federation, an international industry group. Digital signage can sharpen and enliven branding efforts and is a highly effective way to deliver information to employees. Some industries such as healthcare, shipping and manufacturing also use digital signage internally to guide workflow throughout the operation.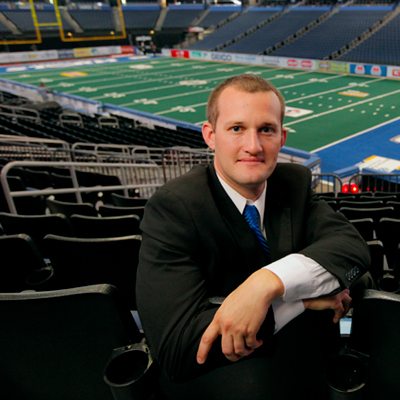 "The goal of using digital signs will be to enhance the fan experience so they have a reason to buy tickets and come see us."
– Ian Steele, director of IT for the Tampa Bay Lightning
Photo: Ben Van Hook
The technology can deliver advantages in many settings, but only if businesses carefully match hardware, software and content to objectives, Brawn says. "If someone passes by a screen and says, 'OK, fine, there's a pretty graphic' and keeps walking, the sign didn't do anything for you."
Brawn recommends that organizations analyze what they hope to accomplish with the displays, whether it's brand building, sales or disseminating information. "That's even more important for smaller companies that have tighter budgets."
On the Horizon
With an estimated cost of $1.3 million for the digital-signage project, the team is moving ahead cautiously, Steele says. The IT staff is currently selecting digital media players for each of the display screens. Also, because the Times Forum is the host site for the 2012 Republican National Convention in August, organizers are laying fiber that they'll leave behind, thereby ensuring ample bandwidth for the digital-signage system. As part of the rollout, the team is upgrading its network backbone and adding 48-port Cisco switches.
Once the system is in place, the screens will still display the hockey game, but advertising and promotions will be interspersed during timeouts and may run around the screens or as pop-ups during the action, Steele says. Content will be customized for each of the more than 100 other events hosted at the Times Forum each year.
Luxury suite holders will also have some control over content shown in the suites.
"Our fans and sponsorship partners don't know what they're missing yet — they're just happy with the bigger screens," Steele says. "But eventually our business partners are all going to want to put content on those screens, because they're going to get the fans' attention."
Fun for Everyone
The Waikiki Shopping Plaza in Honolulu certainly got shoppers' attention in 2010 when the mall installed the largest video wall in Hawaii, a display made up of 20 40-inch Samsung 460UX-2 high-definition LCD screens. The expansive display acreage provides a dynamic backdrop to special events and sometimes sits at the center of the show, such as when the mall holds Guitar Hero or Wii video game contests, says Marketing Director Kainoa Akina. The 460UX-2 system includes built-in software that eliminates the need for an external media player; the primary video input for the wall comes from a Windows PC running a variety of software.
What do you consider the most important factor in your company's digital signage strategy?
13% Improved messaging to customers
1% Return on investment
8% Improved communications with employees
2% Interactivity
76% Do not use
SOURCE: CDW poll of 372 BizTech readers
During the business day, the media wall displays advertising, entertainment videos, interactive promotions and contests, as well as tourist and emergency information. Visitors can even send their own messages to the wall from their cell phones — many have companions take their picture alongside a greeting displayed for the folks back home.
A key to the wall's success is its flexibility, Akina says. "Whenever we want, we can punch in or replace content and have it on the wall instantly," he says. "If a restaurant has a lunch special, for example, we can get that up, and schedule when it should be replaced by the dinner special. It's a dynamic way to serve the merchants and the customers."
On a smaller scale, the 46-inch NEC X461HB LCD display on the side of ­Jason Swinford's Eat at Recess food truck is an ­integral part of his San Diego business, which he started in 2011. Eat at Recess offers sandwiches, salads and other items made from organic produce and meat from humanely treated animals, but that isn't enough to set it apart in the burgeoning gourmet food truck market in San Diego, Swinford says. The screen displays promotions and QR codes fed from a PC and connects to a Blu-ray player and an Xbox Kinect, encouraging customers to take a break and play.
"My idea was for people to have fun and good food, and the sign was part of it from the start," Swinford says. "It provides a unique customer experience, keeps them occupied while they wait and even sets up a dialogue through the QR codes we post on it."
Facing Inward
Inside a business, digital signage can make internal communications more efficient and effective, and sometimes even increase rapport among employees. Draper ­Laboratory, an engineering research and development company in Cambridge, Mass., rolled out digital signage in 2005 to replace cluttered bulletin boards, says Draper spokesman Jeremy Singer. The displays have also become the primary distribution method for time-sensitive notices and they reduce ­e-mail congestion, he adds.
Draper has placed LCD screens in lobbies and near elevator banks to display what it calls the Draper News Network (DNN). Content on DNN consists of announcements, reminders of deadlines, news of awards won by the lab or an employee, slide shows of recent lab events and even videos highlighting successful engineering projects, such as Draper's GENIE system guiding a suborbital rocket during a recent flight test, Singer says. Employees can also submit notices that are displayed on a rotating basis.
"Based on feedback from employees, we believe that DNN has had a positive impact on sharing information as well as on morale," Singer says.
textfield
More On