EMC World 2012: Paul Maritz Says Automation Is the Way Forward — Day 2
Virtualized environments need to scale in order to keep up with apps and big data.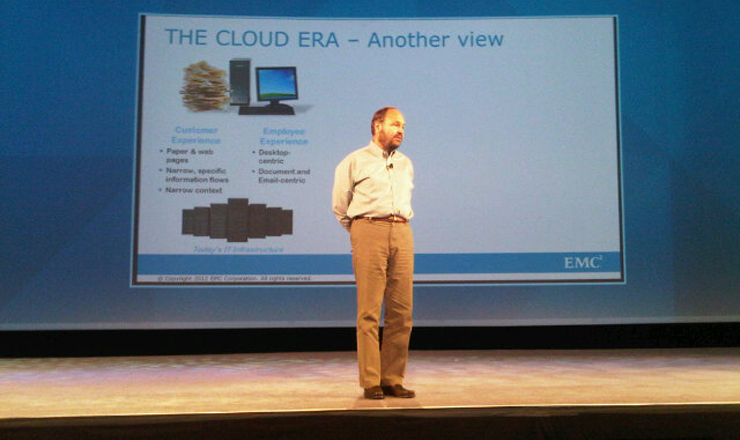 Photo: Twitter/matteastwood
Yesterday's keynote by EMC CEO Joe Tucci championed the cloud era. Today's keynote by VMWare CEO Paul Maritz moved the ball forward as Maritz explored another side of the cloud era while discussing the potential of VMWare's products and technologies.
Follow our EMC World coverage page for the latest news on EMC World 2012.
Google has an admin to server ratio of 1 to 1,000, and that is what VMWare and other companies need to match if they hope to compete in the app-centric, big data future of IT, he said. Maritz later used an example of a VMWare customer that produces 500 million events an hour. Without automation and analytics, there's no way for a human admin to ever make sense of that kind of big data.
In addition to highlights from Maritz's keynote, we scoured the tweets to find more news, fun facts and images from EMC World. Take a look at what we found.
Paul Maritz Talks, People Listen
Maritz: its impossible for a human to process 500k log events per hour. Cloud administration requires analytics. #emcworld #vmware

— Scott Drummonds (@drummonds) May 22, 2012
Maritz says Google has 1 admin/1000 servers, VMware is order of magnitude behind today - need automation #EMCworld #Virtualization

— Stuart Miniman (@stu) May 22, 2012
Maritz -- can't take physical world processes and make them work in the cloud model.SO TRUE

— Blue Shift Blog(@BlueShiftBlog) May 22, 2012
Paul Maritz says "cloud is about how, not where" when speaking about the different cloud operating models #emcworld

— Chris Cicotte (@chris_cicotte) May 22, 2012
Party trick - get logs preceding major data center outage - do analysis and show that there were predictive indicators -Maritz #EMCworld

— Cornelia Davis (@cdavisafc) May 22, 2012
Paul Maritz Highlights Open PaaS with Cloud Foundry during his #EMCWorld keynote twitter.com/ttgrant/status…

— T Grant (@ttgrant) May 22, 2012
#EMCWorld: Paul Maritz: It goes rapidly beyond the hypervisor to pooled infrastructure –this is the final revenge of the mainframe –

— DatacenterDynamics (@DCDFOCUS) May 22, 2012
IT needs to manage people not devices ~ Paul Maritz. Awesome quote #emcworld

— Will Turbeville (@wturbeville) May 22, 2012
We're Living in a Big Data World
The Human Face of Big Data looks like it will be a cool experiment to collect datasets from millions of users for 24hrs. #emcworld

— Scott Kahler (@boogabee) May 22, 2012
I like the term "Big Information" as the unstructured cousin to Big Data #mmtm12 #Documentum #emcworld

— Alexandra Larsson (@macgirlsweden) May 22, 2012
Since gamification addresses behaviour we benefit from Big Data Analytics to understand that behaviour #mmtm12 #emcworld #documentum

— Alexandra Larsson (@macgirlsweden) May 22, 2012
What would #EMCworld be without a big data announcement or 3? New Analytics Workbench dev cloud with 1000 node cluster for big data testing

— Rich Castagna (@RichCastagnaTT) May 22, 2012
gr8 statement by Bill Schmarzo, "you can't do "big data" with just one tool"Architect and then use the tools 2 achieve the goals #emcworld

— Michael Keen (@michael_keen) May 22, 2012
Cool insurance demo using #Documentum xCP at Jeetu's & Rohit keynote. Showed big data analytics tied into #Greenplum. #EMCworld #MMTM12

— Bill Galusha (@bgalusha) May 22, 2012
Weird Pics and Happy Faces @ EMC World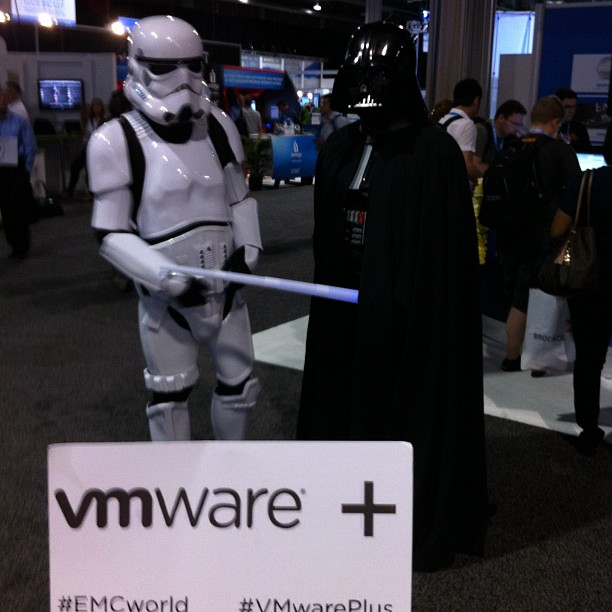 The EMC empire? #vmwareplus #emcworldinstagr.am/p/K8PWC8TEIk/

— Tristan Todd (@tristantodd) May 22, 2012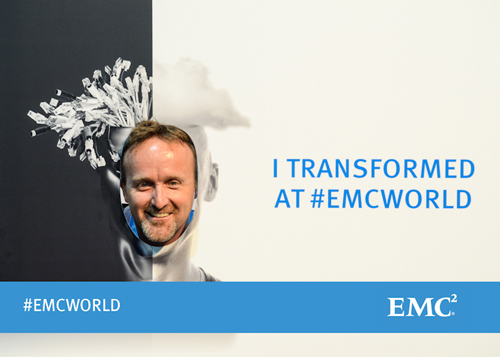 I transformed at #EMCWORLD shar.es/qfOUf

— Trevor (@TBFTrev) May 22, 2012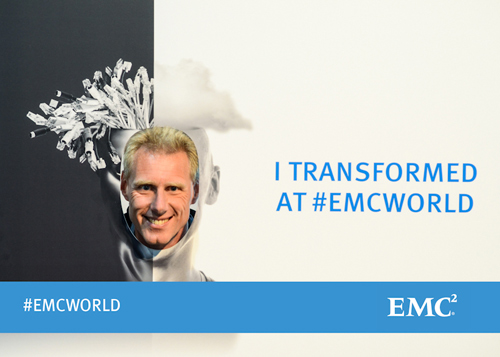 I transformed at #EMCWORLD shar.es/qfQIY

— Sietse Visser (@vogon1) May 22, 2012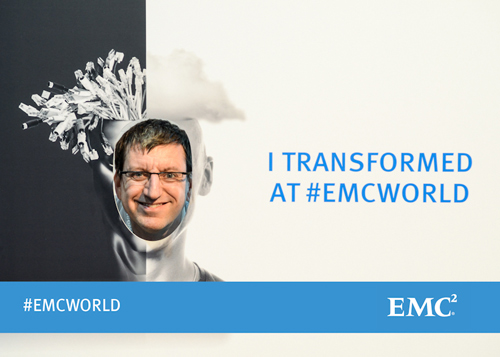 I transformed at #EMCWORLD shar.es/qfTRw

— simon gordon (@simon_gordon) May 22, 2012
The Cloud Gets a Little Freaky
Cloud Freaky 2012 - YouTube j.mp/Lp2ltF#omfg #emcworld

— Steve Chambers (@stevie_chambers) May 22, 2012
textfield