Seen and Heard: Location Tech Shines at Where Conference
As location-based tech heats up in social, mobile and local commerce, leaders and influencers in geospatial tech gather to trade tips.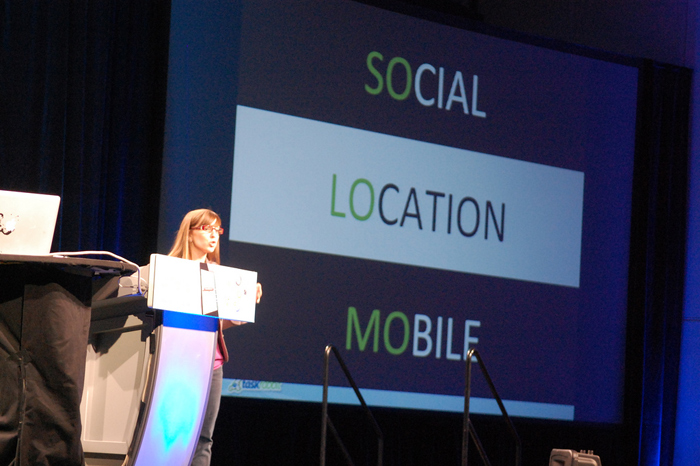 Lean Busque, founder and chief product officer of TaskRabbit, speaks about the emergence of SoLoMoCo (social, location and mobile-based commerce).
Photo: Kevin Krejci/Flickr
Where you do what you do is growing in importance to the future of technology and business. Location-based technology has exploded in recent years, with startups like Foursquare (which gained traction for location-based check-ins) and Facebook (the leader in all things social) leading the charge.
But geospatial data has been an important part of the web's fabric since its early days. Remember when MapQuest disrupted the print-based map business by allowing users to map and print out their itineraries? And remember when mobile devices took this trend a step further by enabling real-time, turn-by-turn GPS navigation?
Maps, however, won't be relegated to history. The future of map data is hot right now, as many app developers and tech companies debate whether to license API data from Google Maps or use data from the open-source OpenStreetMap.
Gathering to discuss, debate and share experiences in all things location, technology leaders attending the O'Reilly Where Conference in San Francisco delved into the big issues. Notable speakers at the event included Ben Milne, founder of location-based payment company Dwolla; Thomas Goetz, executive editor of Wired magazine; and Brian McClendon, vice president of engineering at Google.
One of the big wow moments at the Where Conference came when Google unveiled a Mercedes-Benz tricked out with Android apps, local search and Google Maps. How long will it be until smartcars like this become as ubiquitous as smartphones?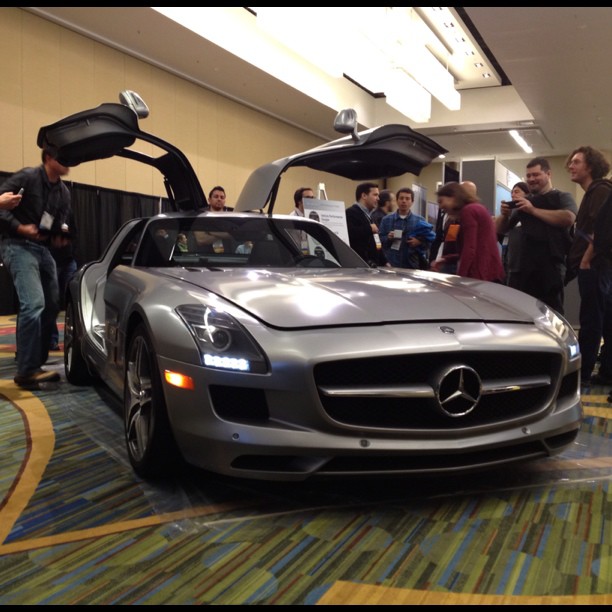 Photo: Kevin Krejci/Flickr
Here are a few highlights we snagged from the Twitterverse from people attending the 2012 Where Conference.
Social, Local and Mobile Commerce
The new buzz word: lo-mo-co. Basically it is about replicating the mom-and-pop store experience to the large grocery chains #whereconf

— Oliver (@abalakov) April 3, 2012
Mobile content marketing: "Shoppers have a mall in their pocket," per @jackabraham. #whereconftwitpic.com/94s3mx

— Margot Bloomstein (@mbloomstein) April 2, 2012
Really interesting discussions on the future of LoSoMo and now Co (local, social, mobile and commerce) #whereconf

— Sharjeel Noor (@sharjeelnoor) April 3, 2012
Check out @Kovinsky speaking about Harnessing Video for Realtime Merchandising & Customer Engagement! #whereconf twitter.com/PrismSkylabs/s…

— Prism Skylabs (@PrismSkylabs) April 2, 2012
"Sendinga payment should be as simple as making a call to an API" @dwolla pres at #whereconf

— Brent Pierce (@brent_pierce) April 3, 2012
Facebook has 200 million users with location tagged content #whereconf 2 billion monthly actions location tagged post, photos, video, event

— Gib Olander (@golander59) April 3, 2012
Of Maps and Data
Over 1 million sites have Google Maps integrated - Eric Gunderson, MapBox #whereconf

— Dana Stanley (@DanaMStanley) April 3, 2012
"this is the year of the open map" @ericg #whereconf

— Frederic Julien (@fredjulien) April 3, 2012
a map is not always the best way to represent your data.. people can get lost in spatialness & not see the relationships! @noahi #whereconf

— Glenn Letham (@gletham) April 3, 2012
Its power is in combination with other data "Location alone is a blunt instrument" - Scott Kveton, Urban Airship #whereconf

— Dana Stanley (@DanaMStanley) April 3, 2012
sitting in To Google or Not to Google? Cost/Benefit Analysis Of Rolling Your Own Maps whereconf.com/where2012/publ… by @sd #whereconf

— eric gundersen (@ericg) April 3, 2012
Q: Maps were navigation now realtime decision support - @AGpublic Future decisions next? @DSearls Do #intentionmaps exist? #VRM #whereconf

— Bill Wendel (@RealEstateCafe) April 4, 2012
Our own @dthompson presenting on his realtime map collaboration tool MapChat. github.com/dthompson/mapc… #whereconf twitter.com/yuletide/statu…

— Alex Yule (@yuletide) April 4, 2012
Google Earth: 75% of world population covered in hi-res, updated bi-weekly. "The future of mapping is 3D" - Google Geo VP #WhereConf

— Patrick Meier (@PatrickMeier) April 4, 2012
Google Maps data is powered by 8 data enters globally. 75ms avg tile latency #whereconf

— Melinda Roberts (@locatiom) April 4, 2012
Mobile Matters In Location Tech
"Should #whereconf have had #NFC related content?" asks @brady. Nope, #NFC is a dead tech. It missed the window.

— Alasdair Allan (@aallan) April 4, 2012
"Cell phones have become virtual biographers of our personal data" #whereconf

— jack hutton (@jackhutton) April 4, 2012
Many mobile apps are leveraging geofences -- all acknowledge battery drain issue but no one discussing the solutions #whereconf

— pkabel (@pkabel) April 4, 2012
Enterprise level mobility is key now #whereconf

— nazila (@floraandflying) April 3, 2012
More Pics of the Google Android-powered Mercedes-Benz
Android powered benz. buh. #whereconf instagr.am/p/JAYBpeOZ5B/

— Andrew J Matranga (@andrewmatranga) April 4, 2012
Oops, I meant Google Mercedes. Here's the dashboard #whereconf twitter.com/brady/status/1…

— brady forrest (@brady) April 4, 2012
Google car (Mercedes of course) #whereconf twitter.com/kjphotography/…

— kjphotography (@kjphotography) April 4, 2012
textfield
More On